This article first appeared in Capital, The Edge Malaysia Weekly, on July 1, 2019 - July 07, 2019.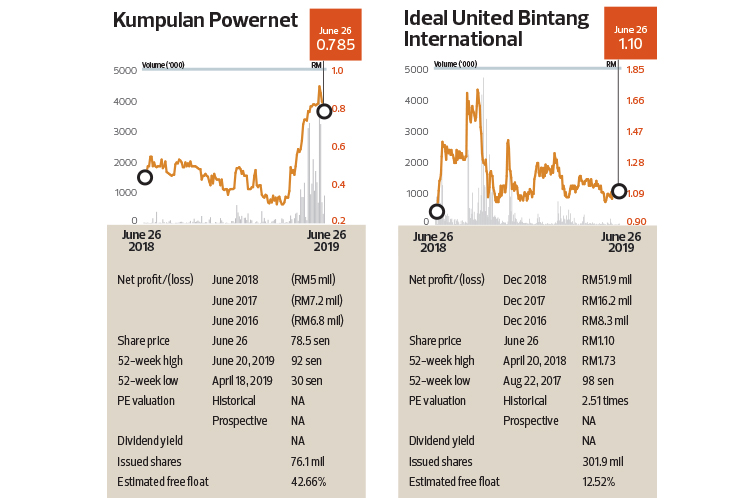 BETWEEN June 19 and 25, notable off-market trades led to a change of ownership at warp-knitted fabric manufacturer Kumpulan Powernet Bhd, in which 23.01 million shares, or 30.22% equity interest, crossed in nine direct deals on June 19 and 20.
A June 21 Bursa Malaysia filing shows Datuk Dr Mohd Abdul Karim Abdullah emerging as a major shareholder of the company after acquiring 15.26 million shares or a 20.04% direct stake on June 20.
Grand Deal Vision Sdn Bhd, which is linked to Abdul Karim, also surfaced as a substantial shareholder of Kumpulan Powernet after acquiring 7.75 million shares or a 10.18% direct stake on the same day.
Abdul Karim, 54, is the founder of oil and gas engineering firm Serba Dinamik Holdings Bhd. He is ranked by Forbes as Malaysia's 40th richest man with a fortune of US$345 million.
The sellers are likely to be Ipoh-based SSF Home Builder Sdn Bhd and KL-based Lee Chong Hoon Capital Sdn Bhd. The latter is controlled by former Kumpulan Powernet director Datuk Lee Chong Hoon, who is the older brother of retired national shuttler Datuk Lee Chong Wei. Both ceased to be substantial shareholders of Kumpulan Powernet on June 20.
Year to date, the counter has risen 124% to close at 78.5 sen last Wednesday, giving the company a market capitalisation of RM59.8 million.
Over at Ideal United Bintang International Bhd, 40.25 million shares or a 13.33% stake crossed off market in four direct deals on June 25.
The shares were transacted at RM1.10 apiece for a total transaction value of RM44.27 million. Neither the seller nor the buyer had been disclosed as at press time. The Penang-based property developer has not made any announcement on changes in shareholding since April.
Ideal United Bintang is ultimately controlled by Tan Sri Alex Ooi Kee Liang, who has been dubbed Penang's Condo King.
The counter has risen one sen or 1% year to date to close at RM1.10 last Wednesday, giving the company a market capitalisation of RM332.1 million.
Condom maker Karex Bhd saw 92.59 million shares or a 9.24% stake cross off market in two direct deals on June 19 and one block trade on June 21.
A big chunk was from the two direct deals, which saw 92.13 million shares or 9.19% transacted at 55.3 sen apiece — a 2.1% discount to the stock's closing price of 56.5 sen on the open market.
A Bursa Malaysia filing on June 21 shows that this was a transfer of shares from Karex One Ltd, the family vehicle of the group's CEO Goh Miah Kiat.
LEAP Market-listed CRG Inc Bhd saw 68.58 million shares or 8.51% equity interest cross off market in two direct deals and three block trades on June 19 and 20.
All five blocks of shares were transacted at five sen each for a total transaction value of RM3.42 million.
CRG's subsidiaries are involved in the designing, manufacturing, promoting, marketing, distribution and retailing of Carlo Rino and CR2 branded fashion products.
Recall that before the demerger and its listing on the LEAP Market last year, CRG was the wholly-owned subsidiary of fashion retailer Bonia Corp Bhd.
Bursa Malaysia filings show that Singapore-based Albizia Asean Opportunities Fund ceased to be a substantial shareholder of CRG after disposing of 67.18 million shares on June 19.
Chin Hin Group Bhd, a home-grown building material specialist founded by Datuk Seri Chiau Beng Teik, saw 20 million shares, or a 3.64% stake, cross off market in a single direct deal at 75 sen on June 19.