This article first appeared in Capital, The Edge Malaysia Weekly, on September 10, 2018 - September 16, 2018.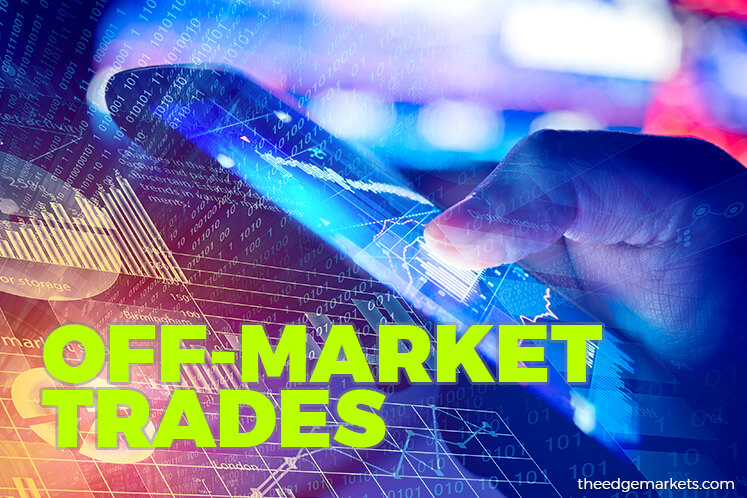 HARTALEGA Holdings Bhd saw 30 million shares or a 0.9% stake change hands on Aug 29, in a single direct deal for RM203.1 million or RM6.77 apiece. This was below the RM6.92 to RM7.29 the shares fetched on the open market that day. The next day, 8.95 million shares, or 0.27% equity interest, changed hands in a single direct deal for RM63.5 million or RM7.10 each, at the higher end of the RM6.88 to RM7.10 at which they traded intra-day on the open market.
Executive chairman Kuan Kam Hon @ Kwan Kam Onn, via Budi Tenggara Sdn Bhd, was the seller of the 30 million shares in the synthetic glove maker he founded. His deemed interest was 49.65% following the sale, while he still held a 0.29% stake, or 9.8 million shares, directly.
Stock exchange filings also show that the Employees Provident Fund bought 1.5 million shares on Aug 29 and sold one million shares later the same day, resulting in a small net increase in its holdings to 230.2 million shares or 6.93% equity interest. This is slightly below the 231.88 million shares, or 7% stake, it had on June 20, according to Hartalega's 2017 annual report.
Closing at RM7 last Wednesday, Hartalega was up 31.09%, or RM1.66 apiece, year to date. At the time of writing, the counter had exceeded all but two target prices of 17 analysts polled on Bloomberg, with the most bullish being RHB Research's RM7.20 and Inter-Pacific Research's RM7.12.
N2N Connect Bhd — which in July paid an additional tax bill of RM5.3 million — saw 62.05 million shares, or a 10.84% stake, change hands in two identical direct deals of 31.02 million shares on Sept 3 for a total of RM68.25 million or RM1.10 each, a shade below open market prices of RM1.15 and RM1.16 at the time.
Tokyo-based financial services group SBI Holdings Inc bought the shares from Nikkei Inc and Quick Corp, raising its holding to 19.93% or 114.09 million shares. After the sale, Nikkei Inc's direct holding fell to just under 30 million shares, or 5.24% equity interest, while it was also deemed interested in Quick's 5.24% stake.
A former subsidiary of Internet conglomerate Softbank, SBI first entered N2N in June after taking a 10% stake in the ACE Market-listed company via a private placement of 52.04 million shares for RM65.05 million, or RM1.25 apiece. N2N had said the proceeds would be used to enter into a business alliance with SBI, which may include acquisitions or strategic collaborations complementary to its existing business. In a June 6 statement, N2N had said it expects the proposed alliance — which leverages financial technology (fintech) and their respective brokerage networks — to expedite N2N's plans to build an Asia Trading Hub that would connect all their panel brokers across 8 to 12 countries. Closing at RM1.23 on Wednesday, N2N shares were up 31 sen or 33.7% year to date.  
Meanwhile, Karex Bhd saw 46.06 million shares, or a 4.6% stake, change hands in a single direct deal on Aug 29 for RM33.76 million or 73.3 sen apiece, a 6.2% premium to the 69 sen the stock fetched on the open market at the time.
Filings show the shares were "transferred" by Karex One Ltd to senior executive director Goh Siang — who, according to Karex Bhd's 2017 annual report, is deemed interested in the stake held by Karex One alongside his siblings, executive director Goh Leng Kian, executive director Goh Yen Yen and non-executive director Lam Jiuan Jiuan and her spouse Albert Lam Yiu Pang.
The deal pared Karex One's direct holdings to 276.38 million shares, or 27.57% equity interest, from 322.44 million shares or 32.17% as at Oct 2, 2017, as stated in Karex Bhd's 2017 annual report.
Goh Siang saw his direct holding rise to 59.71 million shares, or 5.96% equity interest, while his deemed interest stood at 3.87 million shares or 0.39%, which also took into account the disposal of 3.67 million shares by his spouse Lim Poh Chuan between Aug 6 and 28, a Sept 4 filing shows. Goh Siang's direct interest stood at 1.36% and indirect interest at 32.92% as at Aug 3, an Aug 6 filing showed.  
Save by subscribing to us for your print and/or digital copy.
P/S: The Edge is also available on Apple's AppStore and Androids' Google Play.