This article first appeared in Personal Wealth, The Edge Malaysia Weekly, on May 28, 2018 - June 03, 2018.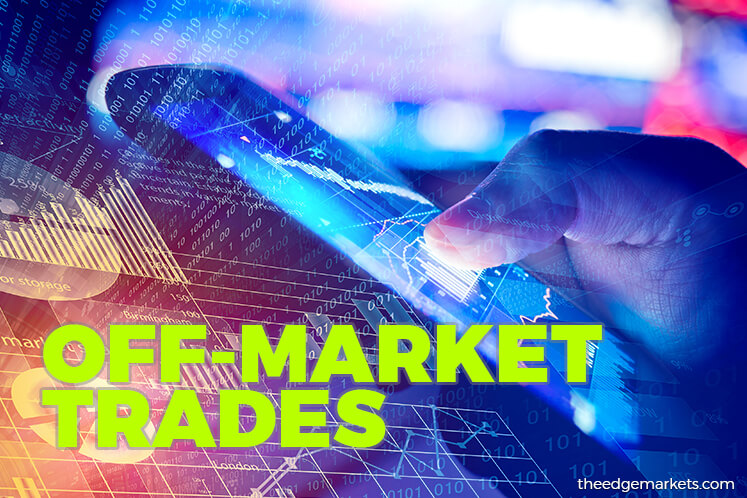 DURING the week in review, GSB Group Bhd saw 127 million shares or a 24.05% stake change hands off market in a direct trade on May 18.
Filings with Bursa Malaysia show that Kerjaya Prospek Group Bhd executive director Datin Toh Siew Chuon, the wife of group executive chairman Datuk Tee Eng Ho, acquired the block in the property company for RM16.51 million cash.
The acquisition was done via Javawana Sdn Bhd, a private vehicle of Eng Ho, his brother Eng Seng and Toh at 13 sen apiece. Before the transaction, Javawana held 88 million GSB shares or a 16.66% stake that was obtained through a placement exercise at 10 sen each in December 2015.
Post-acquisition, Javawana's interest in the company has risen to 40.71%, requiring a conditional mandatory takeover offer to acquire the remaining 313.1 million GSB shares at 13 sen each. Nevertheless, the company plans to maintain GSB's listing status.
At 7-Eleven Malaysia Holdings Bhd, 125.68 million shares or an 11.13% stake changed hands in direct and cross trades during the week in review.
Filings with Bursa show that the bulk of the shares — 124.68 million or 11% — went from Berjaya Retail Bhd to its controlling shareholder Tan Sri Vincent Tan.
After the transaction, Tan's direct stake in 7-Eleven increased to 24.23% or 269.13 million shares while his indirect stake stood at 19.43%.
This move comes not long after Berjaya Assets Bhd, which is also controlled by Tan, emerged as a substantial shareholder in 7-Eleven with a 5.24% stake after several direct business deals and open-market transactions. This renewed speculation about a potential privatisation of the 24-hour convenience store chain operator.
Note that the Bursa-listed 7-Eleven was taken private in 2007 and relisted on the local stock exchange in 2014. It will be interesting to see if Tan takes it private again.
Sarawak Consolidated Industries Bhd saw 12 million shares or a 13.97% stake cross in direct trades on May 21 and 22 at 60 sen apiece. Filings with Bursa show that the shares were disposed of by Freddy Lim Nyuk Sang, who is the CEO of Kretam Bhd. He emerged as a shareholder in Sarawak Consolidated on June 14, 2017, with a 14.95% stake.
The recent transaction was done at 63.5 sen apiece, which means Lim would have lost 5.5% from the disposal within a year of purchasing the shares. Post-disposal, he is no longer a shareholder of the company. The identity of the party that acquired the shares was not known at the time of writing.
Software solutions provider Cuscapi Bhd saw 59.21 million shares or 6.9% equity interest dealt in direct trades during the week in review. The parties involved in the transaction were not known at the time of writing but filings with Bursa show that the alternate director to executive chairman Datuk Jayakumar Panneer Selvam raised his holding in the company by 20.2 million shares during the week in review.
As at May 23, Cuscapi's share price had shed 16% since January to close at 17 sen.
The week in review also saw 8.43 million shares or a 4.24% stake change hands in a direct trade in diversified group Spring Gallery Bhd.
Over at ConnectCounty Holdings Bhd, 15.79 million shares or a 4.8% stake crossed off market in a direct trade at 16.5 sen apiece on May 16. The parties involved in the transaction were not disclosed at the time of writing. Recently, the company had proposed to diversify its business to include cyber security, which is expected to provide it with a new source of revenue. ConnectCounty is principally involved in the manufacture and sale of cables, wires, connectors and related products.
Save by subscribing to us for your print and/or digital copy.
P/S: The Edge is also available on Apple's AppStore and Androids' Google Play.