This article first appeared in Capital, The Edge Malaysia Weekly, on November 25, 2019 - December 01, 2019.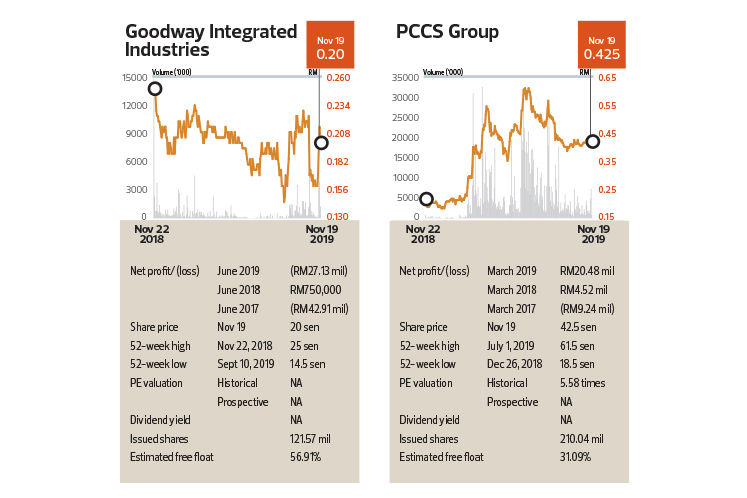 GOODWAY Integrated Industries Bhd saw the emergence of a new largest shareholder after a 23.86% stake changed hands in four direct deals on Nov 14. The 24.27 million shares were transacted at 16.5 sen apiece, between the 16 sen and 17 sen the stock fetched on the open market that day. Together with the 4.73 million shares that were traded at 16.5 sen each on Nov 13, a total of 29 million shares have changed hands in direct deals for RM4.79 million in total.
According to filings with Bursa Malaysia, ACE Market-listed payment solutions provider Revenue Group Bhd co-founder, managing director and CEO Eddie Ng Chee Siong emerged as Goodway's largest shareholder with a 23.86% stake or 29 million shares after purchasing 24.27 million shares on Nov 14.
Ng likely bought the shares from Goodway group managing director and CEO Tai Boon Wee (sold 15.26 million shares), Massive Structure Sdn Bhd (sold 5.48 million shares) and Goodway executive director and first employee Alison Wong Ping Kiong (sold 3.54 million shares) as filings show the three collectively sold the same number of shares that day.
Tai, who also sold Goodway shares on Nov 13, was previously the company's largest shareholder with a 16.44% direct stake (19.98 million shares) and a 4.58% (5.56 million shares) indirect stake as at Oct 11, the group's 2019 annual report shows. Tai, who was instrumental in Goodway's listing in 2004, no longer has any direct stake and was only deemed interested in 85,000 shares or a 0.07% stake after the disposals on Nov 14, filings show. Goodway booked a net loss of RM28.72 million for the year ended June 30, 2019.
PCCS Group Bhd saw 24 million shares or an 11.43% stake change hands in five direct deals at 40 sen apiece, or RM9.6 million in total, on Nov 14. The transacted price was just below the 40.5 sen to 41.5 sen the stock fetched on the open market that day.
Setia Sempurna Sdn Bhd sold the 24 million shares in five tranches on Nov 14 to members of the Chan family. Executive director Chan Chow Tek, who bought 5.86 million shares or a 2.79% stake on Nov 14, is no longer deemed a substantial shareholder after Setia Sempurna's disposal.
Group managing director Chan Choo Sing, who bought 8.26 million shares or a 3.93% stake on Nov 14, is deemed interested in another 42.68% stake. The deemed interest is through his 40% stake in CCS Capital Sdn Bhd as well as holdings of his spouse Tan Kwee Kee and their son Chan Wee Kiang, who bought 2.11 million shares or a 1% stake that day. The remaining shares were acquired by non-executive directors Datuk Chan Chor Ngiak (4.42 million shares or a 2.14% stake) and Chan Chor Ang (3.36 million shares or a 1.6% stake). Choo Sing, Chow Tek, Chor Ngiak and Chor Ang are brothers.
On Nov 14, Ranhill Holdings Bhd saw 26.6 million shares, or a 2.5% stake, change hands at RM1.15 apiece, or RM30.6 million in total, in three direct deals. The seller was Cayman Islands-based Cheval Infrastructure Fund LP, which still has a 17.9% stake or 190.87 million shares.
A separate filing shows Lembaga Tabung Haji re-emerging as a substantial shareholder after buying 1.42 million shares on Nov 14 to raise its holding to 53.65 million shares or 5.03%. Its holding slipped under the 5% threshold on Oct 24.
Leweko Resources Bhd saw 14 million shares, or a 4.35% stake, change hands in a single direct deal at 20 sen apiece, or RM2.8 million in total, on Nov 15. The stock traded between 19.5 sen and 21.5 sen before closing at 21 sen that day. Lambang Insan Sdn Bhd sold the 14 million shares, causing Ramelle Ashram Ramli and Putri Azalea Ashram Ramli's deemed interest to slip to 6.21%.