This article first appeared in Capital, The Edge Malaysia Weekly, on February 17, 2020 - February 23, 2020.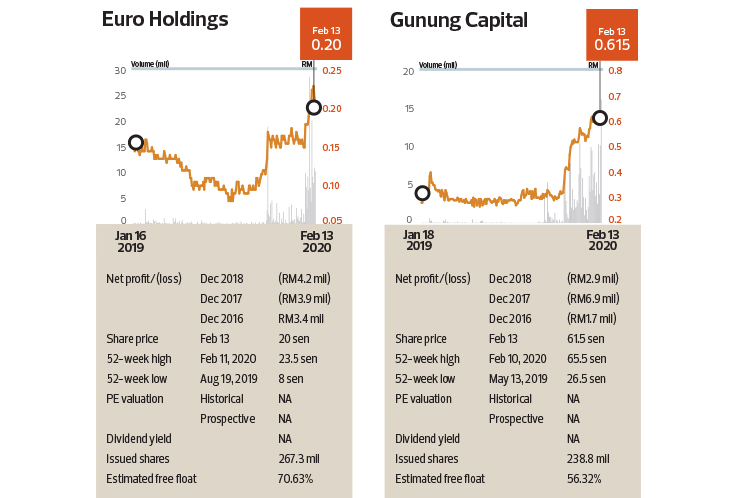 DURING the week under review, notable off-market transactions involving the shareholders of companies listed on Bursa Malaysia include the acquisition of 136.32 million shares, or 51%, of the issued share base of Euro Holdings Bhd by SPA Furniture (M) Sdn Bhd at 20 sen apiece on Feb 11.
SPA acquired the shares from the major shareholders of Euro, including Datuk Seri Choong Yuen Keong @ Tong Yuen Keong, who sold 30.73 million shares, or an 11.5% stake, Jingzeng Holdings Sdn Bhd and Chan Yok Peng (28 million shares, or 10.48%, each), Ching Chiat Kwong and Tee Wee Sien (15 million shares, or 5.61%, each) and Liew Fook Meng (14.61 million shares, or 5.46%).
Following the acquisitions, SPA has extended an unconditional mandatory takeover offer to acquire the remaining 130.97 million Euro shares, representing 49% of the group's share base that it does not already hold, at the same price. Prior to the acquisitions, SPA held no shares in Euro.
SPA's shareholders are Datuk Seri Lim Teck Boon and his father, Datuk Lim Chaw Teng. Teck Boon has more than 20 years of experience in the manufacture and supply of steel-related products, mainly to the automotive and construction industries.
In recent years, he has ventured into property development and successfully completed the development of industrial properties, shoplots and a hotel in Melaka.
Following the announcement, Euro's share price fell 6.5% to 21.5 sen on Feb 12. The office and steel storage furniture manufacturer was valued at RM57 million as at last Wednesday.
At Gunung Capital Bhd, managing director Datuk Syed Abu Hussin Hafiz Syed Abdul Fasal disposed of his shares in the land-based passenger transportation services company during the week under review.
According to Gunung's filings on Bursa Malaysia's website, Abu Hussin disposed of a total of 8.6 million shares, paring down his stake by 3.6%, to 7.24%, as at Feb 11.
The shares were transacted at between 57.7 sen and 62 sen each.
On Feb 12, Abu Hussin disposed of another 7.45 million shares, or 3.12% of the group's share base, at 58.2 sen apiece. Following the latest disposal, Abu Hussin's stake in the group was reduced to 4.12% as at last Wednesday.
Meanwhile, stock market data compiled by Bloomberg shows that six million shares, or 1.8% of OCR Group Bhd's share base, were transacted off market on Feb 5 at 23 sen apiece.
A filing on Bursa Malaysia's web­site shows that on that date, fund managers of Kumpulan Wang Persaraan (Diperbadankan) (KWAP) acquired 2.2 million OCR shares. Following the acquisition, KWAP has a 5.4% stake in OCR.
On the same day, CIMB Commerce Trustee Bhd, on behalf of Kenanga Growth Fund, acquired 2.8 million OCR shares, increasing its holding in the baby product distributor-cum-property developer to 6.5%.
Over at Chin Hin Group Bhd, stock market data shows that two million shares, or 0.36% of its share base, were transacted off market on Feb 5 at 45 sen each. This was followed by blocks of 2.35 million and 9.6 million shares, representing 0.43% and 1.73%, respectively, changing hands off market on Feb 6 at 62 sen and 63 sen apiece.
A Bursa Malaysia filing by Chin Hin shows that its executive director-cum-chief financial officer Lee Hai Peng disposed of 2.35 million shares, or a 0.43% stake, at 45 sen each on Feb 5.  The following day, Lee bought the same number of shares at 62 sen each.