This article first appeared in Capital, The Edge Malaysia Weekly, on January 6, 2020 - January 12, 2020.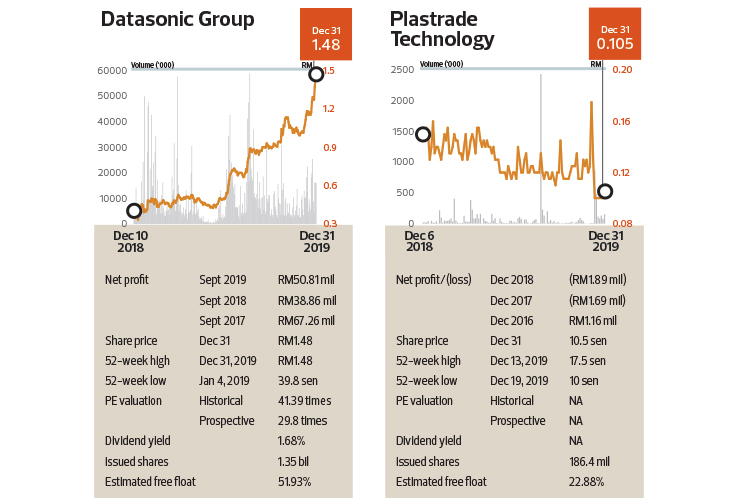 THE biggest off-market transaction for the period in review was that of ICT solutions provider Datasonic Group Bhd as 202.89 million shares, or a 15.03% stake, changed hands. The shares were transacted in direct trades at three prices — 65 sen, RM1.38 and RM1.48 each — throughout the week in review.
The 126.67 million shares transacted on Dec 27 were crossed off market at 65 sen apiece — at a substantial discount to the closing price of RM1.37 on the trading day. The remaining 66.92 million shares that changed hands on Dec 31 at 65 sen were also traded at a huge discount of 127% to the closing price of RM1.48.
Filings with Bursa Malaysia show a new substantial shareholder has emerged in Datasonic — a Datuk Razali Mohd Yusof acquired 66.92 million shares, or a 4.95% stake, in the company on Dec 31. He indirectly owns 3.9% of Datasonic through Demi Mekar Sdn Bhd.
Meanwhile, managing director Datuk Abu Hanifah Noordin ceased to be a substantial shareholder of the company after a series of share disposals over the week. As at Dec 27, 2019, Abu Hanifah's direct stake in the company had been reduced to 4.96% while his indirect stake stood at 0.67%.
Datasonic's share price has seen a rapid ascent, climbing 132% over the past six months to RM1.49 last Thursday from 64 sen on July 2, 2019. As at last Thursday, its market capitalisation had grown to RM2.01 billion.
Over at Plastrade Technology Bhd, 21 million shares, or an 11.27% stake, were transacted in a direct trade during the period in review.
Filings with Bursa show that the 11.27% stake was exchanged between Lui Leong Eng and Tee Han Seang. Lui ceased to be a substantial shareholder of the company whereas Tee emerged as one.
In October, Plastrade Technology managing director Tee Yen Chong was removed from the company's board of directors by the shareholders. The resolution to remove Yen Chong was unanimously passed by shareholders at an extraordinary general meeting.
Earlier, the board had suspended him from his executive role for two months, pending an internal investigation. The outcome of the investigation is not publicly known at this juncture.
The period in review also saw 28.6 million shares, or a 5.97% equity interest, in Omesti Bhd transacted in direct trades on Dec 31, 2019.
The parties involved in the transaction are unknown at this point.
However, executive director Gerard Monteiro has been acquiring shares in recent months. Based on the latest filing with Bursa on Jan 2, 2020, Monteiro's shareholding in the company amounted to 4.71% while his indirect interest was 14.1%.
At Ho Wah Genting Bhd, 23.94 million shares equivalent to a 5.21% stake crossed off market in direct trades on Dec 26 and 31.
One of the transactions, amounting to 14.59 million shares, can be traced to a disposal made by Ng Eng Tiong through private vehicle Financial Frontiers Pte Ltd on Dec 30, 2019.
In the third quarter ended Sept 30, Ho Wah Genting's net loss narrowed to RM722,000 from RM2.11 million a year ago. Revenue increased to RM47.22 million from RM44.1 million, owing mainly to higher demand from existing and new customers and a weaker ringgit against the US dollar, given that its products are priced in the greenback.
Meanwhile, MMAG Holdings Bhd saw 35 million shares, or a 4.87% stake, transacted off market in a direct trade, at one sen each on Dec 30.
The parties involved in the transaction are unknown at this point.
The company recorded a steeper net loss of RM5.25 million for the second quarter ended Sept 30, against a RM2.84 million loss in the same period last year.