This article first appeared in Capital, The Edge Malaysia Weekly, on October 23, 2017 - October 29, 2017.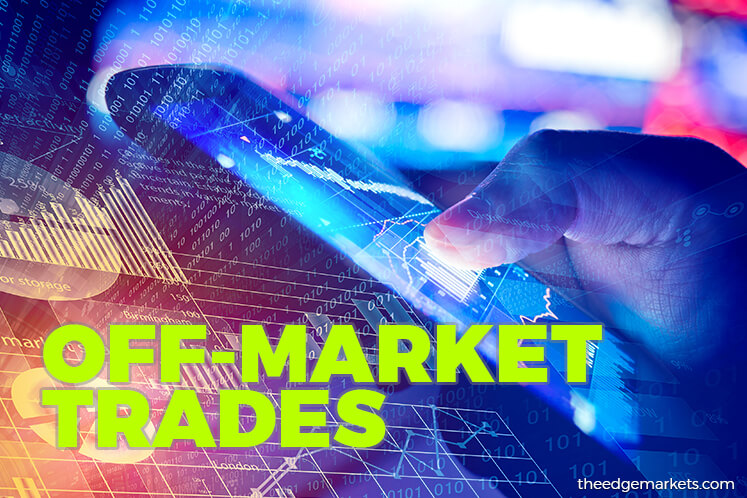 DATAPREP Holdings Bhd saw 270.5 million shares or a 64.2% stake worth RM43.29 million change hands in a single direct trade on Oct 11 at 16 sen apiece.
The shares were acquired by Wardah Communication Sdn Bhd from VXL Holdings Sdn Bhd, triggering a mandatory general offer.
However, the transaction price was 23 sen or 58.97% lower than Dataprep's last closing price. This caused the stock to fall 10.45% in active trade the following day.
Wardah is controlled by Tan Sri Muhammad Ikmal Opat Abdullah and his wife Puan Sri Jamilah Mahamad Isa via Widad Business Group Sdn Bhd.
Over at Johan Holdings Bhd, 30 million shares worth RM7.65 million were traded off market. The transactions were carried out in two equal blocks of 15 million shares at 25 sen and 26 sen apiece on Oct 11 and 12 respectively.
Chairman and CEO Tan Sri Tan Kay Hock acquired the first block, triggering a mandatory takeover offer at the said price. He and his wife control 50.58% of the company through various vehicles — Kin Fai International Ltd, Kwok Heng Holdings Ltd, Star Wealth Investment Ltd and Suncrown Holdings Ltd.
Tan is better known as the chairman of George Kent (M) Bhd, where he has a 42.2% stake.
CIMB Holdings Bhd saw a whopping 96 million shares or a 1.06% stake worth RM589.99 million change hands off market.
The shares were crossed in 21 transactions of more than 500,000 shares each. The bulk of them was traded at RM6.13 apiece on Oct 17, but a few blocks were crossed at around RM6.30 apiece.
Tenaga Nasional Bhd also saw substantial off-market trading activity with 37.76 million shares or a 0.67% stake worth RM530.14 million changing hands. The shares were traded at between RM13.98 and RM14.30 apiece.
BIMB Holdings Bhd saw 58.25 million shares or a 3.56% stake worth RM253.35 million traded off market.
Filings with Bursa Malaysia show that Lembaga Tabung Haji disposed of 27.4 million shares on Oct 11, after acquiring 19.4 million shares a day earlier. On Oct 12, it sold 3.45 million shares, leaving it with a 51.24% stake.
G3 Global Bhd, formerly known as Yen Global Bhd, saw 35.73 million shares or a 8.67% stake worth RM2.75 million change hands.
The bulk of the shares was traded at a mere one sen apiece, compared with G3's share price of roughly 7.5 sen at the time.
According to Bursa filings, Extreme Lifestyle (M) Sdn Bhd disposed of the shares and ceased to be a substantial shareholder.
Executive director Goh Kok Beng, who is also a shareholder of Extreme Lifestyle, acquired the shares, bringing his holding in the loss-making clothing retailer and Internet of Things solutions provider to 7.93%.
Meanwhile, Eduspec Holdings Bhd saw 36.3 million shares or a 3.62% stake worth RM5.37 million traded off market.
Timber and construction company Anzo Holdings Bhd saw 20.5 million shares or a 2.33% stake worth RM2.26 million change hands off market.
Brem Holding Bhd saw 9.49 million shares or a 2.76% stake worth RM10.25 million traded.