This article first appeared in Capital, The Edge Malaysia Weekly, on May 13, 2019 - May 19, 2019.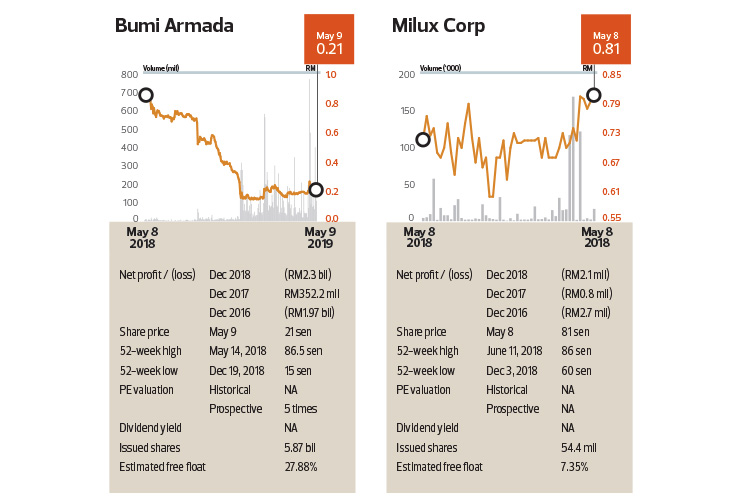 THE largest off-market transaction during the week in review was at Bumi Armada Bhd, which saw 173.4 million shares, or 3% equity interest, cross in block trades. The shares were transacted at 21 sen to 24.5 sen apiece.
The parties involved in the trades were unknown at the time of writing. Between the close of April 30 and May 7, Bumi Armada's share price fell 9% to 22 sen.  On May 7, the offshore support vessel operator announced that its joint-venture company, Shapoorji Pallonji Bumi Armada Godavari Pte Ltd, was awarded a nine-year charter contract worth US$2.1 billion.
Over at Milux Corp Bhd, 30.61 million shares, or a 56.3% stake, changed hands in direct trades on May 3 and 6. On May 3, Milux announced to Bursa that Topspike Holding Sdn Bhd and Asia New Venture Capital Holdings Sdn Bhd (ANVCHSB) had launched a conditional mandatory takeover offer for the electrical appliance manufacturer.
Topspike is jointly owned by Datuk Wira Ling Kak Chok (50%+1 share) and Gan Boon Lay (50%) while ANVCHSB is a wholly-owned subsidiary of Asia Capital Fund Ltd, a private strategic fund company. Yee Carine owns an 80% stake in Asia Capital Fund while the remaining 20% is held by Teh Sok Hoon. They collectively own 46.83% of Milux's shares after acquiring them through direct deals for 80 sen apiece on May 3. Prior to the acquisition, Topspike and ANVCHSB did not hold any shares in Milux. The new shareholders intend to maintain the company's listing status.
Milux's net loss rose to RM2.08 million for the financial year ended Dec 31, 2018 (FY2018) from RM839,000 in the previous year. Revenue fell 2.6% to RM77.64 million year on year.
Tiger Synergy Bhd saw 143.57 million shares, or 11.3% equity interest, change hands off market in direct and block trades at 1.1 sen to 4.5 sen apiece. Bursa filings show that executive chairman Datuk Tan Wei Lian and his spouse, Datin Sek Chian Nee, disposed of 103.13 million shares through direct deals. The parties involved in the other transactions could not be confirmed at press time.
Meanwhile, Seacera Group Bhd, in which Tan is a substantial shareholder, saw 26.2 million shares, or 5.5% equity interest, cross off market in direct and block trades. At the time of writing, the parties involved remained unknown. Seacera is involved in a boardroom tussle. Its substantial shareholders, who include Tan, are seeking to remove eight of its directors and replace them.
In a filing with Bursa Malaysia, the tile manufacturer said it has received a notice of an extraordinary general meeting (EGM), to be held on May 29, from the seven shareholders who claim to hold a combined stake of at least 10% in the company.
This is not the first time Tan and the other shareholders have called for an EGM. Two notices for EGMs, on March 28 and April 15, were withdrawn without a reason being given.
Some 18 million shares, or a 5.9% stake in technology company Vortex Consolidated Bhd, changed hands in two direct trades on May 6. The shares were transacted at 19.5 sen each. The parties involved in the trades were unknown at press time. The relatively quiet counter saw its share price jump 11.1% during the week to 20 sen apiece.
Lafarge Malaysia Bhd saw 25.8 million shares, or 3% equity interest, cross off market in cross, direct and block trades. On May 2, YTL Cement emerged as a substantial shareholder after it entered into a sales and purchase of share agreement with Associated International Cement Ltd for a 51% stake in Lafarge.
This triggered a general offer and YTL extended a mandatory general offer to acquire the remaining shares it does not own in Lafarge for RM1.63 billion or RM3.75 apiece. YTL intends maintain Lafarge's listing status on Bursa. Lafarge's shares last traded at RM3.72 at the close of May 2.