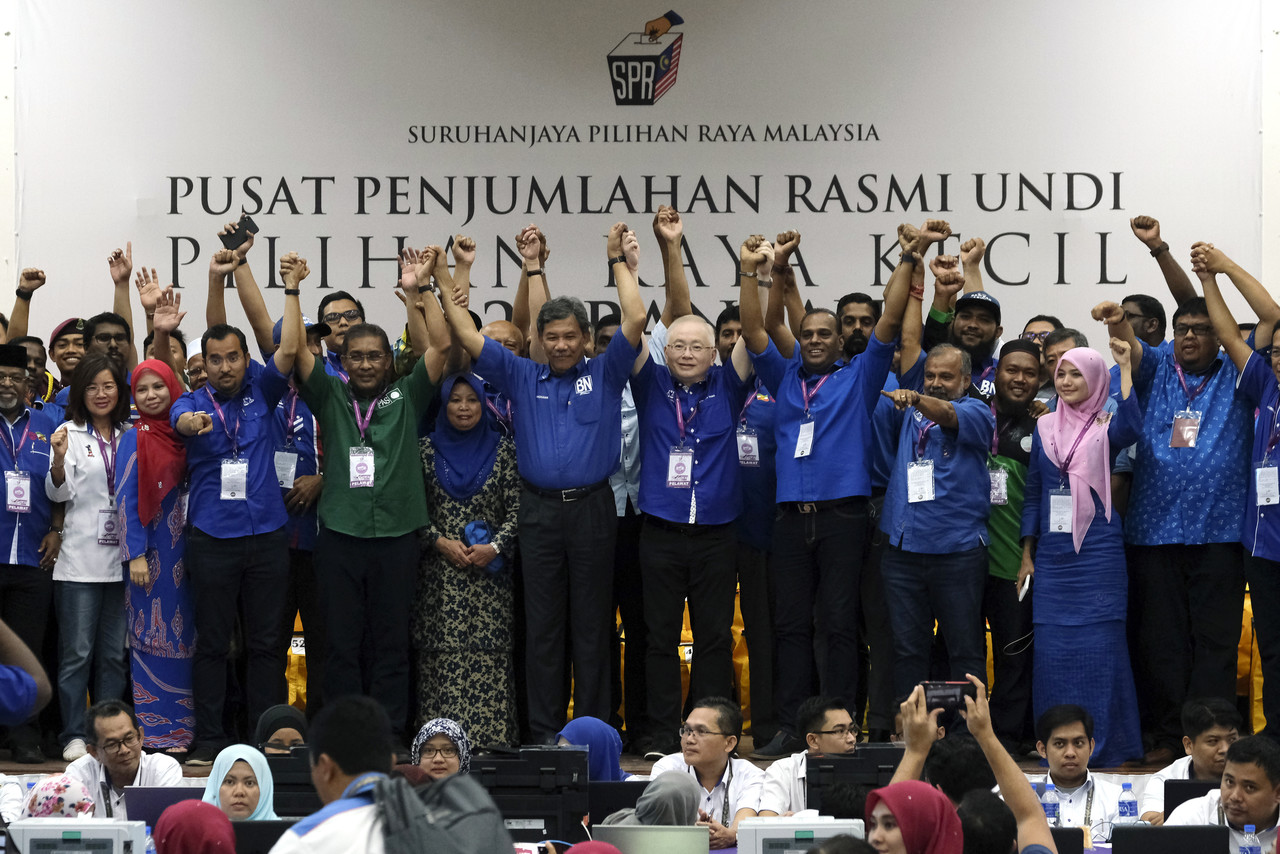 SEREMBAN (April 13): UMNO deputy president Datuk Seri Mohamad Hasan retained his Rantau State seat after defeating his three challengers in the Rantau by-election today.
Mohamad, 63, who is assuming the duties of UMNO president, won with a 4,510-vote majority after securing 10,397 votes to defeat Pakatan Harapan (PH) candidate Dr S Streram, 60, and two Independent candidates, housewife R. Malarvizhi, 51, and former lecturer Mohd Nor Yassin, 67.
Dr Streram, who is Rembau PKR deputy chief, garnered 5,887 votes, while Malarvizhi and Mohd Nor, received 83 and 79 votes respectively.
The result of the by-election was announced at 8.45pm by Returning Officer Mohd Nizam Tajul Arus at the vote counting centre at Sekolah Jenis Kebangsaan (Cina) Bandar Sri Sendayan here.
This is Mohamad's fourth victory in securing the State seat, which he has held since 2004.
The by-election saw 16,446 voters or 79.3 percent turnout casting their ballots at 14 polling centres involving 53 streams.
Mohamad in a media conference after the announcement of the results, expressed his gratitude that the by-election proceeded smoothly without any incidents to mar the process of democracy.
"Today, we obtain a comfortable and unexpected result. I thank all party machinery including BN component parties who patiently assisted in the 14-day campaign," he said.
Independent candidate, Malarvizhi said she accepted her defeat with an open heart and thanked those who voted for her while Mohd Nor also said he accepted the results.
The Rantau State constituency has 20,926 registered voters comprising 20,804 normal voters, four absentee voters and 118 early voters.
From the total, 55.51 percent or 11,615 are Malay voters, Chinese (18.46 percent or 3,863), Indians (26 percent or 5,441) and others (0.03 percent or seven).
The Rantau by-election is the seventh by-election after the 14th general election on May 9, 2018 with the first one in Sungai Kandis state seat on Aug 4, Balakong and Seri Setia state seats (Sept 8), Port Dickson parliamentary seat (Oct 13), Cameron Highlands parliamentary seat (Jan 26) and Semenyih state seat (March 2).
The by-election was held following the decision of the Federal Court to reject a petition filed by Mohamad to set aside the decision of the Special Seremban Election Court on Nov 16 last year which declared his victory for the seat in the 14th general election as null and void.