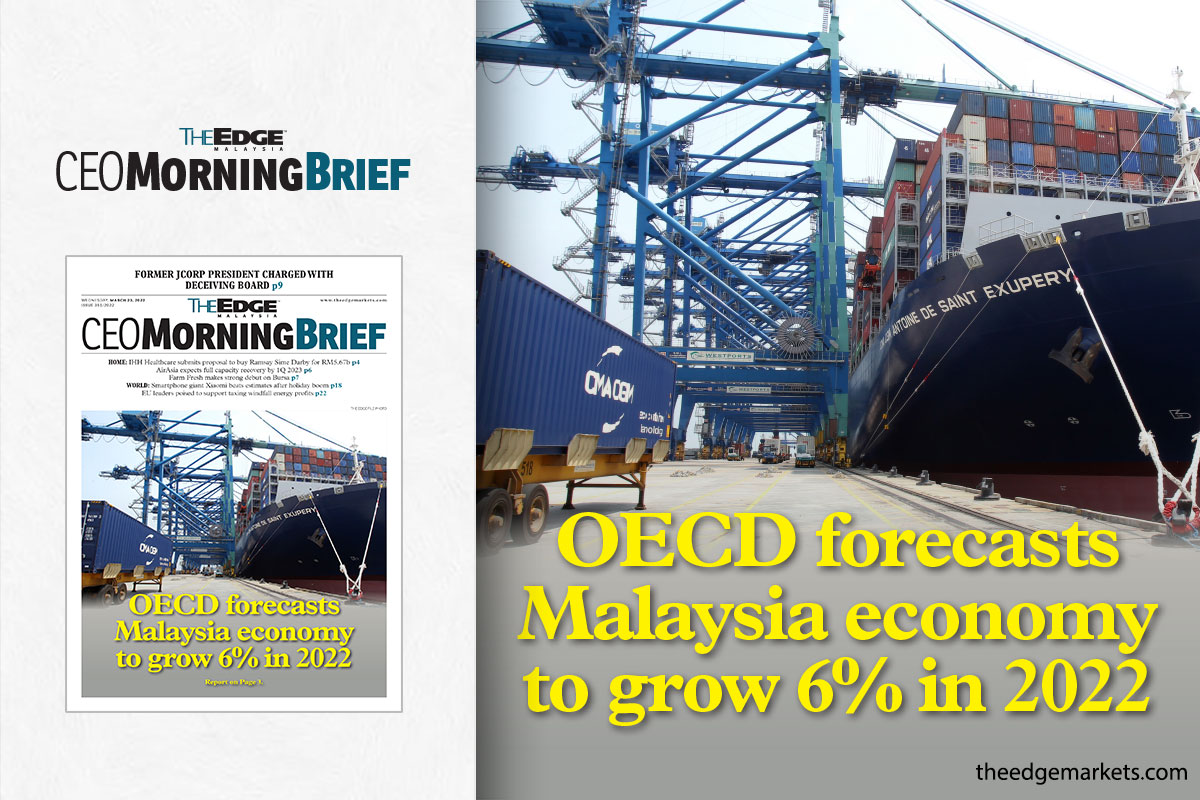 KUALA LUMPUR (March 22): The Organization for Economic Cooperation and Development (OECD) forecasts Malaysia to register a gross domestic product (GDP) growth of 6% for 2022 and 5.5% for 2023.
The forecast for 2022 is within the Ministry of Finance's expectation of a 5.5% to 6.5% growth, but is lower than the International Monetary Fund's projection of 5.75% and the World Bank's 5.8%.
OECD said the negative effects of containment measures on Malaysia's economic growth should be tempered by sustained fiscal support and recovering global demand.
"The outlook is exposed to downside risks, however, with the fast-spreading Omicron variant and an intensifying degree of disruption to supply chains expected to slow the recovery in the near term," the organisation said in its Economic Outlook for Southeast Asia, China and India 2022 report launched on Tuesday (March 22).
It noted that the resurgence of Covid-19 cases, which peaked in August 2021, resulted in strict restrictions being implemented in certain districts of Kuala Lumpur and large parts of Selangor, which it said are core to the nation's economic activities.
OECD added that the manufacturing activity had declined amid the shortage of products and workers, which led the government to allow the resumption of activity in certain economic sectors.
Overall, the country's real GDP rebounded by 3.1% in 2021, driven by strong investment, which was partly offset by lower net exports, while industrial production had contributed the most to economic growth during the year.
"In full-year terms, GDP growth in Malaysia is forecast to reach 6% in 2022, and 5.5% in 2023. Still, growth will largely depend on the country's ability to contain the pandemic amid the emergence of the Omicron variant.
"While the resurgence of Covid-19 cases and the potential re-imposition of nationwide containment measures are expected to weigh on growth in 2022, several factors should mitigate their impact. These include continued government support for businesses in essential economic sectors, a higher degree of adaptability to remote work, and higher levels of automation and digitalisation,"  said OECD.
It added that Budget 2022 included a record spending package worth RM332.5 billion, which would support Malaysia's growth, pointing out that a bulk of the RM23 billion allocation for the country's Covid-19 Fund were earmarked for cash payments and social assistance.
The gradual implementation of spending plans outlined in the 12th Malaysia Plan for 2021 to 2025 will also support growth in the near term, it said.
Compared to the ASEAN-5, OECD's growth forecast for Malaysia in 2022 is the third highest after the Philippines (7%) and Vietnam (6.5%), while Indonesia and Thailand are expected to grow by 5.2% and 3.8% respectively.