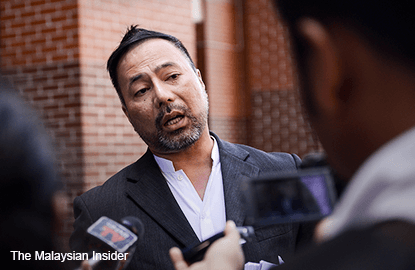 (Oct 2): Umno-man-turned-1MDB critic Datuk Seri Khairuddin Abu Hassan will have his habeas corpus application against his detention under an anti-terrorism law heard by the High Court on October 13.
Khairuddin's lawyer Mohamed Hanif Khatri Abdulla said judge Kamardin Hashim has also ordered the government to file affidavits in response to his client's application by October 9.
"The government lawyer still pressed on, asking the judge for a one-month period to file the court papers but it was rejected," Hanif said of the decision made in chambers.
Khairuddin, who has criticised debt-ridden state investment firm 1Malaysia Development Bhd (1MDB) and has lodged reports against it with investigators in several countries, is being held under the Security Offences (Special Measures) Act 2012 (Sosma) which allows for a 29-day detention period.
Hanif said one of the reasons the prosecution sought a longer extension to file court papers was because Bank Negara Governor Tan Sri Zeti Akhtar Aziz was overseas and it was unclear when she would return.
It is learnt that the Attorney-General's Chambers had wanted to obtain an affidavit from Zeti in relation to 1MDB.
Deputy public prosecutor Datuk Mohamed Hanafiah Zakaria represented the inspector-general of police (IGP) and the government who are respondents to the application.
Khairuddin was detained by police outside the Kuala Lumpur Courts Complex on September 23.
Police could hold him up to 29 days under the law, after which he should be charged with a security offence or freed.
The remand expires on October 21.
On Monday, Khairuddin filed the application, claiming that the arrest and detention under Sosma was unlawful.
The former Batu Kawan Umno vice-president was first arrested at his home in Mont Kiara on September 18.
Earlier the same day, he and his lawyer Matthias Chang were barred from leaving the country by Immigration officers at the Kuala Lumpur International Airport.
It was reported that he was on his way to meet Federal Bureau of Investigation officials in the United States when he was barred from leaving the country. – The Malaysian Insider