This article first appeared in The Edge Malaysia Weekly, on November 19, 2018 - November 25, 2018.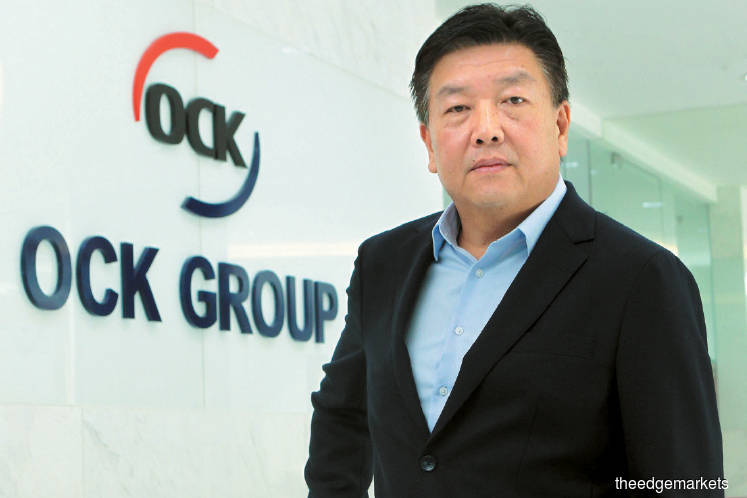 Ooi: In fact, some people have approached me to list in Bangkok and even the UK, which could attract a lot of institutional investors. Photo by Kenny Yap/The Edge
OCK Group Bhd is mulling a spin-off listing of its tower business (towerco) on a foreign stock exchange by 2020. The telecommunications network service provider has already gained a foothold in Myanmar and Vietnam.
In the telecoms industry, towers have become big business with independent companies and sometimes spin-offs from mobile service operators owning and maintaining them. These companies are known as towerco.
According to managing director Sam Ooi Chin Khoon, OCK has a strong regional presence with more than 3,500 towers in three Asean countries — Vietnam, Myanmar and Malaysia. Once its tower portfolio reaches the 5,000 mark, by next year at the earliest, OCK's regional business will be big enough to be spun off from the group.
"When we reach 5,000 towers, our recurring income will be strong, contributing more than 50% to group revenue. But, at the same time, our debt will be heavy so it makes sense for us to spin off the towers," Ooi tells The Edge.
Given the capital-intensive nature of the towerco business, OCK's borrowings and gearing have been increasing substantially over the last two to three years. The group's gross borrowings have ballooned from RM89.6 million in the financial year ended Dec 31, 2015 (FY2015), to RM147.1 million in FY2016, RM448.3 million in FY2017 and RM509.5 million in the first half ended June 30, 2018 (1HFY2018).
To recap, in December 2015, OCK announced that it would invest US$75 million in building 920 telecoms towers in Myanmar for Norwegian-owned Telenor Myanmar Ltd.
In January last year, OCK, through its indirect 60%-owned subsidiary Vietnam Towers Pte Ltd, completed the acquisition of Southeast Asia Telecommunications Holdings Pte Ltd for US$50 million, transforming it into the largest independent base transceiver station owner in Vietnam with 1,972 telecoms towers.
Today, OCK is the largest independent towerco in Vietnam with 2,500 sites. Ooi believes the strategy in Vietnam will be growth via brownfield and greenfield acquisitions as the local tower market is fragmented.
"We have been acquiring smaller tower companies and fortifying our position as the largest tower company in the country," he says.
As a result, OCK, which was a zero-gearing company in FY2015, saw its gearing ratio increase from 0.04 times in FY2016 to 0.79 times in FY2017 and 0.97 times in 1HFY2018.
While Ooi acknowledges that OCK's spin-off listing is one way to lighten the group's debt burden, he stresses that its gearing ratio remains at a reasonable level. "It is the norm for a towerco's gearing to reach a ceiling three to four times. Our gearing will continue to increase at a healthy level, as the group endeavours to build its tower portfolio and become an independent Asean towerco."
Ooi reveals that Singapore and Hong Kong are the preferable listing destinations for OCK's towerco business, but he does not rule out the possibility of the UK or Thailand.
"We hope to do the spin-off listing within one to two years. I have visited Hong Kong a few times this year and I have been invited to attend some meetings in Singapore as well. I think these are the two countries that we are quite happy to consider at the moment," he says."In fact, some people have approached me to list in Bangkok and even the UK, which could attract a lot of institutional investors. At this point in time, we don't have a definite answer."
For perspective, OCK owns 3,620 towers in Asean — 2,500 in Vietnam, 850 in Myanmar and 270 in Malaysia. Within the next one to two years, the group plans to acquire 1,000 towers in Vietnam, build 700 new towers in Myanmar and deploy 300 new towers in Malaysia.
In FY2017, the regional businesses, including Indonesia, Cambodia and Singapore, made up 33% to 34% of OCK's revenue. The regional contribution increased to about 40% in 1HFY2018.
"If we could achieve 5,000 towers, we are talking about a profit contribution of 60% to 70%, which is substantial. Even if we do not list the towerco, we have to carve it out to get a better valuation," says Ooi.
 
Eye on the Philippines
Following OCK's expansion into Vietnam and Myanmar, the group has set its sights on pursuing opportunities in the telecoms tower business in the Philippines, followed by Nepal and Sri Lanka.
"Currently, we do not have business presence in the Philippines, Nepal and Sri Lanka. But we have identified a local partner in the Philippines — ISOC Infrastructures Inc — to expand our footprint in the towerco business," says Ooi.
The Philippines telecoms industry is dominated by Globe Telecom and PLDT-Smart. However, a China-backed consortium, which recently won a bid to become the country's third telecoms provider, is striving to break this duopoly.
Earlier this month, the Philippine government gave the nod to a bid by the Mislatel Consortium — in which China Telecom will have a 40% stake — to provide a mobile and broadband service network.
OCK sees business opportunities in the Philippines as the country liberalises its telecoms industry.
"China Telecom, being a new player, will need a lot of towers to compete with the two incumbents. This is something OCK might be able to help with," Ooi says.
He says the Philippines is expected to call for tenders — one for towerco licence and another for buy and leaseback — next year. OCK will participate with ISOC for sure, he adds.
The idea behind OCK's spin-off listing is to carve out the towerco businesses in Vietnam, Myanmar and Malaysia. And if the group's venture into the Philippines is successful, that business will be carved out as well.
OCK has achieved significant revenue growth over the past five years, but its net profit has been stagnant at RM24 million to RM26 million in the last three years.
Ooi concedes that the group faces margin compression, mainly due to the telecoms network service business segment in Malaysia and Indonesia, as well as higher operating expenses and finance cost. However, this was uplifted by its venture in Myanmar and co-location works for its towers in Vietnam.
In 1HFY2018, OCK reported a net profit of RM9.3 million on revenue of RM213 million.
"Let me put it this way. Our 2HFY2018 will definitely be better than 1H. But if you want to see significant growth, you have to wait until FY2019 and FY2020," Ooi says.
Based on OCK's order book and tower acquisitions, he says the group is targeting revenue and profit growth of 10% to 20% in the coming years.
 
Share price correction
OCK's share price has been on a downward trend for the last 12 months. Year to date, the stock has fallen 53% to close at 41 sen last Thursday, giving the company a market capitalisation of RM357.3 million. Ooi blames the poor share price performance on what he calls "a technical issue" with OCK's shariah compliance status, as the group's total non shariah-compliant loans have exceeded one third of its total assets.
It is learnt that 45% of OCK's shares are owned by institutional investors, of which 3% are held by two or three local shariah-compliant investors.
"Our loans are mostly offshore loans from Myanmar and Vietnam, which are non-shariah-compliant. Naturally, the shariah-compliant investors are looking to exit because we are no longer a shariah-compliant counter," says Ooi.
"The problem is, these institutional investors are not allowed to transact off market, so they have to throw our shares on the open market and that is why our shares have been beaten down."
But to Ooi, this is the right time to accumulate OCK shares because the company's fundamentals remain intact.
"Once the shariah-compliant investors exit, the stock overhang will be removed and our shares will be all right. I think they have sold 1.5%, so, there is another 1.5% to go," he says. 
 
Save by subscribing to us for your print and/or digital copy.
P/S: The Edge is also available on Apple's AppStore and Androids' Google Play.