This article first appeared in The Edge Financial Daily, on June 13, 2018.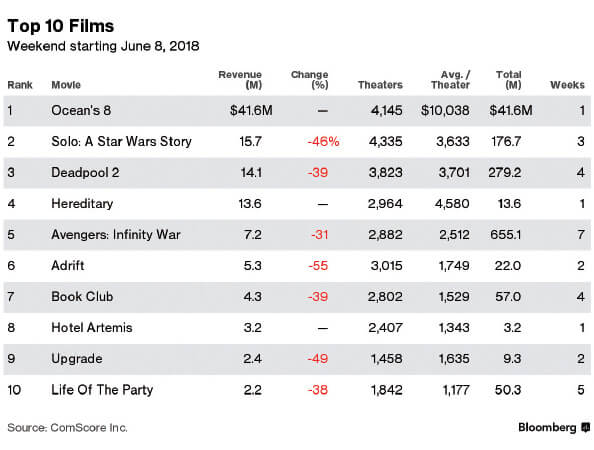 A gender-flipped version of the Ocean's Eleven heist franchise, starring some of the best-known women in Hollywood, opened as the No 1 film in US. and Canadian theatres.
Ocean's 8 collected US$41.6 million (RM165.98 million) in North American ticket sales, ComScore Inc said on Monday in an email, pushing Solo: A Star Wars Story into second place in its third weekend with US$15.7 million. Two other new releases helped stoke weekend attendance, with the A24 horror feature Hereditary placing fourth and Global Road Entertainment thriller Hotel Artemis opening in eighth place.
Starring Sandra Bullock, Cate Blanchett and Anne Hathaway, the female-led Ocean's 8 opened stronger than the earlier films, which featured a cast that included George Clooney, Brad Pitt and Matt Damon, without adjusting for inflation. Ocean's Twelve had the biggest opening of the three earlier films, at US$39.2 million. Time Warner Inc's Warner Bros studio is the distributor.
"The cast was spectacular," said Gitesh Pandya, editor of Boxofficeguru.com, by telephone. "This furthers the thinking that you can have a lot of projects out there driven by female star power and bring in the box office."
Warner Bros. spent US$70 million on the production, and millions more marketing the picture. It was expected to take in US$45 million, Box Office Mojo estimated.
Bullock plays Debbie Ocean, the estranged sister of the con man played by Clooney. After a stint in prison, she puts together an unstoppable team of crooks. Their target is the annual Met Gala in New York and a necklace worth more than US$150 million.
Co-stars include Rihanna, Mindy Kaling, Sarah Paulson and Helena Bonham Carter. The film scored 67% positive reviews, according to aggregator Rottentomatoes.com.
Warner Bros can now use the all-female Ocean's 8 as a base for sequels, as the company did for the previous all-male line-ups in the earlier Ocean movies, Bloomberg analyst Paul Sweeney said by telephone. Gone are the days when the industry banks on a single star to carry movies, he said.
More spin-offs are probable, said Jeff Goldstein, president of domestic theatrical distribution for Warner Bros. "We hit an underserved audience," he said. "We hit them straight on. The actors had an incredible chemistry together."
Hereditary got a thumbs up from 93% of critics and generated sales of US$13.6 million, beating the US$9.6 million projected by Box Office Pro. That marked a record opening for distributor A24. Toni Collette stars as Annie Graham. After her mother dies, the Graham family starts to discover cryptic and terrifying secrets about their ancestry.
The action thriller Hotel Artemis from Global Road opened with revenue of US$3.2 million, ahead of the US$2.5 million seen by Box Office Pro. It scored 59% positive reviews, Rottentomatoes said.
Set in a dystopian, future Los Angeles, the film features Jodie Foster as a nurse, who runs a secret, members-only emergency room for criminals. Sterling K Brown and Jeff Goldblum are among the co-stars. — Bloomberg