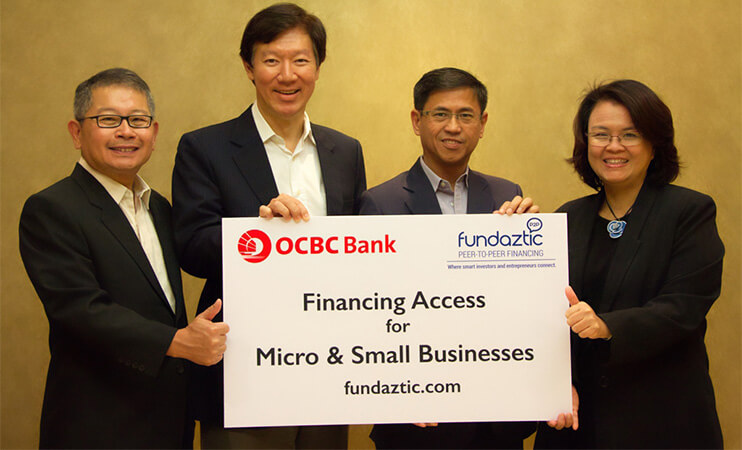 (Left to right)Mr Wong Chee Seng, Head of Emerging Business, OCBC Bank (Malaysia) Berhad; Dato' Ong Eng Bin, Chief Executive Officer, OCBC Bank (Malaysia) Berhad; Mr Jeffrey Chew, Chairman, Peoplender Sdn Bhd; and Ms Kristine Ng, Chief Executive Officer, Peoplender Sdn Bhd, at a ceremony to mark the partnership between OCBC Bank and Peoplender.
KUALA LUMPUR (June 25): OCBC Bank (Malaysia) Bhd has teamed up with Peoplender Sdn Bhd to enhance access to financing for micro, small and new businesses.
In a joint statement today, OCBC Bank and Peoplender said the effort will be operationalised through Peoplender's wholly-owned peer-to-peer financing platform Fundaztic.com, which is licensed by the Securities Commission.
The effort will see OCBC Bank referring to Peoplender viable small and medium enterprises (SMEs), seeking wider financing options to enhance and support their business growth.
According to OCBC Bank chief executive officer (CEO) Datuk Ong Eng Bin, the current effort represents a meaningful partnership with viable businesses that might not easily qualify for standard bank loans.
"With the emergence of peer-to-peer financing platforms, opportunities that were previously unheard of are now available. However, there continues to be a gap between those in need and those in a position to meet the need. We are delighted to play our part in bridging this gap, through our partnership with Peoplender," he said.
Since its launch in July 2018, Fundaztic has successfully disbursed almost RM15 million in funding to more than 170 SMEs, of which more than half are businesses that have been in operation for three years or less.
Peoplender CEO Kristine Ng said alternative funding platforms are part of an entirely new industry, with Fundaztic itself having been in the market for barely a year.
"This limits our ability to reach out to all viable SMEs out there, which is why the collaboration with OCBC Bank is a promising endeavour, as the bank has a much wider reach, both in terms of network and personnel," Ng said.
Fundaztic's investors can expect to receive returns on investments of between 13% and 23% per year, depending on the risk grades of the SMEs they invest in, she added.