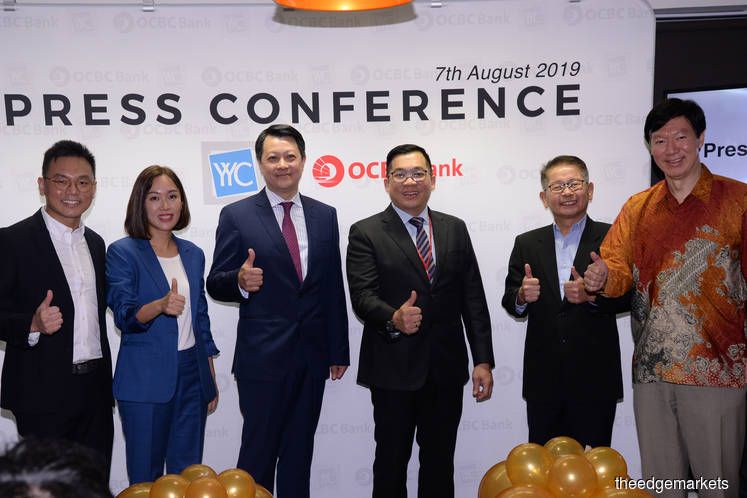 From left: YYC Group chairman Yap Zhi Chau, YYC Group CEO Datin Yap Shin Siang, OCBC Ltd global head of mezzanine capital unit Daniel Kwan, OCBC Bank (Malaysia) Bhd MD and head of corporate and commercial banking Jeffrey Teoh, OCBC Bank Malaysia head of merging business Wong Chee Seng, and OCBC Bank Malaysia CEO Datuk Ong Eng Bin. (Photo by Sam Fong/The Edge)
KUALA LUMPUR (Aug 7): Singapore's OCBC Bank, through OCBC Bank (Malaysia) Bhd and Lion-OCBC Capital Fund 1 (LOCAF 1), is investing in local accounting firm YYC Group.
At a press conference today, YYC executive chairman Yap Zhi Chau said OCBC would be acquiring "less than 20% stake" in the accounting firm.
YYC chief executive officer (CEO) Datin Yap Shin Siang said the firm would use the investment from OCBC to acquire more businesses in the areas it operates in, as well as on marketing efforts to broaden its client base.
The existing YYC group management will remain as major shareholders, with OCBC being an adviser to the accounting firm.
OCBC Bank Malaysia CEO Datuk Ong Eng Bin said the banking group invested in YYC due to the firm's strong earnings growth.
"We want to partner with a firm that has roots in the Chinese community," continued Ong.
Daniel Kwan, global head of OCBC Ltd mezzanine capital unit, which created LOCAF 1 alongside asset management subsidiary Lion Global Investors, said the banking group would invest approximately RM60 million in YYC.
He explained that the RM60 million is inclusive of both its stake in YYC and a "war chest".
This war chest is worth approximately RM40 million, and is for the accounting firm to use for acquisitions.
YYC also announced that it would seek to list and conduct an initial public offering (IPO) exercise within five years.
When asked when and where the firm would list, Zhi Chau said it is considering listing in Malaysia, Singapore and Hong Kong.
He noted that YYC would look at listing closer towards 2023 and 2024, and that Malaysia is the first choice when it comes to a listing destination.
"For now, it is easier for us to list on the ACE market in Malaysia, but priority will be given to Malaysia as it is our home," he said.
In response to a question on whether the banking group would be looking to take up a bigger stake in YYC closer to listing, Kwan said the option for further investment is always on the table.
While not disclosing a concrete revenue target or figure for the current financial year, Shin Siang said YYC is expecting strong organic growth, while adding the firm has tripled its revenue since 2016.
"We are expecting strong organic growth, coupled with strategic acquisitions, to catapult the company (YYC) to greater heights within the country and regionally," she said.
When asked if this investment allows YYC to leverage OCBC Bank Malaysia's client base, Ong said the banking group has 100,000 small and medium enterprise (SME) clients in Malaysia, and that "it allows for greater synergy" between OCBC Bank Malaysia and YYC.
YYC was first established in 1974, and currently services 20,000 clients. It maintains operations in KL, Selangor, Johor, Penang and Singapore.