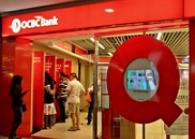 SINGAPORE (April 30): Oversea-Chinese Banking Corp's 1Q2015 earnings rose 11% y-o-y to $993 million as business grew across its key markets.
Net interest income increased 15% to $1.25 billion on higher loan growth.
Net interest margin fell, however, to 1.62% from 1.70%, as a lower loans-to-deposits ratio and weaker income from money market gapping activities offset better customer loan spreads in Singapore.
Non-interest income rose 7% to $859 million, driven by its wealth management, brokerage and fund management operations.
Contributions from associates increased to $89 million from $17 million, driven mainly by Bank of Ningbo, which became a 20%-owned associate in September last year.
Allowances for loans and other assets increased to $64 million from $41 million, partly due to the consolidation of OCBC Wing Hang, which the bank acquired last year.
OCBC's non-performing loans ratio slipped to 0.6% from 0.7%.
Compared to 4Q2014, OCBC's earnings for the March quarter rose 26%, aided by higher fee income, net trading income and profits from life assurance.
Overall, OCBC's results were "uninspiring", even though earnings beat market expectations, according to Maybank Kim Eng analyst Ng Wee Siang.
OCBC's loan growth was only 4% y-o-y and 0.2% q-o-q if contributions from Wing Hang were excluded, Ng noted in a report.
The drop in net interest margins to 1.62% was also unexpected, he said.
"This was due to aggressive Hong Kong-dollar deposit-gathering and weaker income from money-market gapping, Ng said. "A large increase in fixed deposits pushed up cost of funds by four basis points q-o-q and diluted Singapore-dollar loan spreads."