This article first appeared in The Edge Financial Daily, on January 14, 2019.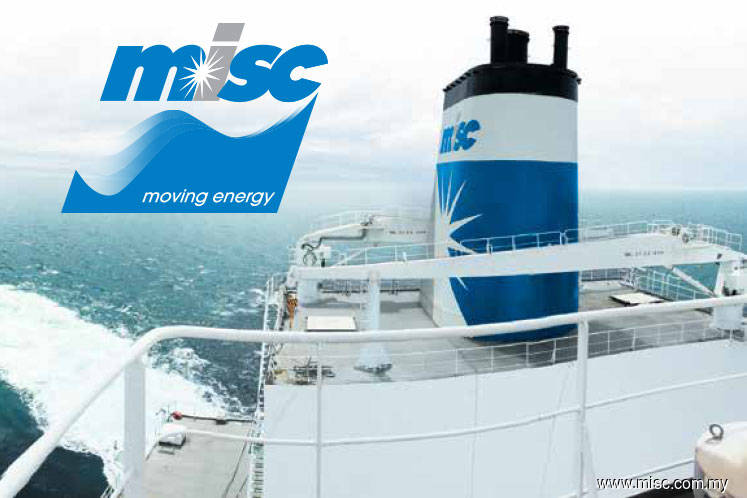 KUALA LUMPUR: Investors are seen to be nibbling on MISC Bhd's shares of late. The reason could be that the spot charter rates for tankers have climbed to the highest level since 2013 oil boom last year.
For the petroleum segment that has suffered a tonnage oversupply conundrum for years, the latest spike in Baltic Dirty Tanker Index to 1,266 points — just over 16% higher than its 2017 peak — stands out.
Pundits view the current climb as unsustainable, citing persisting oversupply. But it also provides hints of a market rebalance, which has been long overdue.
Tanker scrapping at record high
Bloomberg reported that up until September 2018, oil tanker owners had scrapped a record number of 100 ships with capacity above 80,000 deadweight tonnes (dwt), namely Aframax, Suezmax and very large crude carrier (VLCC) because of the prolonged supply glut.
Ships are also being scrapped ahead of an International Maritime Organization regulation due in 2020 (IMO2020), which requires ships to use fuel with lesser sulphur content, cutting it to 0.5% sulphur content, from 3.5% presently.
Owners have two expensive options: retrofit exhaust cleaning systems called scrubbers at a cost of US$2 million (RM8.2 million) to US$5 million per vessel depending on size or burn the pricier low-sulphur fuel.
The modification is not economic for ships older than 13 years. Opting for low-sulphur fuel could add to fuel costs — the industry's single largest expense — by about 20%, Reuters reported.
With a net gearing of 16.5% and cash equivalents of around RM5.22 billion as at Sept 30, 2018, MISC has a relatively healthy balance sheet for the scrubber installation, which, according to analysts, is necessary for a tenth of its fleet size.
On the contrary, shipowners with unhealthy balance sheets simply cannot afford either option. This provides a window for companies like MISC to strengthen its market position, currently at around 2% of global market share for hydrocarbon shipping.
Analysts mixed on industry landscape
However, it will not exactly be smooth sailing for MISC, TA Research analyst Kylie Chan told The Edge Financial Daily.
While scrapping has intensified, petroleum tanker new builds are set to increase year-on-year to above 25 million dwt in 2019 before tapering off in 2020 and 2021, pointed Chan. "The 2019 numbers are still substantially high," she said.
UOB Kay Hian analyst Kong Ho Meng concurred. "I think tankers  may likely remain in oversupply for 1H19 (first half of 2019), in view that the oil supply is cut, as deliveries are still there despite high scrapping," said Kong, in reference to the pledge by Opec to cut supplies by 1.2 million barrels per day this year.
However, he expects the oversupply situation to improve in 2H19.
Moving on, the IMO2020 regulation would add to demand for distillates, and concurrently more shipments to refiners, said Chan.
More importantly, however, is the impact of the regulation towards higher fuel costs.
According to Chan, the MISC management has guided that it is unable to immediately pass through bunker fuel costs for spot contracts and chemical fleet.
At least 41% of MISC's petroleum fleet served on spot charter basis as at Sept 30 last year. "The impact to MISC will be mixed," said Chan.
Further, UOB's Kong pointed that Opec's supply cut, too, could lift fuel costs — especially should crude oil prices go higher than the 1H18 average of around US$70 per barrel.
"The recent share price appreciation may imply high market expectations on MISC's fundamental recovery," he commented.
Petroleum segment in focus
Indeed, any meaningful upside for MISC hinges on its petroleum segment.
Minus the possible strong earnings expected in the final quarter, the financial year ended Dec 31, 2018 (FY18) has been the worst in years for MISC from multiple perspectives. Share price hit five-year low in May last year, while cumulative results for the first three quarters were the weakest since 2013.
In the nine months ended Sept 30, 2018, MISC's net profit nearly halved to RM972.8 million from RM1.91 billion. Cumulative revenue fell 15.93% to RM6.39 billion, from RM7.6 billion previously.
Petroleum-shipping revenue constituted nearly half of MISC's revenue in the 1H18 at RM3.03 billion — but it was a bleeding segment with an operating loss of RM121 million in the period.
In comparison, its liquefied natural gas (LNG) fleet is largely supporting its 62.67% shareholder Petronas. Its floating storage production and offloading vessel operation — fifth biggest globally — is still operating well, with potential new contracts to be issued in the market the coming years.
Meanwhile, its 66.5%-owned loss-making fabrication unit Malaysia Marine Heavy Engineering Holdings Bhd should soon kick-start projects that were deferred last year.
It has secured a contract for two fixed offshore structure packages from Petroliam Nasional Bhd as recently as last week, and has tendered for projects totalling RM6 billion — although there will be a gestation period before earnings improve meaningfully.
Out of the 14 analysts covering MISC, two have a "buy" call, 10 a "hold" rating and two are recommending a "sell".
Target price (TP) ranges from RM7.50 to a low of RM5.02 — the latter by TA's Chan. "The oversupply is still overwhelming in the petroleum and LNG segments," she said.
UOB's Kong also maintained his "sell" call on the counter with a TP of RM5.75, on grounds that a sustainable tanker rate recovery is not yet in sight. "Hence, we advise taking profit given a strong 4Q18 expectation."
New builds and slowdown in oil demand are likely to encourage tanker scrapping activities. On the other hand, the capacity glut is unlikely to ease much mainly because of the new builds and weaker demand.
Still, some opine that the increase in spot charter rates during the last winter was higher than expected — this is an undeniable positive sign. Are MISC shareholders in for another surprise?