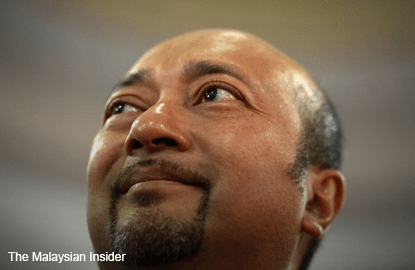 KUALA LUMPUR (Feb 2): Kedah DAP today has clarified that the opposition's disagreement with the manner Umno was trying to remove Datuk Seri Mukhriz Mahathir from the menteri besar post did not mean that they supported him.
"We may disagree with how they do things, but that does not mean that we support Mukhriz," Kedah DAP chairman Tan Kok Yew said this evening at a press conference.
Earlier this afternoon, Tan and 12 other opposition elected reps from DAP, PKR and PAS had an audience with the Kedah Regency Council at Wisma Darul Aman over the menteri besar saga. Two other reps were overseas.
He and his colleague, Kota Darul Aman representative Teoh Boon Kok did not speak to the media outside Wisma Darul Aman but a group of other opposition reps from PAS and PKR did and issued a statement on behalf of all opposition members of the Kedah legislative assembly.
Tan said he was later called up by several reporters asking him whether they were supportive of Mukhriz.
"I think we have to stress here that such is not our stand. We fear that there is a misunderstanding. The whole issue here is not a question of support for Mukhriz, but an internal party issue that is up to Umno to settle internally.
"We don't even know if this menteri besar issue is created to divert our attention from other issues. If Umno cannot settle it, then the matter should be brought to the state legislative assembly for a motion of no confidence to be table," he said.
Tan, who is also Derga assemblyman, said that would be the "normal way of doing things", which would also be democratic.
"As elected reps, we must go back to the people," he said, adding that hopefully the matter could be resolved this week before the Chinese New Year holidays.
At the press conference with Teoh, Tan also clarified that the joint statement issued to the media by several PAS and PKR reps this afternoon was not endorsed by Kedah DAP.
He said DAP was not aware of the statement prior to its release to the press, although he did not object to the content after he was shown the statement.
"The content is okay, but they don't speak on DAP's behalf. It is not because the PAS reps had distributed the statement.
"Every opposition assemblyman had gone in to be interviewed by the regency council separately. DAP has its stand and views, and we have conveyed it to the council," he said.
On what happened during their individual audience with the regency council, Teoh said the members of the council – chairman Tunku Temenggong, Tan Sri Tunku Sallehuddin Ibni Almarhum Sultan Badlishah; Tunku Laksamana, Datuk Seri Diraja Tunku Abdul Hamid Thani Ibni Almarhum Sultan Badlishah and the Sultan of Kedah's eldest daughter, Tengku Panglima Besar, Datuk Seri Tunku Puteri Intan Safinaz – "were friendly".
"We were asked only two questions. We answered, and the council took note. We cannot divulge our replies to the media," he said.
Earlier this afternoon, PAS's Alor Mengkudu assemblyman Ahmad Yahya said the opposition reps had come to a consensus that if Mukhriz had to be removed, it should be at the legislature.
The statement that was given out to the media as he spoke, stated that the opposition reps in Kedah disagreed with the way some Umno leaders were trying to remove Mukhriz.
Among others, it also stated that changing the menteri besar could not be more important than changing the prime minister.