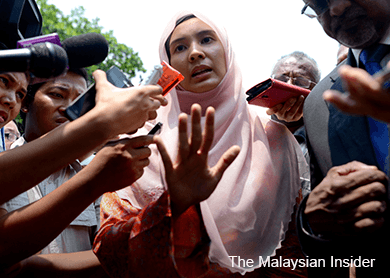 KUALA LUMPUR (Mar 16): Police have detained Nurul Izzah Anwar under the Sedition Act today over a speech made in Parliament, making her the latest opposition lawmaker held under the colonial era law..
The Lembah Pantai MP had gone to the Dang Wangi police station to get her statement taken when police arrested her.
Nurul Izzah, who is also PKR vice-president, had been ordered by the police to give her statement at the Dang Wangi police headquarters today in connection with the #KitaLawan held in the capital, Kuala Lumpur, on March 7.
She is also under investigation for sedition over a recent speech she made in Parliament, where she criticised the judiciary over the Federal Court verdict that upheld her father, Datuk Seri Anwar Ibrahim's conviction for sodomy.
Nurul Izzah told reporters earlier this afternoon at around 2:30om that the police informed her that she would be investigated regarding Section 9(5) of the 2012 Peaceful Assembly Act.
She said that on Friday, an ASP Muniandy had arrived at her home with two police cars looking for her and expressed surprise at the need to do so as she had already agreed to come to the police station today.
"What's surprising is that ASP Muniandy arrived with two police cars last Friday at my father's house at Segambut," she said.
"I have no idea how long my statement would take," she added, before going into the police headquarters.
Subang MP R. Sivarasa who was among other Pakatan Rakyat MPs accompanying Nurul Izzah questioned the actions of police in going to her house as if the federal lawmaker were a "criminal".
"The question that we should ask the police is that why are they so keen on going to Nurul Izzah's house? It's not like she's a thief or criminal that would run away.
"It is a form of threat...four policemen waiting in front of the house. This kind of attitude is unacceptable.
"Izzah is a Member of Parliament for Lembah Pantai and this kind of treatment is very unprofessional and political," he said.