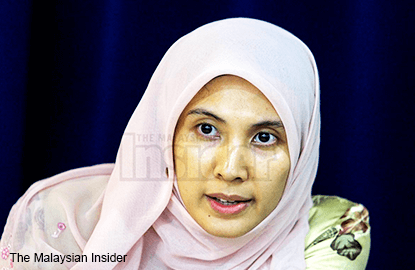 (Nov 26): PKR vice-president Nurul Izzah Anwar has filed a defamation suit against the nation's top cop and a minister for accusing her of treason over a meeting with the daughter of a self-proclaimed Sulu Sultan in the Philippines.
Nurul Izzah, the Lembah Pantai MP, said Inspector-General of Police Tan Sri Khalid Abu Bakar had on November 22 falsely uttered slanderous words against her during a press conference at the federal police headquarters in Bukit Aman.
She said Rural and Regional Development Minister Datuk Seri Ismail Sabri Yaakob had issued a libellous media statement against her on the same day at an event in Bera, Pahang.
The daughter of jailed former opposition leader Datuk Seri Anwar Ibrahim is also seeking an injunction to bar anyone from repeating their claims.
Nurul Izzah said the statements were issued after her photograph with self-styled Sulu princess Jacel Kiram was published by the local media.
Nurul Izzah said both statements had allegedly portrayed her as traitor to the country and that she had committed a serious crime.
Jacel is the daughter of Jamalul Kiram III who ordered 200 members of his "Royal Sulu Army" to invade Lahad Datu in February 2013 to stake his claim over Sabah.
The suit was filed at the High Court civil registry by her lawyers N. Surendran and Latheefa Koya.
In her statement of claim, Nurul Izzah said Khalid's words meant that she was the mastermind behind the Sulu intrusion in Sabah.
She also said Ismail's statement had implied that she was involved in terrorism and action should be taken for waging war against the Yang di-Pertuan Agong.
She said the statements had affected her character and reputation, and caused her to be depressed.
She is seeking general and aggravated damages but left it to the court to decide on the quantum.
Surendran told reporters later that Nurul Izzah filed the suit without issuing a letter of demand to Khalid and Ismail over the accusations made against her.
Nurul Izzah said she would be going to Bukit Aman tomorrow with her lawyers to answer to all allegations following 90 reports lodged against her.
She had confirmed being in the Philippines on November 9 with fellow federal lawmaker Tian Chua as part of a PKR delegation to meet with "various stakeholders" there.
She had also explained that the guest list was decided by the organisers and she had no prior knowledge she would be meeting Jacel. – The Malaysian Insider