This article first appeared in City & Country, The Edge Malaysia Weekly, on November 11, 2019 - November 17, 2019.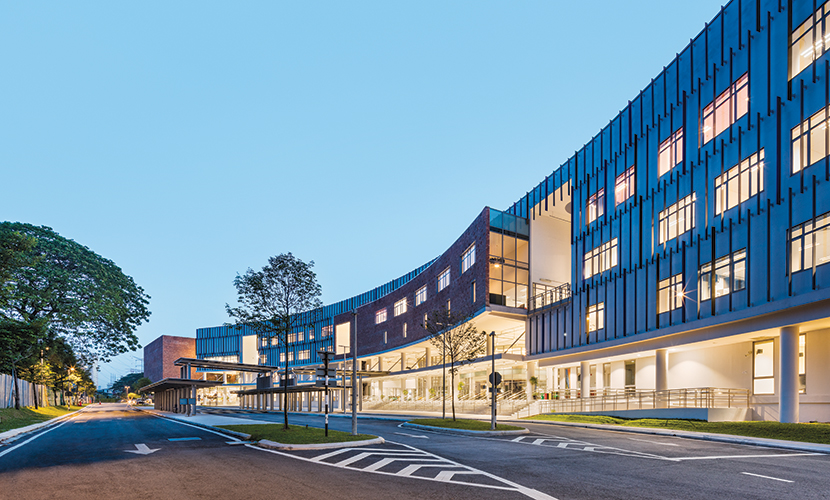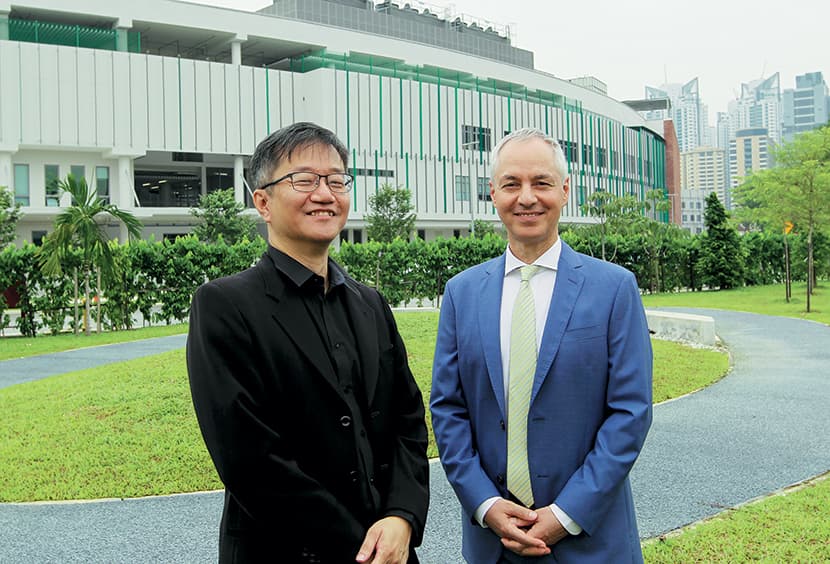 ISKL head of school Rami worked closely with Veritas' Ng on the design of the new campus Kenny Yap / The Edge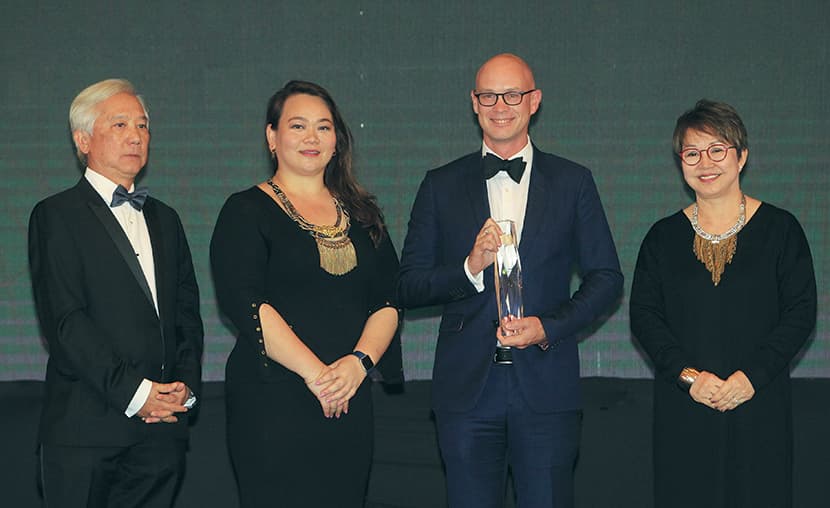 ISKL director John Beattie with (from left) The Edge Media Group publisher and group CEO Datuk Ho Kay Tat, City & Country editor Rosalynn Poh and EdgeProp.my managing director and editor-in-chief Au Foong Yee Mohd Shahrin Yahya / The Edge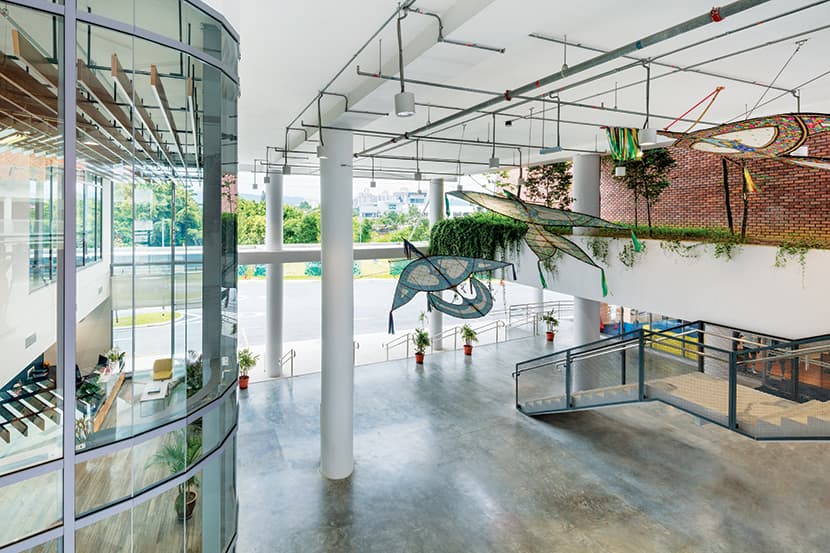 The building's finish is kept simple for easy maintenance Picture by Iskl And Hok International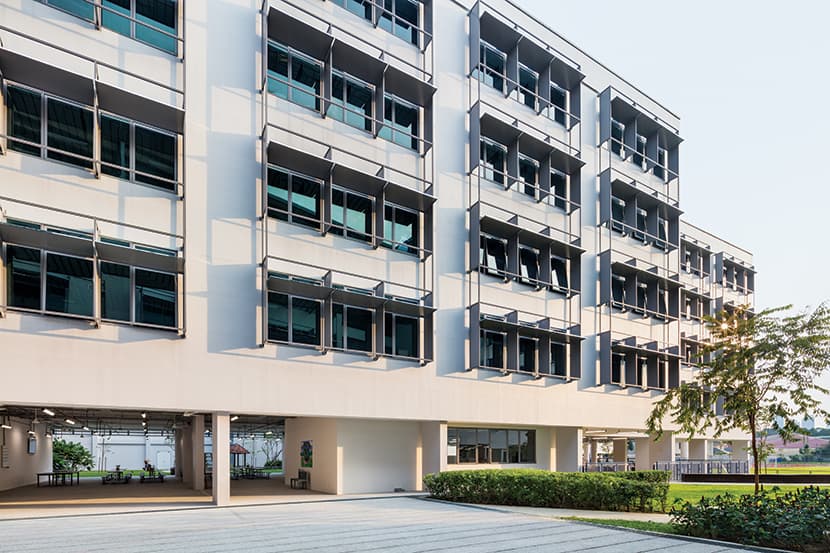 The light reflectors around the windows gather daylight and project it into the classrooms and also function as sun shades Picture by Iskl And Hok International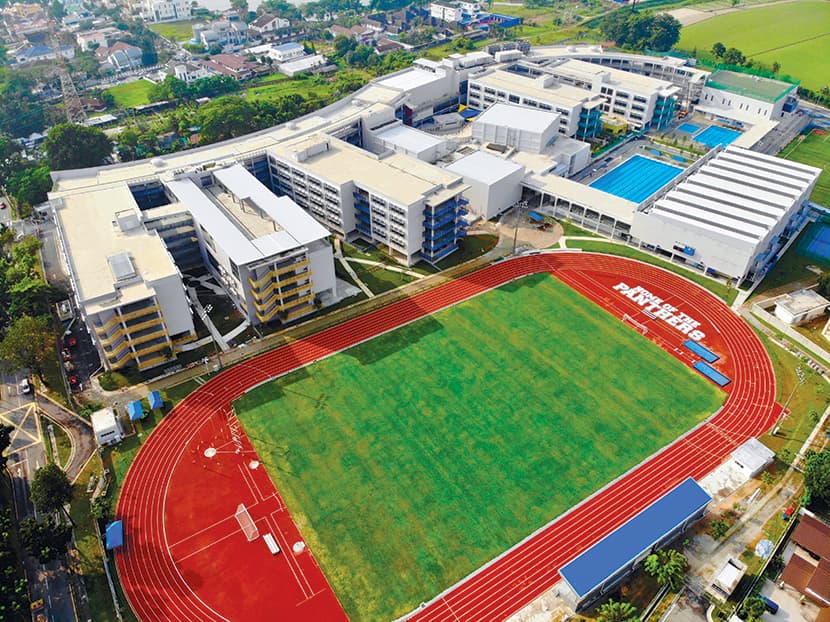 An aerial view of the campus> Picture by Iskl And Hok International
WINNER | The International School of Kuala Lumpur
Three wau bulan or traditional Kelantanese moon kites flutter overhead at the breezy, lofty main entrance of The International School of Kuala Lumpur (ISKL).  Its 26-acre campus in Ampang Hilir, purpose-built to offer an impressive range of academic, athletics and arts facilities, welcomed students and faculty in August last year.
The campus' simple and clean design belies the sophisticated facilities it offers, including state-of-the-art laboratories for science and technology; indoor and outdoor sports complexes; an aquatic centre with learn-to-swim, competition and Olympic-sized pools; and performing arts centre that has a 650-seat theatre, 600-seat elementary theatre and an amphitheatre. A 250-seat purpose-built concert recital hall and a Black Box theatre are planned for the future.
The new Ampang Hilir campus replaces ISKL's  two previous campuses in Ukay Heights in Ampang and in Melawati.
 But the school's history goes back much earlier. Lessons first began in 1965 in an old palace built by the Selangor royal family in Jalan Maxwell in the Kenny Hill area before its operations were moved to Ampang in 1976. Subsequently, it moved its elementary school to the Melawati campus in 1992.
From 48 students 54 years ago, the non-profit, parent-governed ISKL today has 1,765 students from about 68 nationalities, from 3 to 19 years old.  The campus can accomodate a total enrolment of  2,200 across various educational levels — from early childhood and elementary to middle and high school.
"I think our vision as a school has expanded over time because, now, in the 21st century, we want to provide a better environment for our kids and this campus and its state-of-the-art facilities allow them to learn in an authentic and meaningful manner," says Rami Madani, ISKL's head of school,  during our interview at the new campus.
"Here, students can learn on-site. There is so much behind the campus that our students can benefit from, such as studying the campus itself and the sustainability ideas behind its design," adds Rami.
The design was completed locally by Veritas Architects after US-based HOK International designed the conceptual and schematic stages following a design competition.
Local principal architect Ng Yiek Seng from Veritas describes the school's design as a scalable concept of communities, with each grade or discipline for high school likened to one village unit. The villages are nested in bigger ones called the academic wings, which are connected to a 500m-long building, much like a spine, he explains.
In total, there are five academic wings — two for elementary schools, one for middle school and the remaining two for high schools.
If there is one word to describe the planning process, it would be inclusive, says Rami. "We met with pretty much every possible stakeholder including students, faculty and staff members, parents and vendors to look at [what was] missing and what they hoped to see in a school that provides 21st century learning. The negotiations went back and forth before we could take that vision from paper to reality.
"We don't want to build a campus that looks like every other one. This new campus is bigger and better than what we have envisioned," he says.
The thoughtfulness in the overall design of the ISKL campus and its sustainability approach, which allows its occupants to appreciate and enjoy the building and also makes it an institutional building of its kind, has earned it the recipient of The Edge Malaysia-PAM Green Excellence Award this year.
A safe and inclusive learning space
To accommodate all types of learners, each village unit has its own common spaces, including collaborative spaces as well as quiet and reflective spaces.
"In our school, all have equal rights and we're all respectful. We accommodate students who are disabled or have special learning needs. The campus is designed with learning spaces for all to feel safe and learn.
"Students don't belong to classrooms but move between classes based on their learning needs," Rami explains.
According to Ng, a lot of input in the design and planning stages of the campus has to do with sustainability. "We are not just architects but creators of space [who] understands how things work on the education side."
"We had three non-negotiable criteria for the school's design during the initial planning stages," Rami says. "We wanted spaces that allowed collaboration at all levels and not isolation. We wanted spaces that are flexible because learning is changing and we didn't want to end up with a space that was only good for a period of time because 10 years from now, we may want to break down some walls and restructure. Third, we wanted a space that facilitates holistic learning.
"Sustainability is more than learning it from paper, but rather the community has to continue to practise it," he adds.
To reduce carbon footprint and encourage school bus usage, the school has allocated parking space  for up 80 buses.
"Currently, about 40 bus bays are being used as we haven't reached maximum capacity, but the allowance is there. When bus usage exceeds cars, we can convert some of the car parks to bus bays. That is one way to encourage bus usage," says Ng.
In addition, the practice is for buses to have precedence before cars in coming in to pickup the students,  says Rami. "We have a large number of bus users on campus and many families who live within walking distance. We also have many faculty and staff members who walk and cycle to school, so we are considering putting another bicycle station.
"The whole mentality of the school leans towards being environmentally friendly, and reducing our carbon footprint is at the very front and centre of the community," says Rami.
Green, sustainable features
The ISKL campus incorporates an impressive range of active as well as passive sustainable features.Ng says the most innovative technical feature would be the chill slabs at the academic wings that cools the concrete slabs down at night, which help to lower the temperature during the day.
"When you go into some colonial buildings, it's cool inside because of this. Instead of trying to cool down the room using air-conditioning, you actually push the air down using fans, which is cheaper and more efficient. This reduces dependency on air-conditioning," he says.
The school is also equipped with a high-efficiency chiller, variable speed pumps, air handling units (AHUs) and a cooling tower to ensure it is energy efficient with a low running building energy index, currently at 80kwh/m2/year. "We hope to achieve 55kwh/m2/year once the solar panels are installed," notes Ng.
However, the current energy consumption at the campus is still within the range required to maintain its Green Building Index Platinum rating, Rami says.
A building management system actively monitors energy usage of all major electrical boards, controls the air-conditioning and mechanical ventilation system and monitors digital water meter readings.
"The school fully utilises LED lighting, and all classrooms, labs and offices are equipped with a daylight harvesting system that uses photosensors for an optimum learning and working environment and to reduce dependency on artificial lighting," Ng explains.
"The windows are designed to receive maximum light and the light reflectors around the windows gather daylight and project it into the classrooms, without the heat. The reflectors also act as a sun shading device so you don't get glare."
He adds that the main façade has a North-South orientation to reduce direct sunlight.
Condensate water from the AHUs is channelled to the cooling tower to reduce water consumption and non-chemical water treatment is used to ensure the cooling towers are clean and non-hazardous.
The roof areas, which serve as a catchment area for rainwater harvesting for landscape irrigation, are insulated to reduce heat gain and use roof finishes and external paint with high solar reflectance index materials.
Eco-friendly materials were used during construction to reduce environmental impact, waste was segregated and recyclable materials sent to recycling centres. Low volatile organic compound materials ensure a healthy indoor environment.
The building finish was kept simple for easy maintenance, says Ng. "It's cement and clean. You can also see all the piping running through, which is great for children to learn."
Beyond tech and innovation
More importantly, ISKL's green campus serves to educate the students about the importance of green and sustainable living.
Says Ng, "The pivotal point in sustainability is that whatever system there is in place will be immaterial if it is not being utilised. It's almost like we're creating an environment for the community to use and continue to use. It's a habit-forming thing. Ultimately, it's about educating people, which is what the school is about."
Sustainable practices are not new to ISKL, as Rami explains. "Even at our previous campuses, we deeply believed in sustainability, service learning and the environment. The profound difference with this campus is that students are able to practise these things on site, such as using the filtration system, collecting water, recycling food and composting," he says.
Herb gardens and permaculture are incorporated into the landscape as a modern farming concept for students to learn about.
ISKL has a green area of 26,700 sq m, on which is currently planted 352 trees, including durian, cocoa, mango and belian (hardwood tree) and 9,092 shrubs. In addition, there are 780 potted plants. Meanwhile, 13,000 plants are grown in 4,326 pots that make up "green walls" in 60 student toilets.
The campus also has five fish ponds and one turtle pond.
"To be a zero -waste campus, it is about changing people's behaviours and habits. We have told our canteen operators not to use plastic wraps and we haven't had any plastic bottles in this and even in the previous campus. We also regularly involve parents during our composting weekends," Rami says.
"In fact, what we hear from parents is that their kids go home and question them about why they bought plastic and why they are using plastic straws.
"It is still an adventure for us to explore the limits of what the campus can offer. The journey continues and we are excited about it," he concludes.