This article first appeared in The Edge Financial Daily, on April 7, 2020.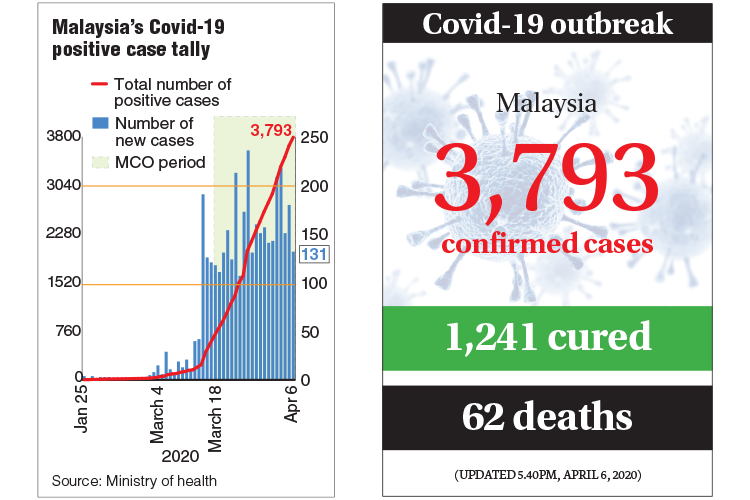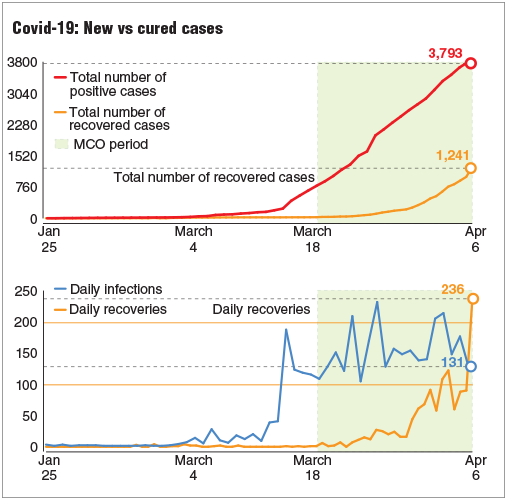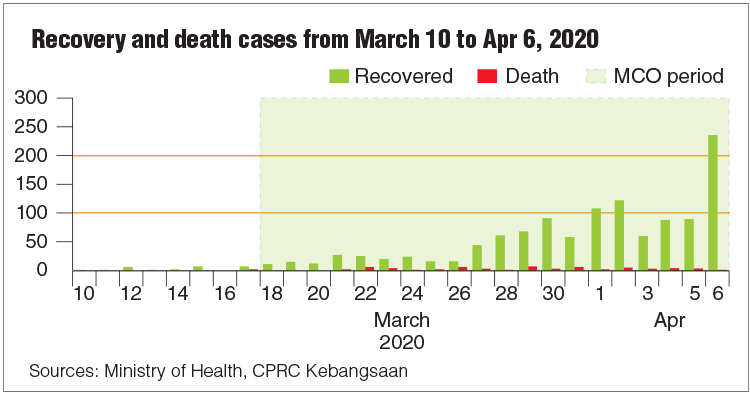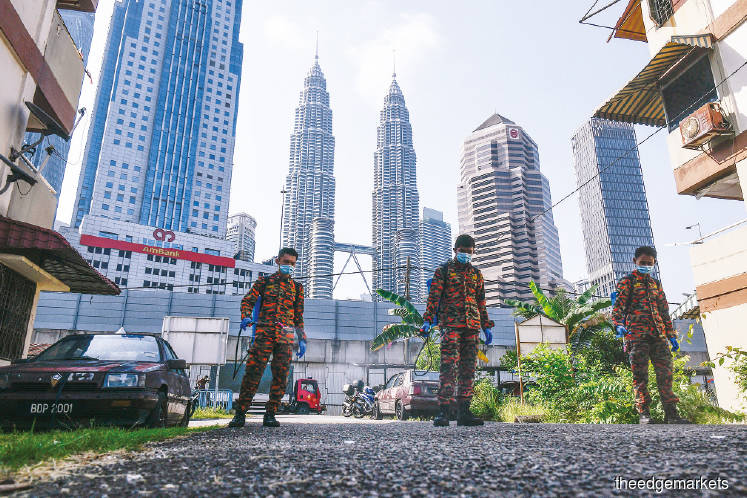 Tight control to prevent movements in the city. (Photo by Suhaimi Yusuf)
KUALA LUMPUR: For the first time ever, the number of cured Covid-19 cases in Malaysia exceeded new infections.
The ministry of health (MoH) announced 131 new confirmed Covid-19 cases as at noon yesterday, raising the tally to 3,793 cases.
This is 48 fewer cases than the 179 reported on Sunday.
Meanwhile, 236 patients have recovered and were discharged yesterday, bringing the total number of cured cases to 1,241, or 32.72% of overall Covid-19 cases in Malaysia, said the MoH.
Yesterday's number of cured patients set a new record — the previous was 122 reported last Thursday, in the initial part of the movement control order's second phase.
Health director-general Datuk Dr Noor Hisham Abdullah said in a statement that 102 patients are currently being treated in the intensive care unit with 54 requiring respiratory assistance.
The country's death toll increased to 62 after one more fatality was recorded yesterday, bringing the mortality rate to 1.63%.
The deceased was a 67-year-old man who had close contact with several Covid-19 patients related to the Sri Petaling tabligh cluster.
He also suffered from diabetes and high blood pressure.
The man was admitted to Sultanah Zahirah Hospital in Terengganu on March 29 and passed away at 10.22am yesterday.
A total of 55,566 individuals have been tested for Covid-19 infections, of whom 8,109 are currently awaiting results while 43,664 are confirmed negative.
Selangor remains the state with the highest number of cases at 970, followed by Kuala Lumpur (640), Johor (468), and Sabah (240).
As of yesterday, Lembah Pantai continues to have the highest number of cases in the country with 376 cases, representing slightly over 10% of Malaysia's overall confirmed Covid-19 infections, followed by Hulu Langat in Selangor with 318 cases.
The number of red zones — which are health districts that have logged over 40 cases of Covid-19 — rose to 18 yesterday, after Cheras recorded 44 cases, turning all of Kuala Lumpur into a red zone.
In Peninsular Malaysia, the other notable red zones are Petaling with 292 cases, Seremban (156), Kluang (147), Johor Baru (139), Kepong (112), Klang (109), Gombak (100), Titiwangsa (90), Kinta (84), Kota Bharu (82) and Hilir Perak (65).
In East Malaysia, Kuching has recorded 165 cases, while Tawau has 67 cases.
The MoH also announced that it will be conducting clinical trials on four treatment protocols as part of an international effort organised by the World Health Organization to collect reliable data and compare the safety and effectiveness of four treatment protocols using different combinations of the drugs Remdesivir, Lopinavir/Ritonavir, Interferon beta, Chloroquine and Hydroxychloroquine.
Globally, the number of Covid-19 infections soared to 1.29 million cases, with 70,457 deaths recorded.
The US is leading the world with 337,646 number of confirmed infections, followed by Spain (135,032), Italy (128,948), Germany (100,132) and France (93,780).
Malaysia is currently the fifth Asian country with the highest number of confirmed Covid-19 cases after China (81,708), Iran (60,500), South Korea (10,284) and Israel (8,611).