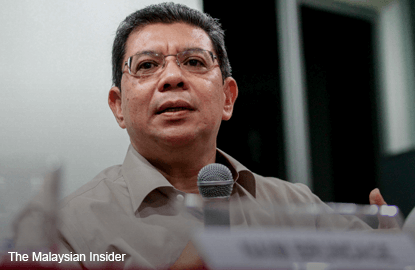 KUALA LUMPUR (Feb 19): Pakatan Harapan says it has resolved several seat clashes in the coming Sarawak state election, following a meeting between representatives of the three parties.
Negotiations on the seat allocations were ongoing, but they all agreed that their aim was to ensure a straight fight with Barisan Nasional (BN) in all constituencies, said Pakatan Harapan chief secretary Datuk Saifuddin Abdullah.
"The discussions were held in a harmonious, calm atmosphere, full of laughter, and I can report that the discussions over the seat allocations are improving.
"Everyone knows there are clashes between all three parties. But a portion of them were resolved today," Saifuddin told a press conference in Shah Alam today after the meeting.
He said Pakatan Harapan also agreed to take into consideration the fact that PAS intended to contest several seats in Sarawak.
"There must be a contest in all 82 seats against BN, but we take into consideration that PAS is contesting," he said.
Sarawak PKR chief Baru Bian had previously told Malaysiakini that the opposition coalition still had 20% conflicting seats to iron out.
But Saifuddin confirmed today that they had improved on that figure, and expected to resolve the entire issue by the end of March.
He said the problem had been with the emergence of new seats due to the redelineation process, as well as the movement of voters.
"What is important is that we made progress in the sense that among the three parties, they have begun to concede to their friends and there is the general agreement that we know PAS wants to contest."
PKR vice-president Chua Tian Chang led the discussions for his party today, while Tony Pua represented DAP and Dr Hatta Ramli represented Parti Amanah Negara (Amanah), said Saifuddin.
PKR in March last year had told DAP that the 49 seats they were allocated in the 2011 election were not "up for grabs" and that they would contest in the same seats in the upcoming Sarawak state election.
PKR said only the 11 new seats were negotiable.
DAP was allocated 15 seats in the election, mostly in Chinese-majority constituencies, but their Impian Sarawak drive to the rural areas meant they needed Dayak seats, which set them on a collision course with PKR.
PAS said it was planning to contest 11 seats in the Sarawak polls slated for April, and that it was prepared to fight candidates from any party, including former ally DAP.
Meanwhile, Amanah admitted it would be an uphill task for them to win the polls, since they would need to access rural areas with limited transportation in order to campaign.