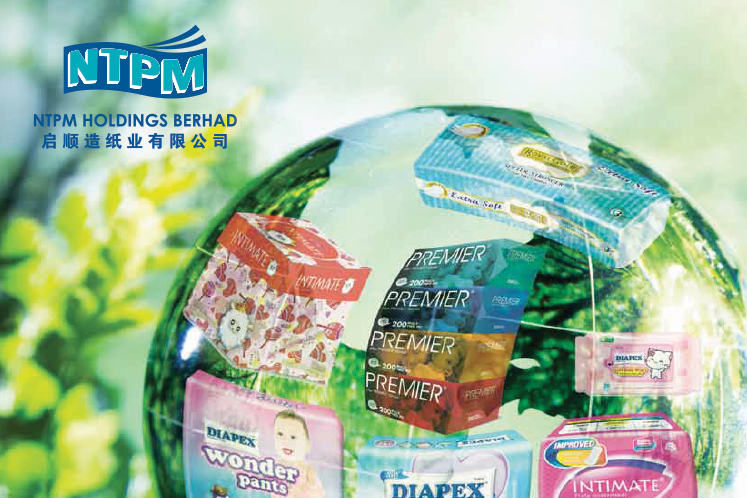 KUALA LUMPUR (June 26): NTPM Holdings Bhd plunged into the red with a net loss of RM4.85 million for the fourth quarter ended April 30, 2019, compared to a net profit of RM1.18 million a year earlier, no thanks to higher raw material costs.
Quarterly revenue grew 11% to RM182.17 million from RM164.52 million a year ago. Despite the net loss, the group declared a final dividend of 0.8 sen per share.
In its filing with the exchange, the group attributed the loss to higher raw material costs during the period, as well as higher labour and energy costs.
The increase in raw material costs has translated to a 78% drop in pre-tax profit for its paper products segment to RM6 million.
"The key factors that affect the performance of tissue products, include the higher cost of raw materials such as virgin pulp and waste paper. The price of pulp and waste paper has surged by about 50% since late 2016," said NTPM.
Meanwhile, its personal care products segment saw a slight 1.4% increase in pre-tax profit to RM17.5 million.
For the 12 months ended April 30, the annual net profit dropped 70% to RM8.96 million from RM29.71 million, while cumulative revenue increased 5.3% to RM728.05 million from RM690.93 million.
The group expects market conditions to be even more challenging going forward, although it does see growth for the tissue paper market.
"The key focus in FY19 is to increase production of tissue paper to fulfil the increasing demand in South East Asia and other export markets.
"In FY19, competition is expected to be more challenging. However, with its well-established product offerings, supported by its comprehensive distribution and marketing channels, the group foresees that it would continue to grow organically in its existing markets.
"With this in mind, the board is cautiously optimistic about its prospect," said the group.
NTPM's share price has been on a decline over the past year, with the counter down by 19% over the period.
On Wednesday, NTPM closed unchanged at 42 sen, giving it a market capitalisation of RM471.74 million.