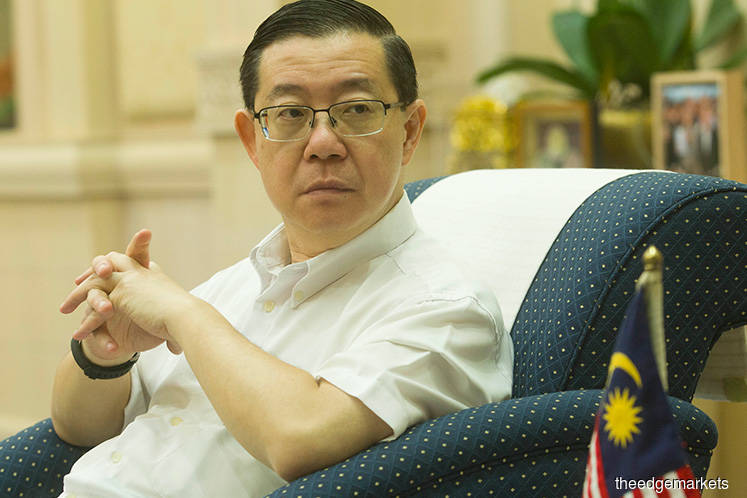 PUTRAJAYA (March 5): Two media groups today agreed to honour a 2015 High Court decision ordering them to pay Finance Minister Lim Guan Eng damages totalling RM400,000 for labelling him as a "Singapore agent".
Lim's lawyer, Americk Sidhu, told the Federal Court that The New Straits Times Press (M) Sdn Bhd (NSTP) and Utusan Melayu (M) Bhd have agreed to abide by the decision that requires them to pay Lim RM200,000 each in damages.
A three-man bench, comprising Court of Appeal president Tan Sri Ahmad Maarop and Federal Court judges Datuk Seri Balia Yusof Wahi and Datuk Alizatul Khairi Osman Khairuddin, then allowed Lim's application to withdraw his motion for leave to appeal.
Three other respondents in this matter — Perkasa and its president Datuk Ibrahim Ali and information chief Ruslan Kassim — are also considering a settlement and have asked for a month's time to decide, Americk said.
The Federal Court then fixed April 3 for case management.
Speaking to reporters outside court, Americk said NSTP and Utusan Melayu decided not to pursue the matter further in light of the Federal Court ruling on an action brought by Sarawak DAP chief Chong Chieng Jen against the state government last year, which gave Lim the legitimacy to sue in both his official and personal capacity.
The apex court had ruled that federal and state governments were allowed to sue individuals, including the media, for defamation, effectively rejecting the UK common law Derbyshire principle which disallows public authorities to bring an action against a person for lowering their reputation.
Lim had filed his defamatory suit in May 2012, claiming that Ruslan had published a statement on Perkasa's website in October 2011, asking businessman Datuk Mohamad Azman Yahya to explain Lim's meeting with businessman Datuk Seri Kalimullah Hassan and a People's Action Party senior leader in Singapore in August 2011.
Lim, who was then Penang chief minister, claimed that the statement implied that he was endangering national security by exposing the country's secrets to Singapore and had sought for general, exemplary and special damages of RM15 million, as well as interest, costs and other relief deemed fit by the court.
The High Court had ordered Ruslan, Ibrahim Ali and Perkasa to pay RM150,000 in general and aggravated damages, for NSTP and NSTP's then group editor Datuk Syed Nazri Syed Harun to pay RM200,000, and for Utusan Melayu and Utusan Melayu's then group editor-in-chief Datuk Abdul Aziz Ishak to pay RM200,000.
However, the Court of Appeal allowed the appeal filed by the seven defendants after it adopted the Derbyshire legal principle and ruled that a public officer cannot sue anyone, including the media, for defamation in his official capacity.
Lim then filed an appeal to the Federal Court in 2017.
NSTP and Utusan are represented by counsels T.H. Liew and Lim Qi Si while Mohd Irwan Mohd Mubarak is appearing for Ruslan and Adnan Seman for Ibrahim Ali and Perkasa.