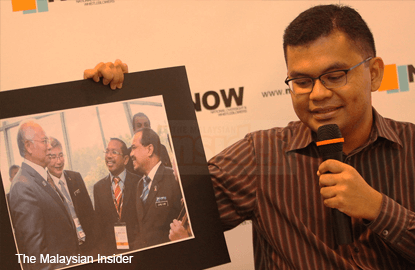 (Dec 1): National Oversight and Whistle-blowers (NOW) will embark on a fortnight-long roadshow across several states to explain the controversy surrounding Yayasan Pembangunan Ekonomi Islam Malaysia (Yapeim).
NOW director Akmal Nasir said each contributor to the government's Islamic charity has a right to information on Yapeim, yet Putrajaya has failed to respond to the issues he raised.
"In fact, the feedback I received from many people, especially contributors, is that they are disappointed with the authorities who have showed no remorse after being criticised.
"I believe it is our joint responsibility to ensure Yapeim returns to its original objectives, which are based on amal jariah (charity)," said Akmal in a statement.
He said he would reveal "new facts" on Yapeim's alleged wastage during the first of the roadshows tomorrow night, as well as inform contributors of their rights and the role they could play to ensure the foundation helped the needy.
Tomorrow's roadshow is free and open to the public at the Kuala Lumpur Selangor Chinese Assembly Hall (KLSCAH).
It will also feature PKR information chief Syed Ibrahim Syed Noh, independent preacher Wan Ji Wan Hussin, and human rights activist Syukri Razab.
The next roadshow will be on Friday in Alor Star and Pedang Serai, Kedah; followed by Jerai and Merbok, Kedah the next day; Perak on December 9, Muar and Segamat, Johor on Dec 12; and Pahang on Dec 13.
NOW shot to fame when Akmal revealed that Minister in the Prime Minister's Department Datuk Seri Jamil Khir Baharom went on a trip to the US last year using Yapeim funds.
NOW had also revealed that the charity body spent RM290,000 on a marriage course in Paris, France.
More than RM100,000 was spent on a separate programme in New York, held in conjunction with Prime Minister Datuk Seri Najib Razak's visit to the US.
Akmal said Yapeim had used funds to organise a religious programme in Australia, flying business class to Sydney.
He said the agency along with its business outfit Ar-Rahnu, its research arm and Yapeim spent a total of RM218,505 on the nine-day programme in April 2014.
The allegations led to nearly 3,000 depositors in the Amal Jariah fund terminating their monthly subscription.
Police have started their investigations on NOW for "unlawfully obtaining" documents related to Yapeim while the Malaysian Anti-Corruption Commission is investigating the charity body.
Jamil Khir filed a defamation suit against Akmal on Nov 19. – The Malaysian Insider