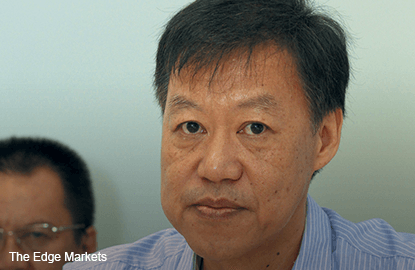 This article first appeared in The Edge Financial Daily, on November 18, 2015.
KUALA LUMPUR: Red Sena Bhd, en route to a listing on the Main Market of Bursa Malaysia on Dec 10, believes now is the right time for an initial public offering (IPO) as it offers the special purpose acquisition company (SPAC) an opportunity to find a suitable target for acquisition in the food and beverage (F&B) sector.
"The investment climate is not good, but this would be a good time for some F&B owners out there who may be willing to talk about selling part or all of their shares in their assets to us," Red Sena chief executive officer Joseph Tan Eng Guan said in an interview last week.
"We offer a unique landscape for investors to participate [in the F&B sector]. Institutional investors that we talked to like our business model.
"They think the timing [of our IPO] is not bad. Some even think of purchasing more shares," he added.
Of the total 800 million shares in the upcoming IPO, representing an 80% stake in the SPAC, Tan said one-third has been subscribed by cornerstone investors, namely Fortress Capital Asset Management (M) Sdn Bhd, Affin Hwang Asset Management Bhd, UOB Asset Management Bhd and Maybank Asset Management Sdn Bhd.
The IPO, priced at 50 sen per share with one free warrant for each share subscribed, also includes a private placement of 720 million shares.
Red Sena plans to raise RM400 million from its IPO. Out of this amount, RM368 million or 92% of the total will be placed in a cash trust account (CTA) to acquire operating companies or assets in the branded packaged F&B business.
"The remaining 8% or RM32 million will be used to defray listing expenses and for working capital," said Tan, adding that Red Sena's remuneration for promoters is not going to be derived from these proceeds.
"Our remuneration will only come from the capital we injected into Red Sena, which is about RM10 million for a 20% stake in the company," Tan said.
After the IPO, Red Sena has to utilise at least 80% or RM294.4 million of the proceeds raised for its qualifying acquisition (QA); it is eyeing operating companies or assets in Malaysia, Thailand, Indonesia, the Philippines, Vietnam and Singapore.
"We have to acquire a controlling stake of at least 51% in the QA," said Tan, who is the former chief financial officer of F&B giant Fraser & Neave Holdings Bhd.
Upon completion of a QA, Red Sena's management is subject to a 36-month moratorium and an accumulated audited net profit of at least RM107 million.
Suppose that Red Sena is unable to make a QA within three years, Tan said the RM368 million placed in the CTA will be distributed to shareholders.
"The net income from the trust account would be derived from permitted investment under the listing requirements, such as bank deposits, government or triple-A bond," he said.
Nevertheless, Tan is positive on making a QA as there are many deals happening in the F&B industry lately, such as shareholding changes in Etika Dairies Sdn Bhd due to the acquisition of Japan's Asahi Group Holdings Ltd, as well as the acquisition offer from Indonesia's Salim Group to Cocoaland Holdings Bhd.
Red Sena will launch its prospectus for its IPO today.