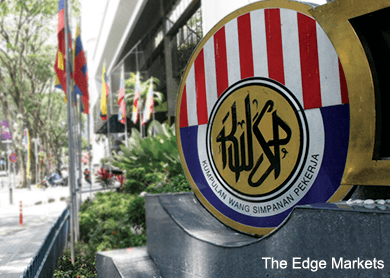 (May 26): The Finance Ministry today said that the Employees Provident Fund's (EPF) multi-billion ringgit investment in debt-ridden 1Malaysia Development Bhd (1MDB) carried a "small risk", a week after the pension fund denied there would be any problems in the venture.
Deputy Finance Minister Datuk Seri Ahmad Maslan (pic, right) said EPF had purchased RM200 million in bonds from 1MDB in 2009, which was completely guaranteed by the government, and invested RM1.52 billion in two other power assets that were eventually taken over by 1MDB.
"The 1MDB bonds subscribed in 2009 were worth RM200 million. This is fully guaranteed by the government," he told the Dewan Rakyat during question time.
"Then, in 2003, a long time ago, EPF invested in Panglima Power Sdn Bhd, an IPP (independent power plant). In 2005, EPF invested in Jimah Energy Ventures Sdn Bhd. The investments totalled RM1.52 billion.
"In 2012, 1MDB took over Panglima Powers, and in 2014, 1MDB took over Jimah Energy Ventures. These investments have small risks."
Ahmad said this in response to a question from Nasrudin Hasan (PAS–Temerloh) on EPF's investments.
However, he refused to elaborate on the "small risks" involved in the investments when questioned by reporters later in the Parliament lobby.
He told reporters to refer to the previous response of EPF chief executive officer Datuk Shahril Ridza Ridzuan, who had said that the bonds were not a risk.
Ahmad's statement today differs from Shahril's stand last Tuesday over the pension fund's bond holdings in 1MDB.
"Those bonds are fully government guaranteed. We don't see those bonds as a risk. (It's) just like other institutions holding those bonds. They will be paid over time by 1MDB or through the government guarantee mechanism," Shahril had told reporters on Tuesday.
He added that the EPF had always funded and invested in infrastructure projects, including power plants and ports.
"PPSB and JEV are power plants that were built in the early 2003 and 2005 (respectively). We funded the development of PPSB and JEV before 1MDB existed.
"It just so happened that in 2012 and 2014, 1MDB bought them from the previous owners," said Shahril.
"It does not matter who owns it, as long as we get the first money that comes from power sale and essentially the bonds have been fully serviced till this point of time."
Shahril had also said that the bonds were straightforward infrastructure bonds, which were secured against power plant assets and cash-flow from the sale of energy. – The Malaysian Insider