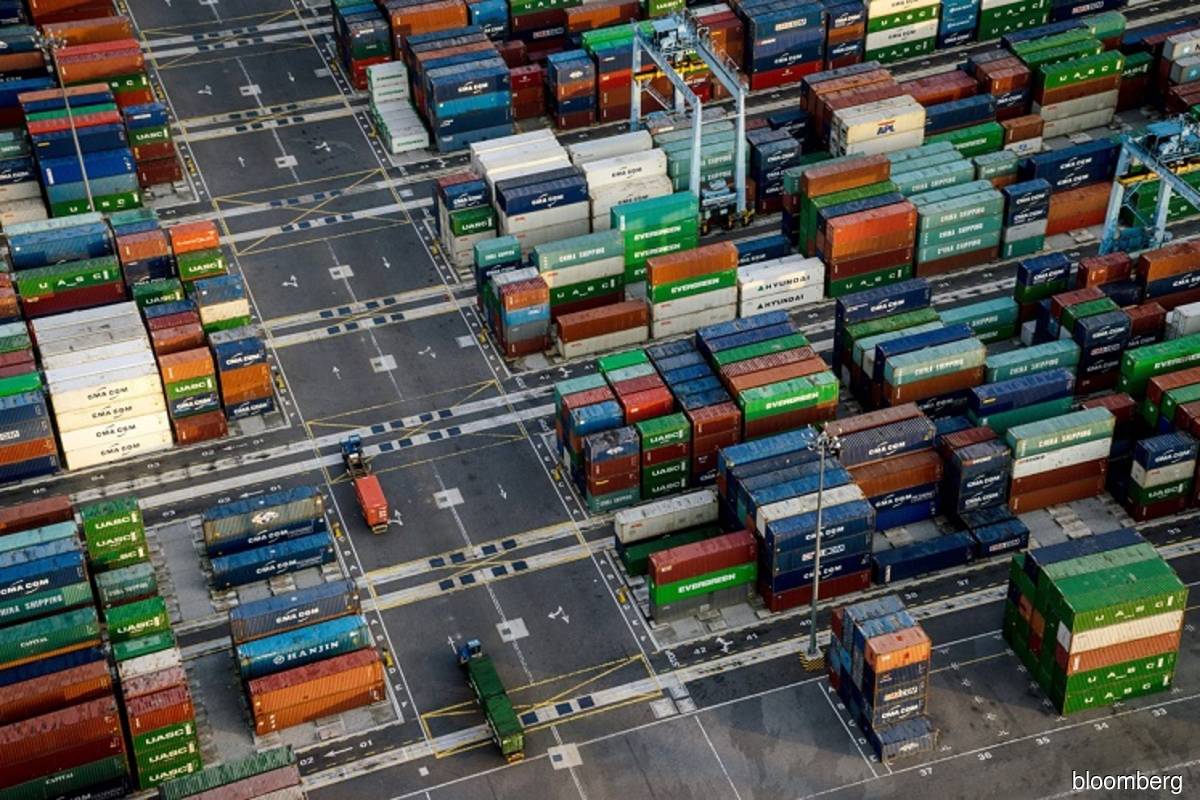 KUALA LUMPUR (Dec 28): Economists have turned more optimistic about the country's exports, revising their projections upwards for 2020 after November's trade figures beat expectations.
In November, exports grew 4.3% year-on-year (y-o-y) to RM84.43 billion, from RM80.95 billion a year ago. Imports, however, dropped by 9% to RM67.61 billion, from RM74.26 billion in the previous corresponding month. Meanwhile, November's trade surplus swelled by 151.6% to RM16.82 billion, from RM6.69 billion last year.
Total trade for November was down by 2% to RM152.04 billion, from RM155.21 billion a year prior.
In a note today, United Overseas Bank (UOB) Global Economics and Markets Research senior economist Julia Goh and economist Loke Siew Thing commented that while the third wave of Covid-19 infections in Malaysia and the resultant movement restriction orders in major states are expected impede the domestic economic recovery path in the fourth quarter of 2020, positive performances of the external sector in October and November provided some bugger.
"The year-to-date [YTD] export contraction of -2.6% in Jan-Nov also suggests that 2020 full-year export projection will come in at -2.4%, which is better than our earlier forecast of -3.5%.
"The momentum is expected to persist into 2021 with exports projected to rise by 4%, amid an expected recovery in global demand.
"A sharp cyclical rebound in China's economic growth, alongside moderate recoveries across Asia and other developed countries, will help support the projected recovery in global demand next year," UOB's Goh and Thing said.
MIDF Research concurred that the YTD contraction was better than its initial forecast of a 3.5% y-o-y contraction for 2020.
However, it noted that the recovery in import has been sluggish, continuously recording negative growth since May 2020 following weak performances of both intermediate and capital goods, suggesting that most local manufacturers remained in a pessimistic mode. YTD, imports contracted by 7% y-o-y, which were far from its initial forecast of 5.1% y-o-y.
Therefore, MIDF Research has revised its export to a contraction of 2.5% y-o-y.
"Nevertheless, for 2021, we foresee both exports and imports to rebound to +5.3% y-o-y and +6% y-o-y respectively on the back of a recovery in the global economy and international trade," MIDF Research noted.
For the cumulative first 11 months of the year (11M20), total exports stood at RM885.02 billion, down 2.6% from RM908.64 billion in 11M19. Meanwhile, imports fell by 7% y-o-y to RM721.16 billion, from RM775.53 billion in the corresponding period last year.
That being said, the country's trade surplus expanded by 23.1% y-o-y to RM163.86 billion, from RM133.11 billion. However, total trade declined by 4.6% y-o-y to RM1.61 trillion, from RM1.68 trillion last year.
On the export figures in November, Goh and Thing highlighted that gross exports improved y-o-y for the third consecutive month and that they came in better than the 1% contraction UOB had pencilled in and the 3.1% y-o-y growth set by Bloomberg consensus.
MIDF Research noted that the manufacturing and agriculture sectors continued recording increases in exports in November 2020. However, mining goods exports fell by 34.6% y-o-y following sales in crude oil and liquefied natural gas falling by 36.5% and 43.6% y-o-y respectively. The electrical and electronics sector grew 23.6% y-o-y, contributing the most to Malaysia's exports growth in November at 8%.
Additionally, rubber product exports were up 124.8% y-o-y — the second biggest contributor to Malaysia's exports growth during the month at 3.5%. Palm oil and palm oil-based agriculture products contributed the most to the growth of the overall agriculture sector with an increase of +12.1% y-o-y.
UOB noted that the fall in imports was a broad-based deterioration, which was led by capital goods (down 26.5% y-o-y), specifically when it comes to electrical machinery, equipment, and parts. Intermediate goods exports shrank by 10.6% y-o-y on lower imports of parts and accessories of non-transport equipment capital goods.
"Imports of consumption goods reversed course and contracted by 7.2% y-o-y (October: +3.1% y-o-y) as a result of lower imports of non-durables, especially pharmaceutical products," the research team noted.