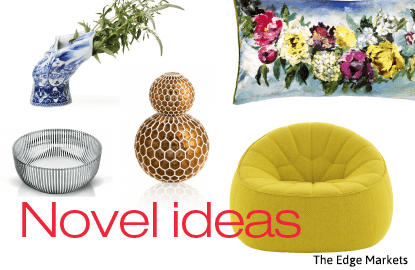 This article first appeared in haven, The Edge Malaysia, on Issue #77 February + March 2016.
Trend bureau stilbüro bora.herke.palmisano presents 2016's home interior trends 
TRENDS in interior design change from year to year, even as ideas in art, fashion and architecture evolve. The combination of technological innovations and human creativity, along with the discovery of new materials and novel forms, means that home furnishing trends are constantly in flux. 
What are the 2016 interior design trends? According to Annetta Palmisano, Claudia Herke and Cem Bora of trend bureau stilbüro bora.herke.palmisano, it is futuristic, reductionist, original and marked by an eagerness to experiment. The trio identified four key trends inspired by recent directions in design, art, fashion and architecture — artisanal gardening, futuristic couture, functional simplicity and composing freedom. To illustrate, the trio have created four themed scenarios that will be showcased at the upcoming Ambiente, the world's leading international trade fair for products for the table, kitchen and household, among others, featuring merchandise from exhibitors as specific concrete examples. 
The leitmotif, "preserve and develop", runs through all four thematic scenarios and underlines the increasingly high demands that designers, manufacturers and consumers make on consumer goods, which include homeware and furnishing. It doesn't necessarily entail a completely new approach, as successful products are often further developments or updates of tried-and-tested things. There's an increasing awareness of and demand for products produced in environmentally and socially acceptable ways. New materials, high-tech manufacturing and processing result in solutions that are intelligent and creative. 
Says trend expert Palmisano in a statement, "The search for new forms of expression in design, on the one hand, leads to painstaking, serious and profound attempts to grapple with the issues and, on the other hand, gives people the courage to experiment with forms and materials."
Ahead of the Ambiente fair, which takes place from Feb 12 to 16, we present the four trends for home and interiors over the next few pages as determined by stilbüro bora.herke.palmisano.
Artisanal gardening
With warm shades of late summer, comprising deep violet, cerulean blue, Sunkist orange, medium olive, muted mustard, rich brown and blush pink, this trend brings nature and the garden into the home, effectively blurring the boundaries between the outdoors and indoors in a most charming manner. The idea is to create a relaxed atmosphere for the living space with an ambience inspired by the hippie tradition and folklore. Bold floral patterns, be they in tone-on-tone or vibrant hues, abound, adorning homeware and furniture. A palette of strong colours are married with natural materials such as clay, ceramic, wood, bamboo, linen, wool, denim, velvet and wild leather options. Along with this, traditional techniques like braiding, quilting, embroidery, carving, engraving and enamelling are brought to the fore once again, as are macramé, patchwork and appliqué work. Vintage products and imaginative finds complete the picture.
Futuristic couture
A contrasting and unusual palette of lime greens and bubblegum pink, baby blue and dark aqua blue, as well as shiny nickel and a nude tone make up the colours of this trend, which combine with sparkly elements to create futuristic designs that play with fakes, breaks and artificiality. Contemporary chic describes it best, and the trend is marked by sophisticated molecular patterns, shadows and delicate filigree textures that give an element of surprise and afford a science fiction feel. The combination of innovative manufacturing technologies such as thermoplastic processes and traditional production methods opens up new possibilities and makes it possible to turn plastic, Perspex, rhinestones, metal and neoprene into decorative and recyclable products. Thanks to technical developments such as 3D printing, one can envisage all kinds of tailor-made solutions.
Functional simplicity
Straightforward, unfussy, non-ornamental, simple and minimalist are the words to describe this trend, which is aptly expressed in a monochromatic colour palette of white and grey tones, and midnight blue. The focus is on the functionality of a product, and the reductionist design instead shifts the attention to the outstanding workmanship. The use of glass, stainless steel, marble, concrete and rubber in the manufacture underline the durability of the products and contribute to a sporty, relaxed and unisex look. Thanks to clean lines, basic geometrical forms, net materials and micro textures, these products radiate an aesthetic that is dominated by symmetry.
Composing freedom
Free spirited and with a quirky sensibility, this trend features a bright colour mix of fire-engine red, ocean blue, maroon red, sunny yellow, emerald green, muted slate and sandy brown. Not one to be pigeon-holed, this trend basks in the joy of experimentation and combination, resulting in a design spectrum that is full of contrast, without fear of trespassing on any other particular style. Seemingly disparate features are brought together in astonishing combinations for something truly original. Different textiles, artificial animal skins, highly polished metals and spray-painted visual effects combine with embossed reptile images, animal prints and soft-definition jacquards. The result is colourful chaos, created with branded products and no-name favourites, which all sport a carefree, unconventional approach.