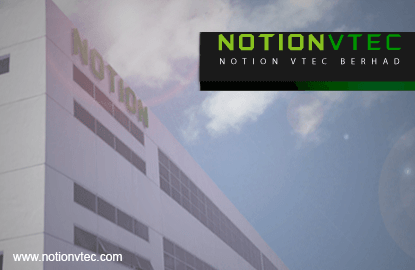 KLANG (March 23): Notion VTec Bhd expects to report profit in current financial year ending Sept 30, 2016 (FY16) on still-strong demand for hard disk drive (HDD) and in anticipation of further growth in its automotive component business.
Notion VTec executive chairman Thoo Chow Fah said HDD demand remained strong despite competition from the solid state drive (SSD).
"It has been five years since the market talks about SSD taking over HDD business but HDD remains the most economical storage and is still in demand today.
"Moving forward, we are confident that for FY16, the group will recover into the positive territory and the automotive segment should be the main growth driver going forward as demand for more such auto parts continued to be robust. We think that the automotive segment will consist of more than 30% of the total revenue for FY16," Thoo told reporters after Notion VTec's annual general meeting here today.
Besides HDD and automotive-component production, Notion VTec also manufactures camera parts. The company's automotive component list includes braking system parts.
In the first quarter of FY16 (1QFY16), Notion VTec posted a net profit of RM3.11 million versus a net loss of RM5.25 million a year earlier. Revenue rose to RM61.05 million from RM58.25 million in 1QFY15.
In terms of revenue contribution, HDD accounted for 46% of 1QFY16 revenue. The camera and automotive segments contributed 26% and 28% respectively.
Today, Notion VTec shares traded unchanged at 40 sen as at 11.56am for a market value of RM107.31 million, according to Bursa Malaysia's website.
The stock saw 305,800 shares transacted. Notion VTec's latest reported net assets per share stood at RM1.07.