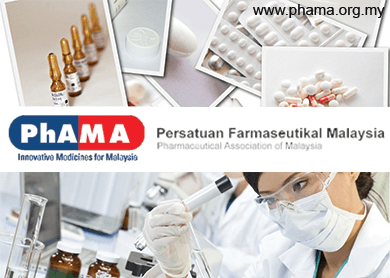 THE market for biological drugs is stirring as the patents for many products are about to expire, but local pharmaceutical players are generally not ready to take advantage of the opportunities opening up.
"A lot of biological product patents are expiring over the next few years and we are beginning to see many multinationals and R&D companies pursuing this as they see a lot of potential in it," says an official with the Pharmaceutical Association of Malaysia (PhAMA).
"There will be a new phase where there will be copies of biologic drugs, called biosimilars."
Biologics differ from the more common chemical drugs in that they are biologically derived and manufactured in a living system —micro-organisms, plants or animal cells.
They are larger, more complex molecules compared with chemical drugs, and are used to treat diseases like cancer and diabetes. This means they have higher margins than chemical-based generics.
In Malaysia, the market for biologic drugs accounted for only 5% to 10% of total sales, which amounted to RM7 billion to RM8 billion last year according to PhAMA.
"Biologics are still in their infancy which is why there is a lot of interest. Biosimilars is the new area that a lot of companies are venturing into because it provides good opportunities," says the official.
For perspective, the US only approved its first biosimilar product this year, while Japan already has six, Australia has eight, and Europe, 20.
Frost & Sullivan expects the global market for biosimilars to reach US$23 billion in 2019, compared with just US$1.2 billion in 2013.
Biosimilars are to biologics what generics are to chemical drugs. But because they are unique, living molecules, there is no interchangeability and they cannot be copied.
This is the challenge that makes the market more difficult for manufacturers to penetrate.
Because of the complex nature of biologics and biosimilars, more development cost and time are required compared with chemical drugs and generics.
"For biosimilars, if one comes up with a similar drug to the biologic drug, it does not mean it has the same effect. So, each biosimilar has to go through a lot of testing and clinical studies," the PhAMA official says.
Checks with industry analysts indicate that the development of biologics and biosimilars could take longer than 10 to 15 years, the average time frame for chemical compounds.
Clinical trials on average can take 1½ years and cost RM3 million upfront, and this does not take into account development expenditure, which could cost as much as RM100 million, according to industry sources.
"You need to have the technology to develop biosimilars and a lot of generic drugmakers are looking into it currently. But the question is, are they willing to invest such large sums?" asks the PhAMA official.
Among the locally listed pharmaceutical players, only CCM Duopharma Biotech Bhd (fundamental: 3.0; valuation: 1.5) seems to have made significant progress in the biosimilar space (see sidebar on Page 26).
Frost & Sullivan's senior vice-president of healthcare, Rhenu Bhuller, tells The Edge that most Malaysian manufacturers need to upskill and upscale their capablilities.
"Not many are ready to produce up to the standards and capabilities required. Producing biosimilars requires a different set of production lines and capacity, not to mention strong clinical trials and regulatory compliance.
"My assessment is that local players need to partner companies that have strong biosimilar capabilities, otherwise it would take us a long time," she says.
According to her, countries such as Korea, Taiwan, India and Japan are ahead of the curve as they have the required technology.
It would make more sense to partner established companies because local manufacturers do not have the same scale as global players, she notes.
"Presently and in the future, we do not envisage local players developing and manufacturing biologics and biosimilars due to the complexity of the science as well as the need to conduct therapeutic equivalence studies, which are expensive and time-consuming, without guarantee of success," an industry veteran comments.
Because of the large capital expenditure needed, this area might be confined to MNCs, he adds.
However, leading local player Pharmaniaga Bhd (fundamental: 0.75; valuation: 1.7) is considering this space as it expects "vast potential for growth in the market for biologics and biosimilars as more products become available and are more widely utilised by professionals", managing director Datuk Farshila Emran tells The Edge.
"We are currently exploring this area and we are looking at collaborating with a technology partner," she says, adding that plans are still in the preliminary stages and such a venture is expected to be capital intensive.
For Hovid Bhd (fundamental: 2.1; valuation: 0.5), moving into biologics and biosimilars does not yet make an investment case.
"It would be too heavy an investment at the moment so we will not go in just yet. It is too risky and expensive. At the moment, it makes more commercial sense to import biosimilars [than to develop them ourselves]," managing director David Ho says by phone.
With foreign players poised to make their mark here, it remains to be seen how local producers will bid for a slice of the pie.
---
Note: The Edge Research's fundamental score reflects a company's profitability and balance sheet strength, calculated based on historical numbers. The valuation score determines if a stock is attractively valued or not, also based on historical numbers. A score of 3 suggests strong fundamentals and attractive valuations. Visit www.theedgemarkets.com for more details on a company's financial dashboard.
This article first appeared in The Edge Malaysia Weekly, on May 25 - 31, 2015.