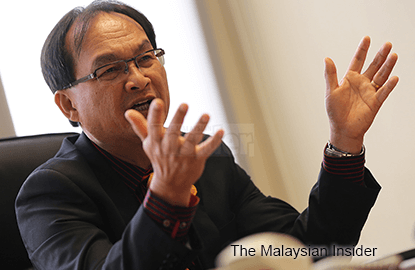 (June 30): It is not the duty of non-Muslims to remove temptation from Muslims by following dress codes and refraining from eating in their presence during Ramadan, PKR Sarawak chairman Baru Bian said today, as he urged Prime Minister Datuk Seri Najib Razak to deal with such attempts to "Islamise" Malaysia.
Baru said arbitrary enforcement of Islamic-compliant dress codes at various government offices and suggestions that non-Muslims not eat in the presence of Muslims during the fasting month to show respect were "signs of attempts by religious extremists to Islamise secular Malaysia".
He urged Najib to be a prime minister for all Malaysians "instead of a beleaguered party chief struggling for survival", the PKR leader said in reference to the ruling Barisan Nasional's (BN) lead party, Umno.
"His track record in defending our rights such as in the Allah and Bible issues has been dismal, and we fear that racial and religious tensions will continue to escalate if he cannot find the testicular fortitude to lead this country out of this festering mess that is a consequence of the BN government," Baru said today.
Baru said he did not think it was the duty of non-Muslims to remove temptation from Muslims, as fasting was supposed to teach self-discipline.
He singled out Perak Mufti Tan Sri Harussani Zakaria who recently said non-Muslims should cover their "aurat" (parts of the body that Islam says should be covered) when in public as a respect to Muslims.
There have also been recent cases of government agencies and public buildings imposing the dress code by making women in skirts above the knee cover their legs with sarongs.
Baru said despite apologies offered by some of the departments and building managements involved, these incidents were growing more frequent and Putrajaya appeared to be succumbing to these "extremists".
"We live in a multi-religious country where Christians, Buddhists and Hindus also fast as a part of our religious practices but there is no demand that people of other faiths respect us by not eating in our presence.
"Therefore, the excuse of not-respecting one's religion cannot and should not be used to justify the on-going arbitrary imposing of dress codes and attempts to regulate the eating habits of non-Muslims in this country.
"By demanding that non-Muslims mollycoddle and tip-toe around Muslims, the muftis and teachers are doing the Muslims of this country a disservice, and bringing their religion into disrepute."
Baru said while he was thankful that there have been many articles and letters written by moderate Muslims speaking the voice of reason, people in Sarawak are "sorely disappointed with the prime minister for his silence on these matters".
Recent cases of overzealous enforcement of dress codes at government departments include one incident at the Gombak office of the Road Transport Department (RTD), where a guard ordered a woman who had gone there to wear a sarong.
The woman had worn a skirt which ended above her knees.
On June 16, another woman was told to cover her legs before she was allowed into the Sungai Buloh hospital. She was not given a sarong to wear but wrapped herself in a borrowed towel.
A week later, two women were barred from entering the Selangor government secretariat in Shah Alam for wearing skirts that were above their knees.
Since then, several other incidents at a Land Office, and at the Kuala Lumpur International Airport, have been reported on social media and were wide shared by users. – The Malaysian Insider