This article first appeared in The Edge Malaysia Weekly, on April 20, 2020 - April 26, 2020.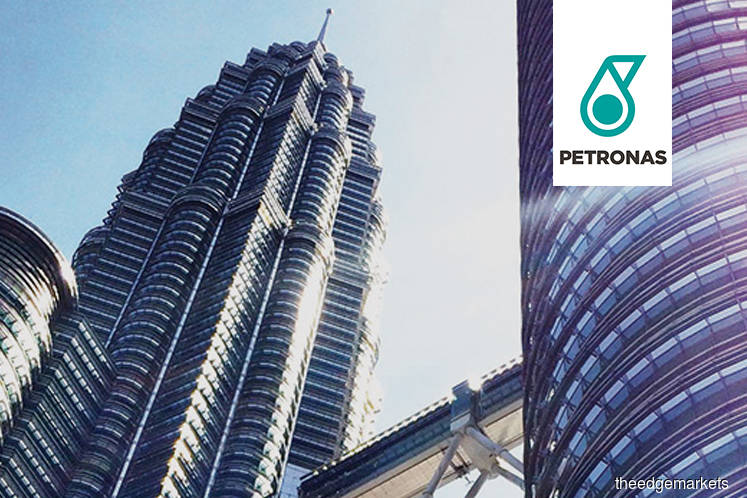 LAST week, national oil company Petroliam Nasional Bhd (Petronas) confirmed news reports that it is raising US$6 billion (RM26 billion) via the issuance of debt paper.
In its statement, Petronas says it has successfully priced a multi-tranche senior bond offering, comprising US$2.25 billion 10-year, US$2.75 billion 30-year and US$1 billion 40-year conventional notes. The 10-year conventional notes are priced 290 basis points (bps) over the 10-year US treasury to yield 3.65%, the 30-year conventional notes to yield 4.55% and the 40-year conventional notes to yield 4.8%.
Bank of America and Citigroup are joint global coordinators and joint book runners, together with HSBC, Maybank and Mitsubishi UFJ Financial Group as joint book runners.
The final price is a big improvement on the initial price guidance, say market observers. Preliminary indications show the 10-year tranche carried a spread of 340bps to yield 4.13% while the 30-year and 40-year debt paper were slated for coupon rates of 5% and 5.25% respectively. This would mean Petronas got a better deal than initially expected.
According to market observers, in view of the fall in oil prices and the Covid-19 pandemic, the risk premium has increased for issuers. Malaysia's risk premium, according to a trader, is not only pressured by the low oil prices and looming recession but also by political uncertainty. In such a situation, the investors tend to end up with the better deal.
Recently, Qatar, the largest exporter of liquefied natural gas, raised US$10 billion by issuing US$2 billion 5-year, US$3 billion 10-year and US$5 billion 30-year notes. Reports say the shorter tranches have a yield of 3.47% and 3.77% while the longer 30-year notes have a yield of 4.4%.
Earlier this month, Indonesia raised US$4.3 billion to fund its measures against the coronavirus pandemic. Its US$1.65 billion debt paper with maturity of 10.5 years has a yield of 3.9%, its US$1.65 billion 30.5-year tranche a yield of 4.25% and its US$1 billion 50-year tranche a yield of 4.5%.
As for the timing of Petronas' issuance, a bond market veteran contacted by The Edge says, "When oil prices are low, there is a need for a war chest [as there could be assets being sold on the cheap]. It could also be for benchmarking purposes. When we (Malaysia) have a fiscal deficit, there is a tendency [for the government] to seek support from Petronas … so, it depends on how you want to view the bond issue."
The last time Petronas went to the market to raise funds was in 2015, with narrower spreads and lower yields. Wholly owned by the government, the oil company has accounted for more than 15% of the former's revenue in the last five years.
Earlier in the week, the government announced that Petronas would cut its daily production of oil by 136,000 barrels in May and June, which is significant, considering that daily production is currently around 700,000 barrels. How much of an impact this cut will have on the company remains to be seen.
To some market watchers, the timing of the sale may not be ideal as Brent crude is trading below US$30 per barrel. To recap, Brent crude is recovering from a steep 66% plunge over three months to US$22.74 at end-March, its lowest level since early 2002. It was trading below US$30 per barrel last Thursday.
At the time of writing, there was no response from Petronas to The Edge's question as to why the national oil company was issuing debt paper in this uncertain business climate.
The bond market veteran, however, says if the issue had been made a month or two ago, it would have raised eyebrows as the oil market was even more uncertain then. "If you ask me, things are stabilising now," he remarks.
In its statement, Petronas says there is robust demand for the bonds with the order books reaching US$37 billion at the time of pricing.
"The 6.2 times oversubscription ratio reflects the market's confidence in Petronas' credit strength, which was recently affirmed at 'A2' by Moody's and 'A-' by S&P, both with stable outlooks," the national oil company points out.
Petronas last tapped the bond market in March 2015 with a US$5 billion (RM18.4 billion) multi-tranche offering, comprising US$1.25 billion 5-year sukuk, and US$750 million 7-year, US$1.5 billion 10-year and US$1.5 billion 30-year conventional notes.
Back then, the 5-year sukuk was priced 110bps over the 5-year US treasury to yield 2.707%, the 7-year conventional notes were priced 130bps over the 7-year US treasury to yield 3.223%, the 10-year conventional notes were priced 150bps over the 10-year US treasury to yield 3.605% and the 30-year conventional notes were priced 190bps over the old 30-year US treasury to yield 4.576% — quite a bit cheaper than the coupon rate for the latest debt paper offered.
To put things in perspective, back in March 2015, Brent crude averaged US$56.94 per barrel, close to 90% higher than the current trading price.
The ringgit at the time averaged 3.68 to the US dollar as opposed to the current rate of 4.33.
"Petronas could utilise the bond issue to acquire assets in Malaysia or for capex (capital expenditure) locally, which would mean it gets more [from the US dollar-denominated bond issue] with the weaker ringgit," the debt paper veteran says.
As at end-December last year, Petronas had current assets of RM206.46 billion, of which RM141.62 billion comprised cash and cash equivalents. On the other side of the balance sheet, Petronas had long-term debt commitments of RM53.42 billion and short-term borrowings of RM15.32 billion. As at the end of last year, the oil company had reserves of RM389 billion.
Petronas' annual capex, meanwhile, stands at RM45 billion to RM50 billion.
The Fitch downgrade
Just days before the national oil company announced its bond issue, Fitch Rating revised its outlook on Petronas' issuer default ratings to "negative" from "stable" and affirmed the long-term foreign and local currency IDR at "A-".
Fitch affirmed its short-term foreign currency IDR at "F1". At the same time, it affirmed Petronas' foreign currency senior unsecured rating and the rating on debt issued by its subsidiary Petronas Capital Ltd and guaranteed by Petronas at "A-".
Nevertheless, Fitch's report highlights many issues.
"The rating actions follow the revision of the outlook on Malaysia's 'A-' IDR to 'negative' from 'stable' on April 9, 2020 … The company is 100%-owned by the state, which, in our view, can exert significant influence over its operating and financial policies," the report reads.
Fitch adds that Petronas' stand­alone credit profile assessed by it at "aa-" is stronger than that of its shareholder, the government.
Petronas' dividend payment is expected to fall to RM16 billion in 2021 following weak earnings brought about by the low oil prices and declining volumes on the disruptions wrought by Covid-19.
In 2016 and 2017, Petronas paid RM16 billion each year, and RM24 billion in 2018. In 2019, the national oil company dished out RM54 billion, including a RM30 billion special dividend. Thus far this year, the oil company has stated that its dividend payment will be RM24 billion.
Fitch estimates dividend payouts from Petronas to rise to around RM22 billion to RM25 billion over 2022 to 2023, subject to crude oil prices and investments.