Zoom CEO, Jeevan Kumar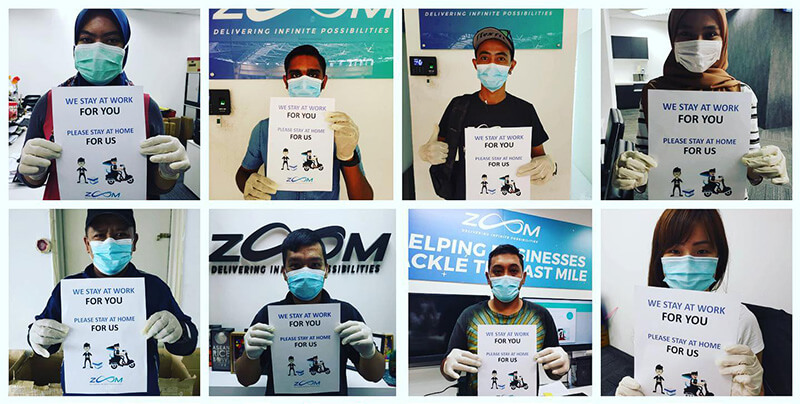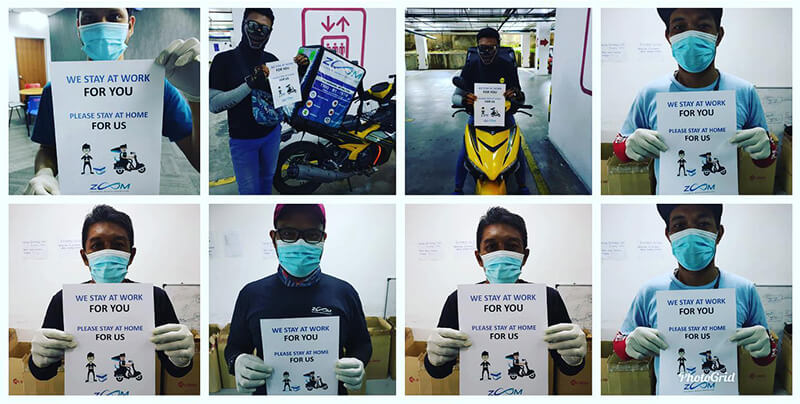 While the Covid-19 pandemic and Movement Control Order (MCO) have caused a significant number of companies to come face to face with bankruptcy, the logistics companies are thriving. 
But these, too, have their issues. The sudden surge in demand for logistics and delivery services has resulted in an increased demand for drivers — problematic at a time when people have been asked to stay at home.
Jeevan Kumar, co-founder and group CEO of Zoom, tells Enterprise that while the company needs to put more people on the road to fulfil deliveries, it feels like the company is indirectly dangling money in front of people to get them to earn by risking their lives. 
"This is a moral issue that we have to go to bed with every night. I cannot stress enough how important it is for us to ensure that our riders are equipped with a mask, gloves and sanitiser before going out. If they don't have these and we cannot supply the items, we are not sending them out," he says.
"I know how desperate people are to earn money during this period, but there is no point if your health is going to be at risk."
Jeevan says that right now, only key personnel are allowed to operate from the office in Malaysia. Meanwhile, its operations in Indonesia have temporarily paused the onboarding of new clients.
"When you are working in an office, it is easier to minimise contact among people. But when you are out in the real world delivering 100 parcels a day, you come into contact with 100 different people and that was one of the key concerns we had when we heard about the MCO," says Jeevan.
However, the next immediate concern was whether Zoom still had a clientele. "We knew 100% we could operate because of our status as an essential service, but our clients did not know if they could operate. They had to [put their businesses] on hold and that, of course, puts our business on pause," he says.
The company had to pivot quickly. Jeevan always tries to look at things from a "glass half-full" perspective and he realised that the company was in a unique position. While its existing clients were not operating, there was a skyrocketing demand for the delivery of groceries, household items and medical-related products.
"We picked up a lot of clients in the grocery and food and beverage space. Before this, the largest single-day delivery was bouquets of flowers. So now, it is a change of pace," he says.
"But the good thing is that we were able to pivot and accommodate the demand. Hopefully, when the MCO comes to an end and our existing clients start their businesses again, we will have increased business."
Undeniably, there will be a surge in demand for delivery agents at that time. It is something the company is already seeing, says Jeevan, especially since a lot of ride-hailing drivers are trying to find other sources of income while people stay at home.
"The ride-hailing drivers are now doing deliveries for us and it is good because they can pick up multiple items in their cars and distribute them in one area, getting paid for every delivery. We are able to pay out an average of RM90 to RM130 for three hours of delivery work," he says.
While Zoom is stable from a revenue perspective, with the added delivery agents, the company has had to deal with cash flow management. Jeevan says this is because the company is tapping into the shared economy to bring in new delivery agents who are paid on a weekly basis. However, the company charges clients for a 30-day service with a 30-day payment term.
"The issue is being able to pay out first before collecting our money, so we need a war chest in the bank for liquidity to pay these agents weekly and then collect our money from clients within 60 days," he says.
"For example, if you were my client, we would pick up your goods and deliver from the first to the end of the month. Then, we will invoice you and you will have 30 days to pay me."
While the company is still able to manage its cash flow at the moment, it is in the midst of searching for other sources of cash. "Accessing capital is difficult at the moment. So, we are looking at other methodologies like invoice financing or perhaps a working capital loan from the bank at low interest rates. We are also going back to our existing investors to ask for a bridging loan or a convertible note loan to help sustain the business during this tough period," says Jeevan.
Long-term solutions over short-term fixes
Jeevan has seen a friend's thriving businesses go from having millions of ringgit in sales to literally zero overnight, which is unheard of. It is no wonder people are panicking and uncertain about their jobs. 
"It took us so many years to fix the unemployment rate and we are going to go back there. I am worried because if people are not able to adapt and change, we will face a lot of economic problems once this is over," he says.
Consequently, Jeevan believes that the government should take a stronger approach to looking at how we will get through this, as well as the longer-term impact. "Covid-19 is going to kill more of the country than just its people," he says.
The government's present approach is to offer as much relief as possible to companies and people. But Jeevan does not think these measures are forward thinking enough to take into account what is to come when the MCO is lifted and businesses reopen. 
"The biggest problem with businesses is not what they are facing during the MCO, but what happens after. Will people go out and spend? Will they go back to normal? I don't see that happening in the next six months to a year. So, even if the MCO is lifted, what happens after that could be catastrophic," he says.
Jeevan says that while the stimulus packages have given the nod to start-ups, there was not a specific plan in place for them, especially technology start-ups. "Many of them are still burning cash as they scale. But they are operating at a loss now with a view to the future and it is becoming much more difficult for them to get loans or bank facilities."