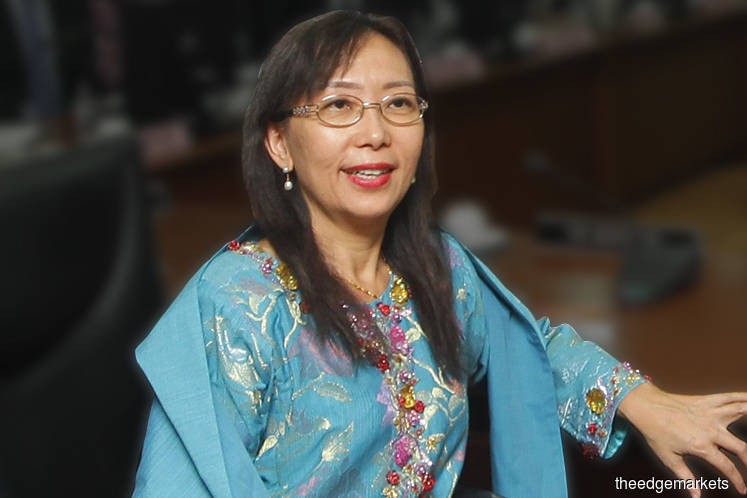 KUALA LUMPUR (Nov 19): Licence revocation will be initiated against oil palm growers for failing to comply with the Malaysian Sustainable Palm Oil (MSPO) standards by Jan 1, 2020, Primary Industries Minister Teresa Kok said today.
Kok said the Malaysian Palm Oil Board (MPOB) will revoke licences of oil palm growers which operate plantations with land area of 40ha (100 acres) and above. She said MPOB will revoke licences of palm oil mills that are non-MSPO certified.
Kok, who was delivering her speech here today at the MPOB International Palm Oil Congress and Exhibition (PIPOC) 2019, said MPOB has issued letters and published notices on the legal action for non-compliance with MSPO standards.
According to Kok, MSPO certification has reached 60% of Malaysia's total oil palm planted area as at October 2019 — up from 55% as at end-September 2019.
She said 328 palm oil mills, or 73% of the 448 mills in Malaysia, are already certified.
Kok said the ministry is targeting to have 70% of total oil palm planted area to be MSPO certified by February 2020.
"This is indeed a commendable achievement for a developing country like Malaysia, where 40% of its oil palm plantations are under the management of smallholders.
"No other countries in the world have mandated their oils and fats industry to be certified 100%, especially when there are smallholders involved. Malaysia has taken the lead," she said.
The government is looking into setting up a palm oil sector-related fund for green initiatives, especially for tree planting and wildlife conservation.
Kok said that under the scheme, a cess of RM1 will be collected in addition to the existing RM13 in cess per tonne of crude palm oil.
"We urge global buyers and importing countries to recognise Malaysia's efforts in producing sustainable palm oil in line with the sustainable development goals," she said.