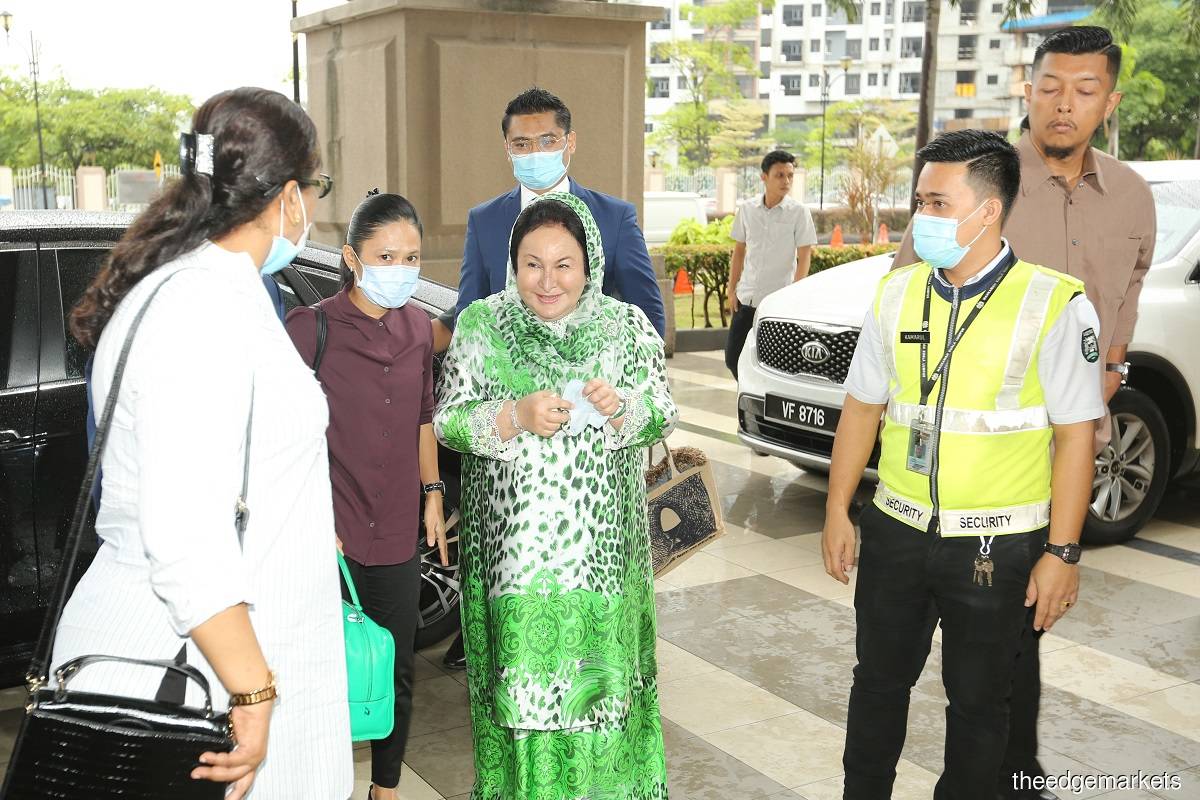 KUALA LUMPUR (July 13): Former Ministry of Education (MoE) secretary-general Datuk Seri Alias Ahmad admitted today that no action was taken against Jepak Holdings Sdn Bhd, including lodging a police report against it, when officers and ministry discovered there were allegations of cheating and alterations of the contract it signed for a solar hybrid project for Sarawak schools.
Alias, who is the 12th prosecution witness, said this in the High Court in Datin Seri Rosmah Mansor's graft trial, where he agreed with lawyer Datuk Akberdin Abdul Kader that officials of the ministry had alerted him to the allegations of cheating.
He said the ministry viewed the allegations seriously when the findings of cheating and alterations of the contract were disclosed by a ministry official in September 2017, and a meeting was held on March 14, 2018 to discuss it.
The witness agreed with Akberdin that three measures were recommended during the ministry's meeting on March 14, with its legal adviser and a senior federal counsel from the Attorney General's Chambers (AGC).
"They were to hold an internal inquiry, to amend the contract which had been altered and, thirdly, lodge a police report,"Alias agreed.
"However, in my knowledge, none of the three actions were taken as the Malaysian Anti-Corruption Commission (MACC) stepped up in its investigations. Till this day, I do not think there is a report lodged with the police," he said.
Alias denied Akberdin's assertions — that no action was taken against the company as he and then education minister Datuk Seri Mahdzir Khalid had conspired with Jepak so that there would not be any action.
Akberdin: Do you agree that the ministry may have been short-changed as a result of the cheating and alterations made?
Alias: Yes, I agree.
Akberdin: However, you decided not to lodge a report or have amendments to the agreement?
Alias: Yes.
Akberdin: Was this a dereliction of your duties as the ministry's secretary-general to look after the government and ministry's finances?
Alias: I disagree.
The witness said he retired by May 22, 2018, and any further action could not be taken due to the MACC investigations.
Alias said he was also unaware that Rayyan Radzwill Abdullah, a person who helped Jepak secure the project, had lodged a report with the police in Putrajaya over the apparent cheating done by the company.
Five areas of cheating and alterations
Akberdin asserted that five items in the agreement that had been changed by Jepak were with regard to the scope of work, conditions regarding the design and build, special provision of maintenance work of the solar hybrid, amendments to Appendix 1 in the agreement, and also the liquidated ascertained damage (LAD) method of calculation.
Alias said he could not remember but roughly agreed those were the changes or alterations made to the agreement which he had signed with Jepak without noticing it.
The witness also said he was not aware of a report lodged by Rayyan and Rosmawati over this with the Public Complaints Bureau, where the bureau agreed there should be action taken.
The former secretary-general explained that the ministry first held meetings with its officials, and then held separate meetings with Jepak and then both the ministry and Jepak.
Alias said former Jepak managing director Saidi Abang Samsudin told the meeting that the alterations were made by his staff and not him.
When Akberdin showed a picture of Alias with Saidi at his (Alias) child's wedding to denote how close they were, Alias replied that Saidi was not invited but came to the wedding with Mahdzir.
Alias was testifying in Rosmah's graft trial where she is accused of receiving RM6.5 million bribes from Saidi between January 2016 and Dec 20, 2017.
Hearing before Justice Mohamed Zaini Mazlan continues.
Read also:
RM6m from Jepak's account transferred into Saidi's personal account — witness
Violations in solar project approval were due to Najib and Rosmah's actions — witness