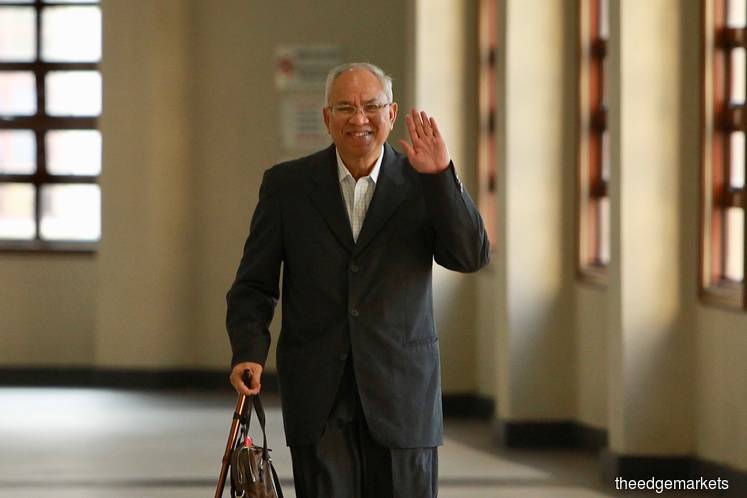 KUALA LUMPUR (July 8): The prosecution has argued that none of the money that were transferred from SRC International Sdn Bhd's bank account went into former managing director Nik Faisal Nik Ariff Kamil's bank account, despite the defence's assertions that witness Datuk Suboh Md Yassin's signatures on the bank transfer documents were forged by Nik Faisal.
During re-examination with the witness, deputy public prosecutor (DPP) Datuk V Sithambaram showed that 14 of the fund transfer documents which were scanned and sent to the bank also contained identical copies of Nik Faisal's signature next to Suboh's signature.
Similar to how the defence demonstrated their point regarding the same copy used for Suboh's signature on the letters, the prosecution also juxtaposed Nik Faisal's signature on the 14 letters to show that the signatures were exact copies.
"As you can see, Nik Faisal's signatures match. Identical. It could mean that Nik Faisal did not sign all 14 documents. Do you agree?" asked the DPP.
"Yes," said Suboh (pictured).
"It looks as though someone had cut and paste Nik Faisal's signature, just like yours. Do you know who could have done this?" asked Sithambaram.
"I have no idea," said Suboh.
After establishing that Nik Faisal's signatures in the scanned documents sent to the bank were copies, the DPP presented the bank statements of SRC, Gandingan Mentari Sdn Bhd, Ihsan Perdana Sdn Bhd and Putra Perdana Construction Sdn Bhd.
High Court judge Mohd Nazlan Ghazali asked the DPP why the prosecution is going through these documents again.
"The signatures were said to be forged, and we want to show that the monies were transferred to these companies [Putra Perdana Construction, Gandingan Mentari and Ihsan Perdana].
"The way that the cross-examination was done by the defence was as if it was already established that Nik Faisal had forged the witness' signatures and took the money for himself. The money actually went to these companies' accounts and the money trail has to be shown," replied Sithambaram.
The DPP then asked the witness, from the statements he was shown, whether any of the money had gone to Nik Faisal or Suboh's own bank accounts, to which he replied "No".
"Are you aware of any legal action SRC may have taken for any wrongful transfer of funds?" asked the DPP.
"Not that I'm aware of," said Suboh.
The prosecution concluded its re-examination and the witness was released from the stand.