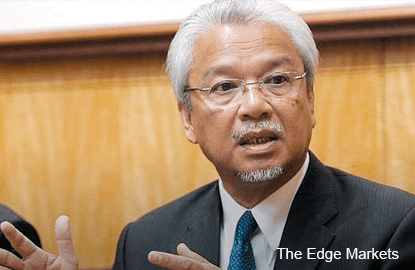 KUALA LUMPUR: Calling it reckless allegations, the finance ministry yesterday said the Auditor-General's (A-G) preliminary report has found no evidence of wrongdoing by 1Malaysia Development Bhd (1MDB) or proof that US$700 million went to a "certain individual".
The report was submitted to the Public Accounts Committee (PAC) last Thursday but the parliamentary panel said 1MDB has yet to submit more documents for the government audit.
"The reckless allegations by some parties, including the disappearance of RM42 billion and transfer of US$700 million to [a] certain individual does not arise," Second Finance Minister Datuk Seri Ahmad Husni Hanadzlah said in a statement yesterday.
"It is my hope that all baseless allegations will be put to rest. We have to remain patient and look forward to the final report by the Auditor-General and the Public Accounts Committee," he said.
He added that the focus now is on the rationalisation plan, where Putrajaya is committed to resolving issues concerning 1MDB's debts.
"The definitive aim of the rationalisation plan is to rebalance 1MDB's assets and debt in order to support its financial structure that will ensure its sustainability going forward," Ahmad Husni said in the statement.
The audit on 1MDB was ordered by Prime Minister Datuk Seri Najib Razak earlier this year, as the government-owned firm had incurred RM42 billion in debts in just six years.
1MDB is also mired in controversial deals, such as overpaying for power asset purchases and for buying land cheaply from the federal government. More recently, it has been linked to an election funding scandal, in which other companies linked to it had allegedly funnelled billions of ringgit into Najib's personal bank accounts.
The audit started in March and was completed at end-June before being presented yesterday.
PAC chairman Datuk Nur Jazlan Mohamed said that 1MDB had yet to submit bank statements and signed agreements to the Auditor-General despite requests from the department.
"The Auditor-General has told us that they are still facing hindrance as some documents have not been submitted," he said last Thursday.
1MDB previously claimed that it had been giving full cooperation to authorities scrutinising its accounts.
Nur Jazlan said it was too early to draw conclusions based on the report, adding that there would be more follow-up questions for 1MDB's former and current bosses.
The audit also examined the controversial joint venture with PetroSaudi International and the process of 1MDB's formation as a company. The final audit, which will include examinations of 1MDB's real estate and energy arms, is due at the end of the year.
1MDB was formed in 2009 to drive up federal investments. It ventured into real estate, energy and various other investments overseas. — The Malaysian Insider
This article first appeared in The Edge Financial Daily, on July 15, 2015.