This article first appeared in The Edge Financial Daily, on August 6, 2018.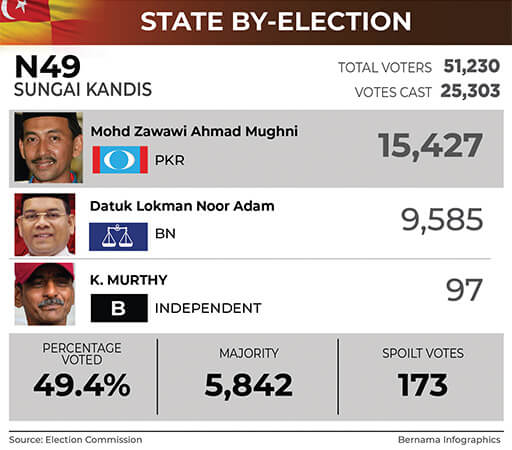 As the result of the Sungai Kandis by-election was being officially announced, an old journalist friend reminded me that Barisan Nasional (BN) had lost despite their campaign being spearheaded by former prime minister Datuk Seri Najib Razak.
Mohd Zawawi Ahmad Mughni of PKR polled 15,427 votes against 9,585 for Datuk Lokman Noor Adam of BN to win the by-election on Saturday — which had been called following the death of Mat Shuhaimi Shafiei of PKR on July 2.
Singapore's newsdaily The Straits Times in its report on the outcome of the by-election put it this way: "Observers noted that Najib was apparently helming the Sg Kandis campaign instead of new president Ahmad Zahid Hamidi".
Which brings me to the question asked by quite a substantial number of ordinary Umno members, albeit quietly, long before the Sungai Kandis campaign period started: "Why does Zahid choose to remain in the shadow of Najib and not be his own self as president?"
That being or rather seen as Zahid's stand, Najib "took charge" and campaigned in Sungai Kandis to the dismay of "some" Umno folks as highlighted by one Zaharin Mohd Yasin.
Zaharin is one who you might say is an Umno activist. Or as some people see it "an Umno operative".
A day after Najib went to Sungai Kandis, Zaharin posted on Facebook a video of him calling upon "Najib jangan menyibuk urusan Umno". To put that politely in English, that would be "Najib, do not meddle in Umno affairs".
Well, "meddle" Najib did. Not that BN was expected to win Sungai Kandis, but now that it has lost, that defeat — said The Straits Times — "might now be placed on Najib's lap by his critics".
I agree with the Singapore paper on this. After all to Zaharin and company: "Najib's political career is finished".
Political analyst Asrul Hadi Abdullah Sani was quoted by The Straits Times as saying "I think Najib no longer commands the support of the people especially after this result. Umno must push forward and Zahid as the president must be the face of the party".
I do not see that happening.
At least not immediately. So Najib will most likely keep "meddling" in the Seri Setia by-election campaign and even in Balakong although Umno will not be contesing in Balakong as it is not a Malay- majority constituency.
Both constituencies will see by-elections soon.
That would mean Najib would have it his way. That would mean that the Umno-Pas cooperation such as that which was "fostered" in Sungai Kandis will continue.
This is a given considering the pledge made by Umno deputy president Datuk Seri Mohamad Hassan that Umno will make way for Pas to contest Seri Setia to return the favour to Pas for sitting out Sungai Kandis.
But to Umno people like Zaharin that cooperation with Pas must end now "because we got played out by them in Sungai Kandis ".
He was referring to Pas members apparently not voting for the BN/Umno candidate. This was despite the "order" by Pas leaders to its members to vote for Datuk Lokman Adam.
Political observer Mohamad Sayuti Omar had this to say: "The Umno-Pas combination did not work out in Sungai Kandis. Pas voters did not come out to vote. Pas grassroots still cannot accept Umno. Asking them to support Umno is a mistake which can put Pas in danger later on".
To Lokman though, Sungai Kandis is the beginning of an Umno-Pas collaboration. He expects things to get better.
So we can expect to hear Umno leaders "ordering" their members to vote for the Pas candidate in Seri Setia.
Whether they will abide by that instruction is a different matter. Based on what Pas did or did not do at Sungai Kandis, Umno members voting will not be likely voting for the Pas candidate. Tit for tat perhaps?
Nonetheless based on the Sungai Kandis result, analysts are saying the obvious — an Umno-Pas cooperation is not capable of undermining PKR/Pakatan Harapan. Yet.
Analysts also agree with political observers and commentators that Sungai Kandis "has shown that race and religion cards cannot bring in the support that is desired".
In Sungai Kandis, Umno and Pas unabashedly used or misused religion and race issues in their attempt to win the Malay votes.
As we know Umno leader Datuk Tajuddin Abdul Rahman even went to the extent of urging the predominantly Malay voters not to support a "Christian-led" Pakatan Harapan government — alleging that "Christian DAP politicians are using their positions in government to evangelise."
To former Umno Youth head Khairy Jamaluddin all that: "... is Umno's existential dilemma now. Some still use rhetoric like Christian DAP etc. But some are still sane". So said Khairy on twitter.
Question is will the "sane" act on the, pardon the expression, "insane"? Khairy on his part is finding himself isolated within his party with even Umno-controlled media not giving him coverage.
Sayuti has this to add: "Race and religion cards are now outdated. They did not work during GE 14. But the fact that Umno and Pas are still using them show both parties do not have anything new to play up".
Still expect both parties to use race and religion as well as the Christian rhetoric — not only in trying to win Seri Setia but all the way to GE 15 as well. Meaning race and religion are a continuous narrative.
There are lessons to be learned from Sungai Kandis. Will Umno and Pas for that matter learn anything from it? No. That is bad for the country. There is just one word to describe that — sad.
---
Mohsin Abdullah is contributing editor at The Edge. He has covered politics for over four decades.