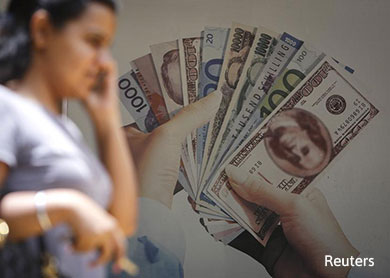 KUALA LUMPUR (Nov 11): There would be no significant rebound in global GDP growth in the next two years, with exceptions for the US and the UK, according to Moody's Investors Service.
In a report released Nov 10, Moody's said factors that would continue to weigh on growth globally in the next two years include the gradual slowdown in the Chinese economy which has a negative impact on global trade.
It said structural impediments to growth have also come to the fore in the euro area, Brazil and South Africa in particular.
"For the G20 economies as a whole, we expect GDP growth of around 3% in 2015 and 2016 after 2.8% in 2014," it said.
Moody's said factors which would continue to constrain growth in the euro area include muted growth in global trade combined with high unemployment and limited progress on economic reforms in some countries.
"As such we forecast euro area GDP growth to rise to only 0.9% and 1.3% in 2015 and 2016 respectively, from 0.7% in 2014," it said.
Moody's said the growth outlook for emerging markets was mixed, with an ongoing slowdown in China, subdued growth expected to continue in Brazil and a shallow recession in Russia contrasting with prospects of stronger growth in India.
"We expect China's GDP growth to continue to decline gradually, to just below 7% in 2015 and slightly lower in 2016, from 7.3% in 2014, as the authorities pursue their objective of rebalancing the economy away from debt-fuelled investment towards consumption while achieving sustained employment growth.
"Slower GDP growth in China will dampen export volumes and revenues, in particular for commodity exporting countries such as Brazil and South Africa," it said.
Moody's said this in turn would exacerbate impediments to growth in non-commodity sectors.
"In contrast, as already implemented and planned economic reforms spur economic activity, GDP growth is likely to rise above 6% in 2016 in India," it said.
Moody's said slow growth in the rest of the world, combined with a stronger US dollar, would limit the US's export potential.
"However, high corporate profits, strong job creation and favourable financing conditions create an environment conducive to realise pent-up demand for consumption and investment.
"We forecast US GDP growth at 3% and 2.8% in 2015 and 2016 respectively, after 2.2% in 2014," it said.