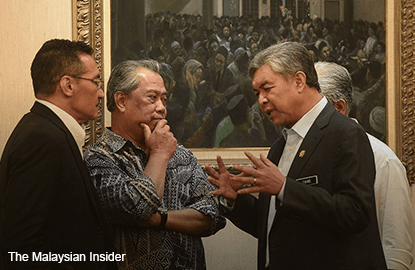 (Sept 9): Despite intense speculation, the Umno Supreme Council meeting today did not see the sacking or suspension of its deputy president Tan Sri Muhyiddin Yassin nor any other leaders who were seen to be critical of president Datuk Seri Najib Razak.
Instead, it was business as usual for the Malay lynchpin party of the ruling Barisan Nasional coalition.
"No sacking," said Supreme Council member Datuk Abdul Rahman Dahlan when asked by reporters at the lobby of the party headquarters in Menara Dato Onn at the Putra World Trade Centre, after the meeting ended at about 6.30pm.
Today's Supreme Council meeting was one of the most highly anticipated, as rumours were rife that Muhyiddin, vice-president Datuk Seri Shafie Apdal and Kedah Menteri Besar Datuk Mukhriz Mahathir will be sacked from the powerful council as they were deemed to be vocal against Najib in the wake of various political and financial scandals, including the transfer of RM2.6 billion into Najib's personal accounts.
Before the start of the meeting at 3pm, hundreds of members were gathered in front of the main entrance of the Umno headquarters to show their support for Muhyiddin, Shafie and Mukhriz.
They were also there when the leaders made their way out, carrying banners and shouting their support for the trio.
In a departure from norm, Najib, who usually used the main entrance to enter and exit, was nowhere to be seen. He, however, chaired the meeting.
Today's meeting was supposed to be held in July but was postponed twice.
This is the first Umno Supreme Council meeting after Najib sacked his deputy as well as Shafie in a Cabinet reshuffle in July.
Both Muhyiddin and Shafie, together with Mukhriz, had criticised Najib over the government's handling of the 1Malaysia Development Berhad (1MDB) scandal as well as questioned the RM2.6 billion donation from an unknown Middle Eastern donor which was deposited in the prime minister's personal bank accounts. – The Malaysian Insider