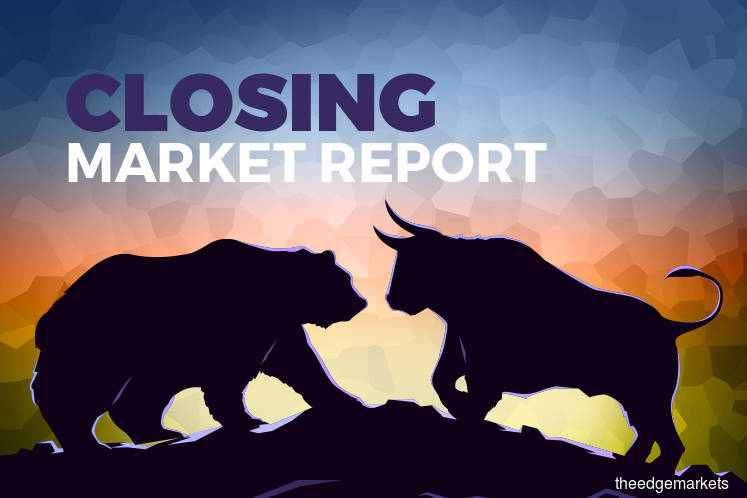 KUALA LUMPUR (April 3): The FBM KLCI closed down 0.25 point or 0.02% at 1,330.65 today, as the Covid-19 pandemic, which has killed more than 50,000 people globally and infected over a million individuals, raised concerns on world economic growth.  
Crude oil markets are also closely watched as the pandemic led to demand destruction and as markets take cue from a potential truce in the Saudi Arabia-Russia price war.  
At 5pm, the KLCI closed at 1,330.65, after falling to its intraday low at 1,324.41.
Across Bursa, 5.35 billion shares worth RM2.48 billion were traded.
Top decliners included KLCI stocks Petronas Dagangan Bhd and Hong Leong Financial Group Bhd, as investors weighed Bank Negara Malaysia's (BNM) latest forecast for the Malaysian economy.
BNM said today in its Economic and Monetary Review 2019, that Malaysia's economic growth, as measured by Gross Domestic Product (GDP), is projected at between -2% to 0.5% in 2020 against a highly-challenging global economic outlook, due mainly to the Covid-19 pandemic.
Apart from the pandemic, the domestic economy will also be affected by the sharp decline and volatile shifts in crude oil prices and continued supply disruption in the commodities sector, according to the Central Bank. BNM said the global economy is projected to register negative growth in 2020, due mainly to the significant economic repercussions arising from the unprecedented Covid-19 pandemic.
BNM's latest economic forecast for Malaysia has attracted quick response from economists. RHB Investment Bank Bhd economist Ahmad Nazmi Idrus wrote in a note today that RHB maintains its Malaysia GDP growth projection at 0%, although the research firm noted further revisions are possible, depending on how it perceives the likelihood of a recovery ahead. 
"This will depend on how the Government's policies pan out in the months to come. Meanwhile, given the sharply moderating growth environment and weaker inflation projection, we reiterate our call for monetary policy to be reduced by another 50bps, bringing the interest rates down to 2%. This was similar to the level seen during the Global Financial Crisis of 2007-2009," Ahmad Nazmi said. 
AmInvestment Bank Bhd said the Covid-19 pandemic has a bigger impact on crude oil markets, compared to the Saudi Arabia-Russia price war.
"We view the ongoing Saudi-Russia oil price war, which catalysed the plunge in crude oil prices following the failure of the meeting between Opec and its allies on additional production cuts, has a lower impact, compared with the massive Covid-19-inflicted demand loss.
"In an unprecedented regime which has never occurred in wars, famine or oversupply conditions, the world has essentially begun to shut down in transportation, in which vehicles account for 40% of global crude oil demand and airlines 10%, while petrochemical 30%," AmInvestment analyst Alex Goh wrote in a note today.
(story updated)
Stay at home. We will deliver the news to you at theedgemarkets.com.