This article first appeared in The Edge Financial Daily, on January 8, 2019.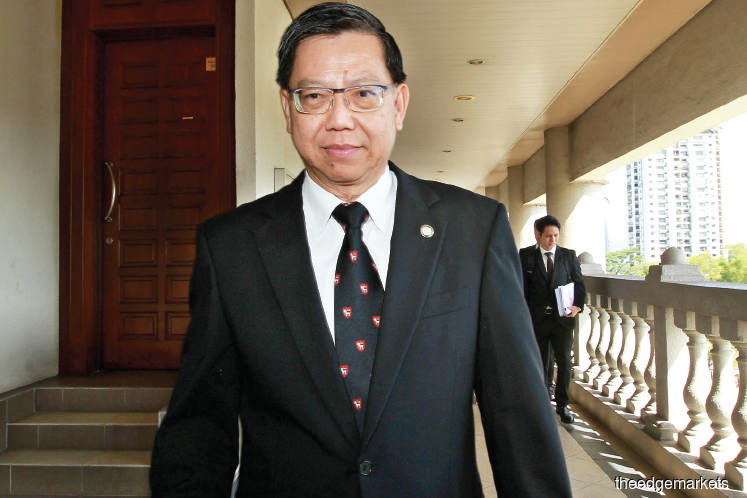 Tan (pic) is asking for more time for Ng to be with his lawyers 'to prepare the affidavit-in-reply'.
The prosecution team is led by deputy public prosecutor Mahadhir Mohd Khairuddin (right)
KUALA LUMPUR: Former Goldman Sachs employee Roger Ng Chong Hwa, unsuccessful yesterday in his bid to be released on bail pending his extradition to the US on charges related to 1Malaysia Development Bhd (1MDB), is likely to appeal the bail rejection.
"I think we will file a notice of appeal at the High Court," Ng's lawyer Datuk Tan Hock Chuan told reporters after the Sessions Court's decision.
Ng has been detained for 70 days since Nov 1, after the US Department of Justice (DoJ) filed three criminal charges against him, as well as his former Goldman Sachs colleague Tim Leissner and fugitive businessman Low Taek Jho (Jho Low), for allegedly laundering billions of dollars from 1MDB, and bribing various Malaysian and Abu Dhabi officials.
Sessions Court Judge MM Edwin Paramjothy said Ng could not be granted bail on the grounds that there is insufficient evidence of his deteriorating health. "This court is unconvinced that the respondent's health problems are unique and cannot be dealt with while in custody," he said.
Edwin said the court took into consideration the seriousness of the charges, the amount of public scrutiny generated by the case, and the nature and circumstance of the DoJ's investigations and charges.
"The respondent poses a serious flight risk and in no circumstances engender a well-founded belief that he will not leave," he said. "I am of the view that the respondent's presence will not be secured by the setting of bail or the setting of any conditions to the granting of bail."
As such, Ng's remand was extended until the court makes a decision concerning his extradition.
"The next case mention date is Jan 22, for me to provide the court with updates in case there is any development, including his (Ng) medical condition," said Tan.
The court also set Feb 15 as another case mention date for Tan to file his affidavit-in-reply to an affidavit filed by the Attorney-General's Chambers on Ng's extradition application.
During yesterday's proceedings, Tan said the defence was "hamstrung" and the case thus far "is not a level playing field".
He asked for more time for Ng to be with his lawyers. "We need at least 30 days to prepare the affidavit-in-reply," he said, and asked for visiting hours to be increased to two hours twice a week, from the current one hour per week.
Deputy public prosecutor Mahadhir Mohd Khairuddin responded by saying his team will write to the prison authority concerning the request.
Tan said Ng did not fabricate stories about his health condition, as it can be proved via a medical report.
He added that on Dec 30, 2018, his team wrote to the prison authority to request for Ng's medical report but had yet to receive it.
Last month, Ng was charged in the Sessions Court with abetting his former employer in issuing bonds worth RM6.5 billion relating to 1MDB.
He claimed trial to four charges of abetting Goldman Sachs in selling the guaranteed notes and bonds belonging to 1MDB's subsidiaries by omitting material information and publishing untrue statements.
Each of the charges under subsection 370(c) of the Capital Markets and Services Act 2007 carries a punishment of up to 10 years' imprisonment and a fine of not less than RM1 million.