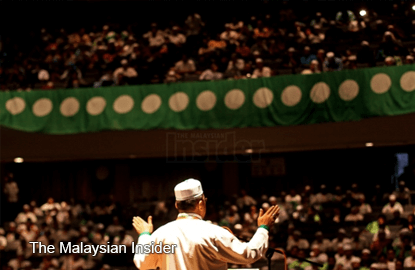 KUALA LUMPUR: PAS is showing no sign of mending the rift between its ulama and progressive factions, a scholar says, as the Islamist party has not been making any attempt to lure those who lost in the recent party elections back into the fold.
Former Universiti Malaya Centre for Democracy and Elections director Datuk Dr Redzuan Othman observed that a month after PAS' highly divisive muktamar, the ousted leaders and the new leadership are set on taking different paths.
"At first, when the split happened in the run-up to the party election, I thought the losers and the winners could reconcile, but that is not happening. Both are taking their different paths," he said.
Redzuan said the ousted leaders, dubbed the G18 and the more progressive lot, have no other choice but to form a new party, rather than join existing ones such as PKR and DAP.
At the party's elections, the ulama wing defeated the progressives, winning 22 out of the 23 posts available in its central working committee.
The losers banded together to create what has come to be known as the group of 18 (G18) and its leaders are widely seen as having close links with DAP and PKR.
The group said it wants to be known as "Gerakan Harapan Baru" or "Movement of a New Hope".
On the split, Datuk Wan Abdul Rahim Wan Abdullah, who is with the G18, said they had gone too far to turn back.
"There is no way we can reconcile with them. They are too arrogant. Only the 14th general election will make them wake up," said Wan Rahim, the former PAS deputy elections director.
Wan Rahim said he calculated that PAS could fare badly in the coming general election and even lose Kelantan if it loses just 10% of its current support.
He said while the new party would have a rocky start, it still has an advantage over PAS.
"Our advantage is that we are with our partners in the new coalition of opposition parties or Pakatan Rakyat 2.0, which is being formed. So this cooperation will give us an advantage, especially in the west coast of the peninsula," he said.
The new party is banking on winning the mixed-race seats that PAS had contested.
"We are counting on seats where Malays make up less than 50% of the voters, as well as seats where there are more than 20% of Malays," he said giving a racial breakdown of the seats it hopes to contest. — The Malaysian Insider
This article first appeared in The Edge Financial Daily, on July 8, 2015.