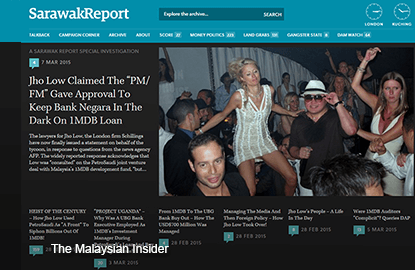 (July 23): Internet regulators have yet to determine the veracity of the Sarawak Report exposes on 1Malaysia Development Berhad (1MDB) but want Malaysian news portals to be cautious in their reportage.
There is no proof as yet that the exposes on 1MDB made by the whistle-blower site Sarawak Report are false, the Malaysian Communications and Multimedia Commission (MCMC) said in a briefing to online editors in Cyberjaya near Putrajaya this morning.
However, MCMC enforcement chief Zulkarnain Mohd Yassin told the editors to be cautious and report factually, saying there has been a rise in misinformation that could make the country unstable.
Apart from the Sarawak Report articles, Zulkarnain also cited the Low Yat Plaza incident and offensive content as threatening national security, as well as political and economic stability.
At the briefing today, MCMC presented an information sheet titled "Most complaints are on Misinformation", which listed "political and economic instability (Sarawak Report) as one of the concerns.
MCMC has imposed a block on Sarawak Report's website in Malaysia since Sunday, although the site is still accessible through the use of proxy servers and other technical means.
The regulator had justified the ban on the grounds that the site's contents may be false and to "maintain national stability".
Zulkarnain told online news editors today that MCMC would wait for ongoing investigations on Sarawak Report and 1MDB before deciding when to lift the block.
The block on Sarawak Report came as the authorities are probing into the authenticity of information leaked about 1MDB to the UK-based website.
The claim of falsified information on 1MDB began with the arrest of former PetroSaudi International director Xavier Andre Justo in Thailand last month for alleged blackmail and fabrication of sensitive 1MDB information against his former employers.
This was followed by a report in government-controlled newspaper New Straits Times that quoted an anonymous IT expert saying that forensic investigations on the stolen information on 1MDB and PetroSaudi showed the data to be have been tampered with.
The ruling coalition Barisan Nasional (BN) revealed a video confession by a Sarawakian journalist, Lester Melanyi, who said he had worked at Sarawak Report and had evidence that its editor and founder Clare Rewcastle-Brown had conspired with Malaysian opposition politicians to forge evidence on 1MDB.
Rewcastle-Brown has denied this, saying Melanyi had never worked for the website and was a discredit person. – The Malaysian Insider