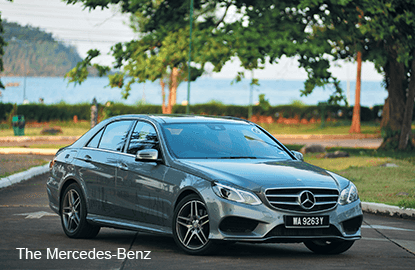 KUALA LUMPUR (Jan 4): Premium automotive manufacturer Mercedes-Benz Malaysia, which has received an extension on import duty and excise tax exemptions on its locally-assembled luxury hybrid vehicles, said it will not be raising the prices of its vehicles for now, but will continue to monitor all influencing factors.
"We will not increase the prices across the board at the start of 2016 but will continue to monitor all influencing factors," the company's vice president of passenger cars sales and marketing Mark Raine said in a statement today.
The extensions are for its S400L Hybrid and E300 BlueTec Hybrid, according to the statement.
"We are delighted to have been granted an extension on duty exemptions and can continue to offer our discerning Malaysian customers with leading hybrid and Energy-Efficient Vehicles (EEVs) at attractive prices," said Mercedes-Benz Malaysia president and chief executive officer Dr Claus Weidner.
He noted that the locally produced hybrids are a testament to the close cooperation between Mercedes-Benz Malaysia and its local automotive stakeholders, in terms of both product and technological know-how.
"In our commitment to the Malaysian automotive market and our customers, we have invested in a sustainable manner into our production plant and have brought in the suitable technology geared to support the nation's aspirations of becoming an EEV hub," Weidner added.
Meanwhile, Raine also noted that given the success Mercedes-Benz Malaysia has seen with its hybrids and the company's quest to contribute towards making Malaysia a hub for EEVs, "we are always examining the possibility of expanding our range of vehicles in this country".
Since 2003, Mercedes-Benz Malaysia has invested over RM800 million to assemble, distribute and market Mercedes-Benz passenger vehicles in Malaysia.
"Mercedes-Benz Malaysia is steadfast in continuing its legacy of bringing ground breaking technology to our Malaysian customers. We remain deeply committed to delivering to our customers the best in product quality and service," Weidner said.