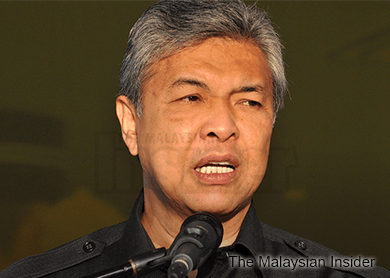 (July 7): An emergency meeting to discuss The Wall Street Journal's (WSJ) expose will only threaten the country's political stability, says the home minister, in response to the opposition's move to hold one in Parliament today.
Datuk Seri Ahmad Zahid Hamidi told the Barisan Nasional (BN) Backbenchers Club that because of its negative implications, such a move was unnecessary.
"From a legal standpoint, there may be a basis to call (for a meeting). But there is no need to do that," he was quoted as saying on the club's official portal today.
He said the meeting would further confuse many about the problem, adding that BN members of parliament would continue to side with Prime Minister Datuk Seri Najib Razak.
Opposition leader Datuk Seri Dr Wan Azizah Wan Ismail on Sunday decided to call for a emergency meeting at the request of DAP parliamentary leader Lim Kit Siang.
Lim said the meeting was to consider the impact and implications, and Malaysia's future as a result of the allegations by the WSJ.
The club's chairman Tan Sri Shahrir Samad also criticised Dr Wan Azizah, saying she should put her own party in order first.
Shahrir added that the opposition's move to meet over the WSJ report was just an excuse to cover up their weaknesses.
"Dr Wan Azizah needs to put her 'house' in order first. She is the opposition leader but DAP has already said the pact no longer exists and has cut ties with PAS.
"So get things right in your own home first, instead of calling us for the sake of the country and the people. When in fact, you are trying to promote yourself," he was quoted as saying.
He added that the backbenchers club firmly supported Najib and would remain loyal to the country and the Federal Constitution, and not the foreign press. – The Malaysian Insider