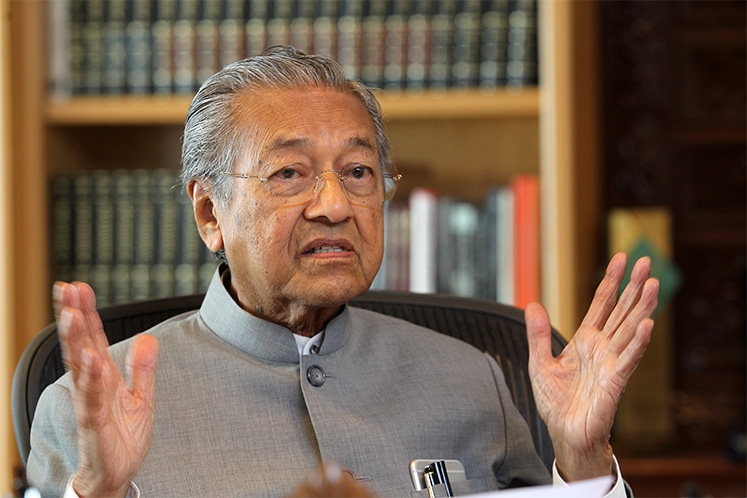 KUALA LUMPUR (May 15): Malaysia may consider imposing capital controls again if there are signs of currency manipulation, says Prime Minister Tun Dr Mahathir Mohamad.
"Currently, there is no need for capital control (measures) unless some people start fiddling with the currency value, depressing it and impoverishing countries. These things are not really business. Currency is not commodity. It is just a method of exchange," he said in an interview with The Wall Street Journal that was telecast live in Japan today.
"We will not allow that. If you do that again, we may consider having currency controls," he added.
The Prime Minister once slapped capital controls and a fixed exchange rate for the ringgit in September 1998 in a bid to restrict the activities of speculators. The move had generated much controversy around the world.
Dr Mahathir also cautioned that while Malaysia remains an open economy and welcomes foreign capital, it would monitor the type of foreign direct investments (FDI) allowed here.
He cited Chinese investments in Malaysia, noting that while it is a "friend" to Malaysia, when it comes to FDI there is a "difference in terms of definition".
"We welcome FDIs from all countries including China but FDIs mean bringing in capital and technology, setting up plants and employing Malaysians up to the level of exectives. Their produce can be for the Malaysian market or exported.
"That would be FDI. But we don't consider (investors) coming into Malaysia and buying up huge chunks of land, developing townships and cities, and bringing in foreigners to live in this country as FDIs," he said, adding that that is the difference between himself and his predecessor Datuk Seri Najib Razak.
The former Prime Minister had drawn criticism from Malaysians for the numerous deals between Chinese investors and the Federal government including the US$100 billion Forest City mixed development project in Johor.
The Forest City project, jointly developed by Hong Kong-listed Country Garden Group and Esplanade Danga 88 Sdn Bhd, which formed Country Garden Pacific View Sdn Bhd, spans over 14 sq km across four reclaimed islands.
Dr Mahathir expressed concern over the pieces of land sold to the Chinese company, saying that it is building huge cities that would house some 700,000 people.
"These cities they build are very expensive luxurious apartments. Not many Malaysians can afford to buy including the indigenous people who are among the poorest in this country. They certainly would not be able to avail themselves to the development.
"So the thing is that the people living in these cities are foreigners from China and other countries but any country would like to restrain immigrants from coming in in large numbers.
"This is a given in US and Europe. We have the same problem to restrict immigration and accept only a certain number of people we can deal with," he added.
On the threat of a trade war between the US and China, he said the world should be at peace.
"If there are trade wars, there will be restrictions, sanctions and things like that. These are not good for us as a trading nation. On the other hand, we also feel the need to take into consideraton the weaknesses of some countries, and the strengths of others.
"In a globalised world, we should have easy access to all countries but we should also consider the strengths of those countries and appeal to them for some degree of protection," he added.