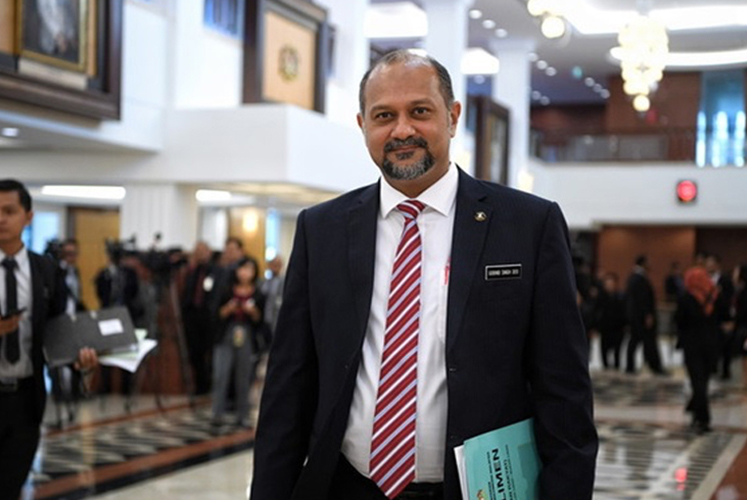 KUALA LUMPUR (Feb 21): Communications and Multimedia Minister Gobind Singh Deo has indicated there will not be further reductions in high-speed broadband prices in 2019 given they were reduced "quite substantially" last year.
"The last time we started (pressing telcos for lower prices) we wanted double the speed and half the price. What happened after that all the telcos got together in discussions, and of course, they have reduced the prices quite substantially."
At a press conference after his inaugural official visit to Telekom Malaysia Bhd's (TM) headquarters yesterday, he defended his Ministry's approach amid concerns that lower high-speed broadband prices have led to lower capital expenditure (capex) opportunities for the maintenance and upgrading of telco networks.
His Ministry's approach is premised on the view that better quality services at reduced prices would have the effect of increasing the customer base of the telcos.
He added that the Ministry is constantly working with the telcos, particularly through the Malaysian Communications and Multimedia Commission (MCMC), noting that in infrastructure development, only state-owned Tenaga Nasional Bhd (TNB) had been allowed to participate in fibre infrastructure through its pilot project in Jasin, Melaka.
"At this point, it is only limited to TNB in so far as infrastructure and telcos are concerned.
"It is only TNB that has come up with a proposal, so it is basically a local company with infrastructure here in Malaysia."
TNB's pilot project — implemented through the RM1 billion National Fiberisation and Connectivity Plan (NFCP) announced in Budget 2019 — aims to deliver fibre internet to 1,100 homes in Jasin at higher speeds. The second phase of the project is set to conclude in March.
In his speech, Gobind said that he was in talks with Housing and Local Government (KPKT) Minister Zuraida Kamaruddin over the installation of fibre infrastructure in new homes and that many parties are involved in the decision.
"We do not have a time limit because these discussions involve a few parties before we can present a proposal to the Cabinet. It will involve the State, it will involve KPKT, my Ministry and MCMC, and of course, we will have to discuss with the telcos."
Separately, TM Chief Executive Officer (CEO) Imri Mokhtar declined to comment on the disposal of TM Annex 1 and Annex 2 towers, as it is still an ongoing matter.
The group is selling the two towers that have a combined gross floor area of 679,015 sq ft. A tender viewing will be held on Feb 27 at the group's headquarters.